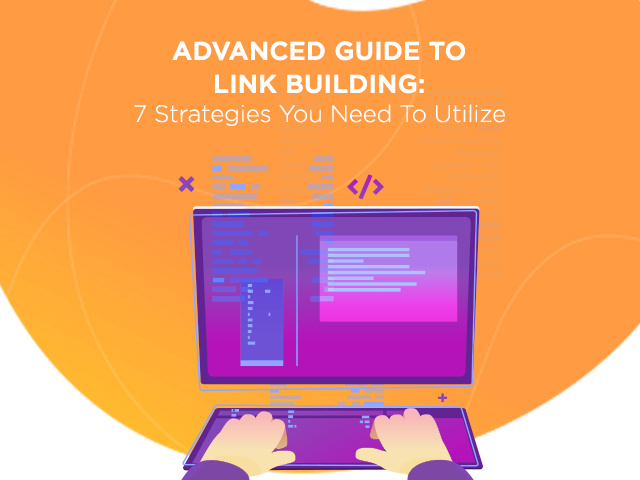 Advanced Guide To Link Building: 7 Strategies You Need To Utilize
The link building game has, undoubtedly, changed considerably. Since 2011, when Google Panda was introduced up until late 2012 with the EMD update, the hardline rules that govern SEO now have forced many traffic-dependent sites to reconsider their link-building tactics.
Yes, white hat is the ethical way to go about link building, where you are focused on creating quality content that can be optimized for search engines. But relying solely on churning out good content won't always be enough. How you promote your content is also important.
There are a lot of sensible strategies that you can use to build links while still conforming to Google's Webmaster Guidelines. We will discuss seven of them in this article.
Guest Posting
Links are essentially built on trust. Now that black hat SEO has been shunned by recent Google updates, the online community has returned to relationship building as a way to foster links with each other. It's imperative that you focus on linking only with sites that are considered an authority in their industry, and are relevant to your own blog.
One straightforward way to get a link is by guest posting. It's a means to gain mutual benefit: your target site needs high quality content while you need links going into your own pages. So, you collaborate to both gain something from each other. Plus, it won't come off as transactional (or worse, desperate) because there's an established trust between both parties.
You can initiate guest posting to authority sites, as long as you make sure that they accept content from contributors. Search for sites that have keywords like "write for us", "guest post opportunities", "submit content" and "contribute to us" to identify which blogs accept guest posting. Or if you are already connected with a great site, then by all means, get in touch with the editor.
Remember to pitch content that follows the theme and topics of your target site. Aside from new topics, you can do an update on a piece that they have published, or propose improvements to an existing post. As long as you present something valuable, this can turn out to be a big opportunity to earn a link.
Skyscraper
The skyscraper technique is analogous to becoming the highest version of something. In this case, it means finding the best online content about your topic and raising it even higher to produce the best version of that content (the tallest building in the city). Your goal is to get influencers to build backlinks for your website.
Building your skyscraper involves a number of steps: first is to find niche content that is heavily shared by target audience. You can do this by conducting research through Google AdWords to find trending topics or resource sites like BuzzSumo to search for best blog posts.
When you've figured out the topic, the next step is to create a more comprehensive and up-to-date version of it. Get rid of fluff and focus on adding more useful information that the article you found did not expound on. This will help your article attract more shares and list higher on Google rankings.
Afterwards, you can contact influencers who can promote your article to their expanse of followers. Don't forget to monitor your backlinks to check your progress and track new backlinks.
If done right, these steps (and all the hard work, of course) can take your blog to the top of the world.
Broken Link Building
Broken link building is an old technique where you find dead links or resources, recreate your own version of the content, reach out to webmasters linking to the old piece, and ask them to replace the dead link with your own.  
In theory, it should be a clear cut opportunity, since you are helping webmasters clean up their website and at the same time build links to yours. However, most web professionals are discouraged by the huge amount of time and effort invested in finding these links and the low response rates from site managers themselves.
The process of finding relevant broken links seems to be the most time consuming in this endeavor, so if you have available tools (e.g. Ahrefs Broken Link Checker) then you can search the top sites in your niche that have broken links. Also, you can explore broken out links on those same websites, and compare those with content you already have. A few tweaks of your content and you can maximize link building with these additional findings.  
If you think fixing the broken links means you're done, think otherwise. You still have the last part – the outreach – where you contact the site's webmaster to inform him or her about your link building. Your outreach email should contain: the specific name of your recipient, the broken link's location, and your proposed replacement.
Turning Mentions into Backlinks
Mentions are quite useful sources of links, and turning them into backlinks is relatively easy to complete. Basically, you find unlinked mentions of your site, your name or brand, and turn them into links.
A good old-fashioned Google search can be used to find these unlinked mentions, as well as other tools like Google Alerts and Ahrefs Alerts. Keep in mind that you don't have to create backlinks for ALL unlinked mentions of your brand. So, prioritize sites that are well maintained and are more likely to edit the page.
Since search engines like Google and Bing are becoming more and more sophisticated in terms of ranking algorithms, linkless brand mentions are now recognized as well. Hence, while we are not saying you should neglect backlinking, it won't hurt to explore other avenues of building links. Customer reviews, social media marketing and influencer marketing – these enable your brand mentions to get a buzz going in the online community.   
Infographics
Great quality content is a prerequisite if you want to establish links. Sometimes though, your keen eye for words might make you miss out on another powerful strategy: using images for link building.
Audiences prefer materials that use effective imagery to convey information, which is exactly why infographics are still very popular today. In fact, Search Engine Journal found that infographics are 30 times more likely to be read than a text article.
Infographics are the perfect balance of visuals and text. They can be easily scanned to get important information and they provide enough visual stimulation to make reading interesting. What's more, they can generate a lot of high-quality backlinks because they have the potential to go viral on the web.
How do you design an effective infographic?
There are usually 3 things to consider: professional-looking layout and design, interesting and useful statistics, and good promotion on different channels.
Take these elements and optimize your infographic by:
Identifying trending or viral keywords that can be included in your infographic text (searching on sites like Pinterest and Buzzsumo helps)

Opting to create engaging content that will be published along with the infographic (stand-alone infographics don't generally do well in search engines as in social media)

Making your infographic easily shareable using embed code and share plugin tools

Submitting your material to infographic submission sites and other free platforms (e.g. Reddit)

Reaching out to influencers within your niche
Marketers swear by infographics, with around 74% using visual assets more than blogs and video materials. So if you craft a well-designed and SEO-primed infographic, you can expect a ton of backlinks coming your way.
Resource Page Link Building
Among the link building strategies, this generates a higher chance of success than others. Why? Because resource pages truly need you. After all, what good will that page be without any actual links?
A resource page is basically a page that links out to various high quality content on a specific topic. An example would be a resource page about entrepreneurship that can accommodate different blogs which have related content. Since these pages are built to link out to content, they are perfect for initiating link building.
Resource pages also pose a huge advantage because these are seen as credible sites. Why? Because these pages aim to help, not sell. People are more inclined to trust the links on resource pages. Furthermore, these pages usually link back to reputable sites that users can trust.
You can do a Google search to find resource pages that fit your niche. To filter your search and not end up looking at millions of results, you can type your keyword plus 'resources' and 'links' in the URL and title. It should look like this:
Keyword + inurl:resources
Keyword + intitle:resources
Keyword + inurl:links
Keyword + intitle:links
Education resource pages can also be tapped. You can filter .edu results by typing on search:
site:.edu Keyword + "resources"
site:.edu Keyword + "links"
From your search results (which will be in the thousands), focus on those that are reputable, relevant to your topic and link high quality content. Each site's page authority and domain authority can help you decide on this. The higher the page authority, the more "link juice" can flow to your web page. Domain authority, meanwhile, determines the site's credibility.
You can install link analysis tools to be able to see the metrics you need to evaluate resource pages. And as with other strategies, reach out with tact. Don't sound pushy in your emails; send a polite request to collaborate. If your content fits their resource page, then you're likely to be engaged by the page webmaster. It's that simple!
Stealing Competitor's Links
Now, you have given it a lot of thought and have funneled resources into optimizing your website. And yet, it's still not ranking high. What do all the other sites have that you don't? Most of the time, it all boils down to backlinks – lots of them.
While you can't buy or borrow backlinks from other sites, there is an entirely legitimate way to use your competition as a model of how to do things right: by reverse-engineering their link building ideas and coming up with a better strategy for your blog.
Why is this tactic effective? Because by analyzing backlinks, you get to see how websites that rank quickly, receive traffic and maintain high traffic are able to do so.
The key to sleuthing is to first identify which sites are your competitors, and tools like SEMrush can do it for you. This software provides estimates based on industry, topics, and other factors. It can also give you data on where you are in relation to all your competitors.
Upon identifying which sites you can compare yourself to, pull up the link profile of each one. You'll now want to explore the inbound links that gauge a site's influence. Analyze what types of content and patterns work favorably for this site.
Ask these questions as you examine the data: What kinds of content are drawing attention? Are there infographics? What kinds of images are used? Are the popular content based on trends? Do the popular content exceed yours in terms of word count?
Find out which domains are sharing the popular content, and make a list of the top ranking domains that are giving your competitors backlinks. You can then strategize on how to reach out to these sites by offering quality content of your own.
Moreover, if you notice that your competitor has popular posts that are from a contributor, then you can initiate collaboration with this guest poster. Stealing your competitor's links means you imitate what your competitors are doing right and customize for your advantage. There's no straightforward template to doing this, but with enough researching effort, the backlinks you will get out of it will be worth it.
Link building is both tedious and rewarding at the same time. It's a blend of different web features: content, marketing, programming and people skills. Getting it right won't come easily, especially now that the rules have changed. But if you are persistent, collaborative and creative enough, you will eventually have the leverage to reach the top.
Callum Mundine is part of the marketing team at One Egg. He is an Amazon marketplace & white hat link building specialist, and has launched multiple successful brands on Amazon.com. Callum likes his eggs boiled.