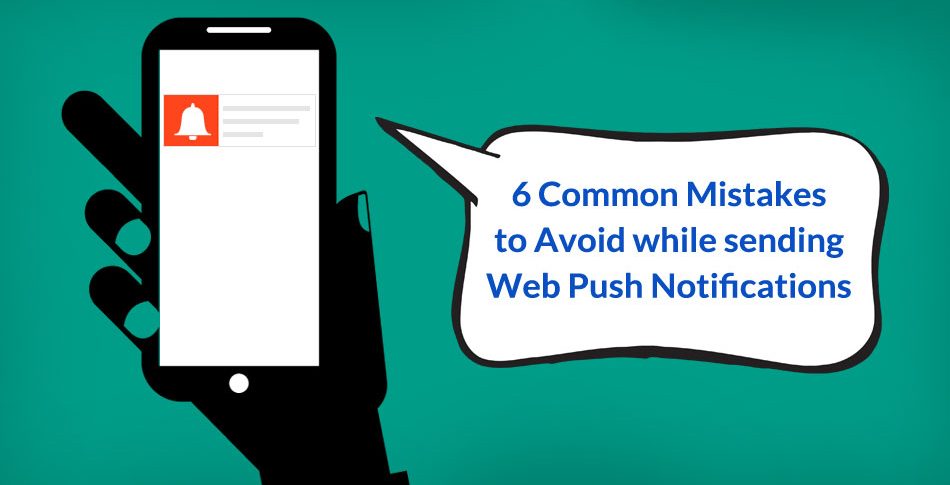 6 Common Mistakes to Avoid while sending Web Push Notifications
Web Push Notifications are those messages that come from a website as an alert on your desktop, mobile or tablet even when the user is not on the browser. It has turned out to be one of the most widely used tools these days when it comes to marketing. This new way has found its sole root as a digital marketing tool due to its quick and spontaneity in getting an action done.
If used the right way, Website Push Notifications can be so effective in getting you better conversion rate, click rate, customer engagement and even higher revenue. But, there are certain silly mistakes made by people while using these push notifications which can affect the smooth performance and it might hinder in getting the desired results. So, here are those common mistakes which you should avoid while sending Push Notifications to reap better results.
Do Not Send Too Many Notifications
Push Notifications are easy to send and they can produce an immediate action by the user. Due to this, many send more than the desired number of notifications which apparently force a user to even unsubscribe to the website. So, stop sending too many notifications a single day and make sure you are sending only relevant messages as notifications.
Keep The Timings of Notifications Always Right
All your users are not from the same country or place. So, there will be differences in the timing. If you are sending a notification to two different time zone users at the same time, you are doing a big mistake. One of them will receive it during the right time while one might receive it during the odd hour. This is sufficient for you to get unsubscribed. SO be careful while sending the notifications to users making sure that they are not receiving any of your notifications during the odd hours!
Web Push Notifications Are Not Email
Some people make this common mistake a lot of times. It is to be understood that push notifications and emails are two different marketing channels and are meant for two different purposes. There should be a right landing page for push notification message because the notification vanishes after a user clicks on it. So, the user should be redirected to a landing page where he can get all the needed details about the notification he had clicked on. If it does not, then it will give a poor user experience.
No Notification should go without a CTA button
Every notification should have a call to action button that makes the user force to complete an action. You need to send such a message as a notification that grabs the attention of the user at the very first glance. And, adding a call to action button in the notification will lead the user to a landing page where he can complete his purchase with an ease. This will give your user a better experience and he is more likely to do more such actions in future.
All Notifications Are Not For All Users
Do not send too many notifications to your users or subscribers. If at all you are sending, make sure that the notifications are sent to only those who will get benefited. Segmenting your users based on their shopping habits and history of purchase, landing page, age, gender, location etc will help you send only relevant and actionable notifications. Make sure that you set your users on a priority and know them before you send them frequent notifications. Avoid sending too many notifications. 3-4 notifications would be a good number to keep them happy.
Do Not Send Any Notification Without Proper Planning
Plan on your notifications and the segment of users you wish to send before you make an action happen. Remember that any unwanted or irrelevant notification can irritate the users and you might get unsubscribed. So, do not make the mistake of sending any notification without a proper planning. Be crisp, clear and with your messages and make them personalized for evoking an immediate action.
Conclusion:
These are some of the very naive and common mistakes found while sending push notifications. But these can have serious issues resulting in poor customer engagement, conversion rate, click rate and can even lead to an unsubscription. So, keep an eye on these factors before sending your next push notification.
Gayathry V Pillai, Senior Editor at PushEngage.com, a leading web push notification platform live in 6000+ websites spanning 125+ countries.