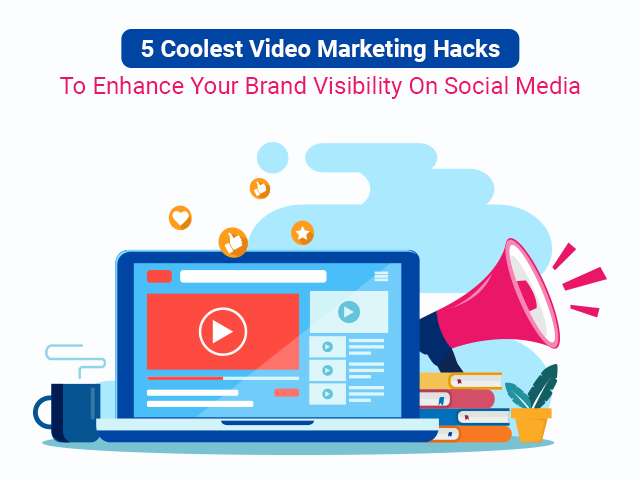 5 Coolest Video Marketing Hacks To Enhance Your Brand Visibility On Social Media
Video marketing can be used in various ways to promote your brand or product and is a great technique for business growth. Video footage about how to use your product or service on a landing page frequently gives positive results and is a fantastic method to boost sales over the web, particularly when it has become ever more complicated with the onslaught of competition in video marketing is at an all-time high.
There are many unique methods of using video marketing, particularly in relation to content marketing. You may produce a few episodes of a video series that contextualizes the scenarios in which your goods and services might find their application, for both B2C and B2B consumers.
In addition, by using advanced video creation tools such as InVideo to make social media videos, you can summarize a blog's text and embed this audiovisual clip at the bottom of your blog. Moreover, you can also create a brand-new YouTube channel to host these clips!
In this article, we will discuss 5 amazing hacks that you can deploy in your video marketing strategy to energize your reach. All these hacks are guaranteed to bring your business an increased level of popularity and conversion rates. Let's get right to it!
5 Effective Video Marketing Hacks
 1. Make the Most out of Your Video Intro
It just takes 10 seconds of a video to create or destroy your marketing game. Your crowd is yearning for quality content. Go back to work and verify your script. Are there enough reasons to stay glued to the video in the first 10 seconds of your footage?
Try to increase your audience's interest, so from the very start, they are glued to the video. Your video should connect to the audience immediately.
2. Leverage the Power of Storytelling
People enjoy telling and listening to well-thought-out narratives. The power of narrative has been more and more used in advertising, and it may be used in a viral marketing video.
For instance, Coca-Cola is excellent at producing memorable videos with characters that portray a brief narrative. They are shared by millions, particularly around the holiday season. Personal tales are also beneficial for your video's audience to generate content.
One excellent suggestion is to shape a process in your business to rapidly develop this kind of video marketing material. By following every piece of advice, it will effectively propagate and advertise your brand and is most likely to attract more and more consumers to your business.
3. Build an Emotional Connect with the Audience
If a message is linked with powerful emotion, it readily clings to the memory of individuals. This is why storytelling is so precious! That is why videos related to children enjoying, entertaining kittens or amusing images of stumbling adults are so virulent.
Negative emotions, such as those involving fear or accident images, also have tremendous potential to propagate so it is up to you to determine how to utilize this in a manner that does not affect your product or service image.
The aim here is, after all, to lead a company to success and growth, so do not connect your brand to anything that your consumers may not like. Do not utilize emotions of sorrow that may lead to an unpleasant customer experience. This reduces the probability of pressing the share button by as much as 16 percent!
4. Build up your Social Currency Reserves
Around 40% of what individuals say has to do with their own experiences. This is most often done if you have anything to say that's entertaining or that makes you find it smarter and funnier.
This has a value in social content exchange that helps individuals feel better, more acknowledged, and even more appreciated. They are committed to building an internal audience in their social groupings.
Include something clever and entertaining your friends might share in the provision of this kind of material to consumers in your social media marketing videos. Another suggestion is to include interesting and uncommon facts and instill curiosity in the minds of your audience.
5. Optimize your Content for Mobile
Videos are frequently viewed on mobile phones. In fact, mobile video advertising has also been projected to expand 5 times faster than desktop ads (Source: Digital Marketing Institute).
Just as mobile responsive designs are essential, it is as important to optimize your content for optimal viewability on mobile devices. Sometimes large footage loses its appeal on smaller displays, simply because the size and quality of mobile devices are not taken into account. Also, before going live, make sure you test your video on various devices.
Conclusion
So, there you have it! Getting viral and garnering popularity on social media is by no means an easy feat. Considering you have rampant emerging competition every day, there needs a lot to be done aside from simply creating and posting videos on platforms.
With that being said, these tips will certainly help you in getting that extra edge in your video marketing strategy, and win more followers on social media!