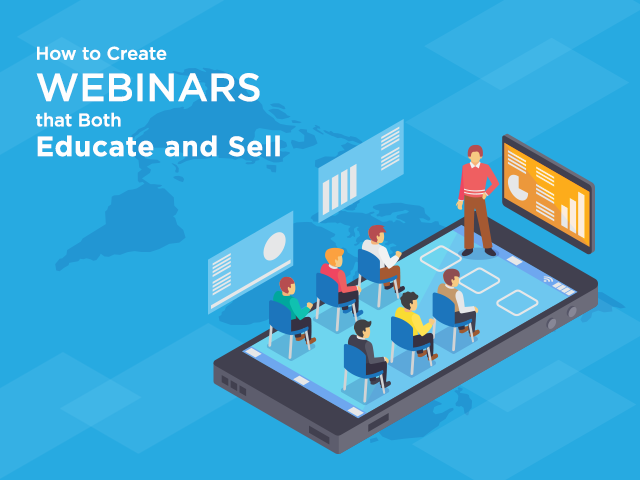 How to Create Webinars that Both Educate and Sell
Webinars are an invaluable tool. They give you the ability to interact with people all over the world without ever having to leave your home. Great webinars are valuable experiences for both the host and the audience. The audience wants to learn something, and the host wants to make some money promoting a product or service.
If you want to hold an incredibly efficient webinar, you'll need to strike the perfect balance between teaching and selling.
Sell the Right Product
If you're trying to sell something highly niche or something from a limited run, sales pressure is going to feel very high during your webinar. You want to sell something that was just as useful yesterday as it will be tomorrow.
Long lasting tools, resources, products, or services are the best things to sell via webinar. Keep it practical, and be sure that people who couldn't tune in live can still watch the recorded feed of your webinar (even a week or a month later) and be able to see and experience the same value your initial viewers were exposed to. This allows the webinar to remain productive long after it has ended.
Craft Your Webinar Around a Specific Purpose
You can't teach everything in a single webinar unless it's going to last all day. Most people won't be able to find the time to attend it. This is great news – it gives you the opportunity to host multiple webinars, all focusing on a different thing. Since each webinar is a selling opportunity, you'll be able to effectively incorporate webinars into every marketing campaign.
You'll also be able to stay on message. You're providing the maximum amount of value on a single subject. Since you're able to narrow your focus, it's easy to explain the value of the thing that you're selling as it pertains to a specific aspect of what the product or service does. Learning and sales feel balanced. Make sure you're incorporating as much information as possible into your script and gracefully working in your tie-ins.
Target a Valuable Audience
When drawing in an audience for your webinar, you need to be sure of two things. These people should want to learn, and they should also be the kind of people who would purchase what you're selling. You might need to give a little lead in to encourage the right people to sign up. Look at the things people say on social media, and understand what they need.
If you have a free educational resource (like an eBook) that you can give away with your webinar registration, you know that the people who signed up for your webinar are there for the right reasons. Having an audience that's willing to learn and wants a problem solved or a process simplified will make your efforts more effective.
Offer Both Free and Paid Content
Your webinar audience is looking for value. They don't want to feel as though they signed up to watch a giant advertisement. It needs to be clear what they're gaining from the experience. Give away some resources. Hire someone to take your most valuable blog posts relevant to the subject you're discussing and compile them into a guide that's exclusive to your webinars.
If people don't become buyers specifically based on the webinar experience, they may become buyers after reviewing the content and resources you've provided them with. This gives you a second chance to target attendees without aggressively pressuring them into making a purchasing decision.
Talk With Your Audience
You might believe you know beyond a shadow of a doubt exactly what your audience is looking to gain from your webinar, but the reality of the matter is that people will surprise you. Make your webinar interactive. Incorporate a question and answers segment into your webinar, and be prepared to spend an adequate amount of time explaining the answers or teaching them what they want to know. If a lot of people share the same concerns, you can use their questions to create helpful blog content. Doing so makes your webinar even more effective, as you're gaining valuable insights.
Through both blog posts and answering questions, you're establishing yourself as an authority. When your reputation is strengthened and people know they can trust you, they're more likely to spend money with you. It's less risky, especially with a costly product or service, when you fully understand the philosophy behind it.
Make the Call to Action Clear and Easy
Don't make it difficult for people to complete a purchase. If they need to click off the webinar, find something, purchase it, and come back, they're not going to want to do it. They'll be dividing their attention and missing the webinar. Keep clickable links directly to the destination clearly labelled beside the webinar. People should always know what you're selling, why you're selling it, why they need it, and where to get it. Make it as simple as a few painless clicks, and more people will be willing to follow through.
Through targeting valuable people, sending a clear message, demonstrating the need for your product or service, and making it easy for people to do what you want them to, you're likely to see great results from your educational webinar. Let your attendees tell you what they want, and create an experience they will enjoy.
Michelle Arios is a team leader and an experienced project manager, currently working as a part of the team behind BizDb and Aubiz: online knowledge databases. Deeply interested in growing a successful and profitable business, Michelle might often be found online, discussing ideas and sharing suggestions