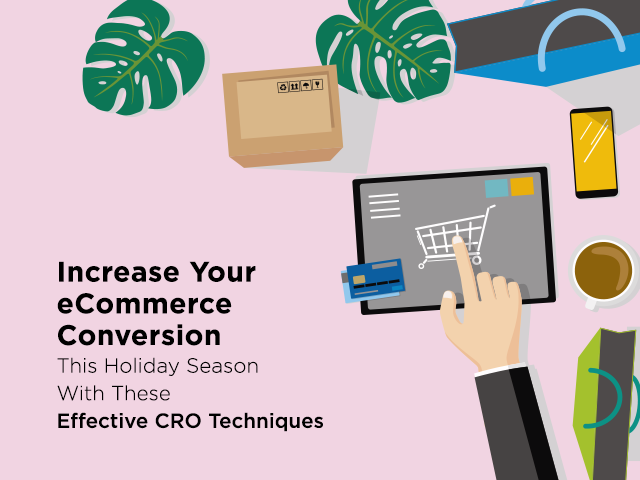 Increase Your eCommerce Conversion This Holiday Season With These Effective CRO Techniques
Conversion rate optimization is creating an experience in your site that's bound to turn visitors into potential customers. These are usually techniques where you are monetizing your website and landing page.
With the holidays just around the corner, marketers and brand owners are thinking about creative and fresh ways on how to engage their audience and boost their sales. With competition getting fierce, how can you ensure that you stay on top of your game?
Of course, by implementing effective strategies to amplify your conversion rates. Making these last minute-tweaks before you start delivering those orders will make a significant impact on how you can boost your conversions in this most festive time of the year, in no time.
Luckily, we've put together these time-tested conversion optimization strategies and techniques to help you reach your goals:
Convert with your content
A lot of start-up businesses these days are focusing on building a brand rather than improving their conversions. But if you want your site to take off, focus on the more important things, such as your site's content.
Content will always be a king. It builds trust, helps retain visitors and convert visitors into sales. The main rule here is to try to focus your content on the user.
Here's how you can better achieve these goals:
Address your buyer's pain points- If you want to know about them, try to browse through Q&A sites and online forums to better understand what your potential buyers want.
Your content must be written in plain and precise English- Try to avoid fluff and get straight to the point. Avoid exaggerations and flowery language. Chances are, your viewers are pressed for time, so make everything count.
Your material must clear all doubts, answer all questions- Show the audience how the product will benefit them by saving them money, time and future headaches.
Speed up your web loading
Do you know that even high-profile sites during Black Friday sales and other major sale days crash, unable to handle the volume of traffic that's coming in? Your server should be fast enough to handle the seasonal traffic and accommodate traffic spikes that are vital in holiday sales.
So before those big sales start to roll in, verify first if your website can accommodate the increased number of visitors. That way, you can maintain good traffic speeds, even in the busiest times of the year.
Use high-quality images
Just like crafting high-quality content, you should focus on creating images that go well with your website and social pages. Photographs and other types of multimedia are better retained on people's minds than the average text, and by utilizing the power of high-quality images, you can better execute your CRO effectively.
To make it timely and relevant to your followers, decorate your social media pages and website to showcase that extra holiday cheer. Again, use high-quality images and use the correct image dimensions.
Let your photos deliver your message. Pick the right images that are aligned with your site's purpose. Go for the type of imagery that your audience can quickly identify with, as they would likely choose products and services that they can easily relate to.
Team up with influencers
According to this Facebook Marketing Guide, working with influencers can help a lot and is considered to be an effective way to reach your target audience fast. Influencers are a group of people that have a large following on social media. Since these people have strong relationships with their audience, they have the power to affect purchasing decisions, mainly because of the knowledge and authority influencers have over these people.
Influencer marketing can help you reach a broader audience, helping you boost your company's leads and sales. Because influencers produce user-generated content, the material comes off as more trustworthy and authentic than the more traditional advertisements.
Adapt to mobile optimization
Do you know that in 2015, $1 trillion in retail sales were exclusively made on mobile phones? No doubt that in the upcoming months more and more purchases will be made via smartphones and tablets. So, it's essential to make your site as mobile-friendly as possible. In fact, over the last couple of years, Google has changed its algorithm in favor of more mobile-optimized sites.
Holidays are the best time of the year to connect your business and brand to mobile-users. It significantly drives in engagement, attracts more viewers, and substantially decreases your site's bounce rates.
Boost your local SEO
Local SEO utilizes search engines to target people in a specific geographical area and is a vital factor in significantly improving your CRO techniques.
Essentially, it's promoting your business to local customers that are based in defined geographic locations. It's optimizing your site for 'geographically related searches' and getting it ranked on top of the local search results. It converts local prospects which have a higher chance to become long-term customers.
Review your last year's analytics
To understand if your holiday marketing strategy is useful, you need to review your last year's holiday shopping data, even over the last couple of years. Note the peak times, days, and periods. Use it as a roadmap to plan out your offers and promotions. Once you use analytics to your advantage, you'll be able to make much-needed changes, and eventually, drive in conversions.
In Summary
The tactics we've explained above can help drive your e-commerce conversions during the holiday season. By considering these strategies, you'll gain an edge in your specific industry, as you learn to work with them to achieve the results that you want.