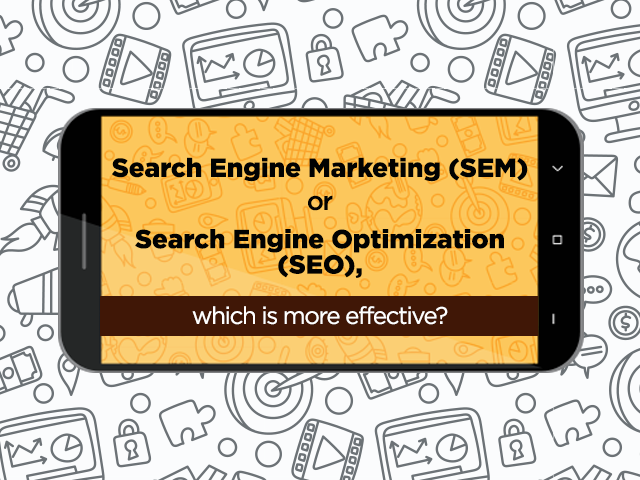 Search Engine Marketing (SEM) or Search Engine Optimization (SEO), which is more effective?
If you are related to the field of Digital Marketing in anyway, you might have heard about SEM and SEO. These are like the two sides of a coin and are among the most effective strategies to rank in the Search Engine Results Pages (SERPs). The question you might want to ask would be that can you rank using only one strategy or are both the strategies necessary for your webpage to rank.
You can find the answer to that question towards the end of this article. First, let's understand what SEM and SEO are.
If you are interested in Digital Marketing, you can earn a Digital Marketing degree through online education from the online Digital Marketing colleges and advance in your career or chose an interrelated career.
What is Search Engine Marketing?
This is nothing but paid search such as Pay per Click (PPC) and advertising. In simple words, this helps your page to come on top of the SERP once you pay for particular keywords. The content usually appears on top of the first page through this. It's an easy way to come up in the first page of SERP but certainly not enough.
The popular paid search platform used by marketers is Google Ad words which is followed by Bing Ads. There are various other PPC platforms and PPC advertising options on major social media networks. Some of the terms that are often used in SEM are as follows.
• Cost Per Click (CPC) – The amount you have to pay when someone clicks on your website.
• Impressions – It is the number of times your ad was visible on the screen. A person may/ may not see it but it will be considered as an impression if it appeared on your screen.
• Click Through Rate (CTR) – It is the number of clicks you get on your website after a person sees your advertisement.
• Cost per Thousand Impressions – It is the amount you have to pay for per 1000 Ad impressions.
Advantages of SEM
Increases traffic quickly – SEM is keyword-based and when people search for the keywords for which you have given your Ad, your Ad appears on top of the results page and hence increasing your website's traffic.
Targeting the right audience– There are ways through which you can decide on who is your target audience. One important part is the keyword-based strategy. An example of target setting is retargeting. In Ad retargeting, your Ad is shown to people if they recently visited your website in order to encourage them to re-visit.
Gives quick results – You don't have to sit and wait for your website to rank and to increase your traffic. When people search for keywords which your website has, your Ad will appear on the top of the result page. Even if your Ad is not clicked, you will have an online presence every time.
Disadvantages of SEM
Not permanent – A major disadvantage is that as soon as your budget is over, your Ads will stop appearing. This just has a temporary effect.
Does not become viral – Unlike social media marketing, there is no way to share the Ad across various online platforms.
Fewer clicks than organic – Most of the people click the organic search result and only a few will click on the pay-per-click sponsored Ad.
What is Search Engine Optimization?
SEO is a marketing strategy focused on growing visibility in organic (non-paid) search engine results. SEO includes both technical and creative elements required to improve rankings, drive traffic, and increase awareness in search engines. There are many aspects to SEO, from the content on your page to the way other sites link to you on the web. Sometimes SEO is simply a matter of making sure your site is structured in a way that search engines, as well as your audience, understand it. Some terms you'll come across in SEO are as follows.
On-page SEO – It refers to both the content and HTML source code of a page that can be optimized in order to rank in the SERPs.
Off-page SEO – The activities you do outside of your website to help your website rank, such as promotion, link building and more.
Domain Authority – It is the measure of how your website is likely to rank in the results page. If your DA is higher, you will probably rank higher in the SERP.
Backlinks -These are links of our website on other websites. Backlinks will help your website increase your website's credibility and help you rank higher in the SERP.
Advantages of SEO
Long-term effect – If you have quality content on your website and you keep it updated, then you will slowly rank and reach the first page of SERP. This means that your site has good credibility and it will continue to enjoy that position if your content quality remains good.
Generates traffic that has a good chance of conversion – Most of the people click the first three results of the SERP. If your website ranks first or second, people tend to trust you and if your content is good, they are eventually going to convert into your customer.
Low cost – When compared to paid search or Ads, SEO is inexpensive. What matters is your content and the different SEO strategies you keep in mind while putting up your content.
Increase in website referrals – SEO will increase your website referrals. You will get website referrals from search engines and your website visitors are likely to refer your website to their friends.
Disadvantages of SEO
Time-consuming – In order to reach the first page of SERP, you have to put in a lot of effort and time. Since there are zillions of websites competing with each other, you have to wait and keep working on your content until you reach your goal.
You need to have patience for ROI – In this world where money is ruling, it is kind of difficult to build a brand using your skills and talents only. It takes time for the website to build its own brand and it is only after that you will start getting Return of Investments (ROI).
No Guarantee for Results – If your content is not up to the mark, you may never rank. It is sure that if you do it the right way, your website will rank but that is not going to happen if you are laid back and you stop updating your content.If you are looking for online colleges/ universities offering Marketing degrees, you can find the same in Liberty University, West Virginia University, Saint Leo University and more.
Whether you should implement SEO or SEM strategy, the choice is completely up to you. The best way to do this would be to first use SEO, build credibility, rank in the SERP and then once you have reached a good ranking, use the SEM strategy. SEO is very important but so is SEM. It's just that SEM is useful mostly after you build your brand.