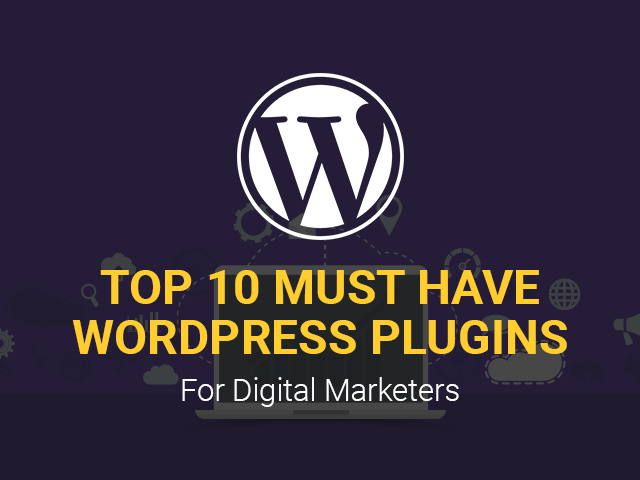 Top 10 Must Have WordPress Plugins For Digital Marketers
Digital marketers are always digging for ways to leverage the brand website to accelerate the user journey through the marketing funnel. Isn't it true?
Be it a blogging website for an individual or a website for Small and Medium Businesses (SMBs), WordPress has never failed to offer the much-needed flexibility, dynamism and creativity that marketers need to meet this goal.
There are countless reasons why marketers prefer WordPress. However, a feature that appeals to most marketers are the WordPress plugins, which extend the functionality of the website without messing up with the code.
Undoubtedly, the varied availability of WordPress plugin development services and customization of these plugins are among the key reasons for the popularity of this Content Management System.
Let's have a look at the 10 must-have WordPress Plugins for all digital marketers in 2019:
1. W3 Total Cache:
Since speed and optimization play a major role in ensuring audience interest, W3 Total Cache gives an incomparable boost of optimization to your website by offering following advantages:
● Browser caching
● Increased visitor time on site
● Improved web performance
2. PopUp:
There was a time when pop-ups were considered to be the most annoying thing ever! But, with custom WordPress plugin development reaching advanced levels, there are high-on-UI plugins such as WordPress PopUp. These customized pop-ups are not only UI-friendly, but also help marketers in terms of enhancing the user journey and lead gen potential with the following features:
● Shows popup depending upon referrer
● Filters users via roles
● Filters users from search engines
3. Contact Form 7:
Engagement doesn't come easy and neither do leads! So make sure that your WordPress website has every possible magnet to attract and retain the users as well as convert them into leads at the most appropriate time in the future. Contact Form 7 allows users to contact you in the most hassle-free manner possible. It allows you to create forms with these benefits:
● Customized form fields
● Forms can be inserted into pages or posts
● Multiple form management
4. Akismet Anti-spam:
There is every possible reason in the world that if you have ever downloaded and used WordPress, you must have heard about Akismet to keep spam comments at bay.
Akismet is a WordPress plugin that helps you ward off the spam in the comment section with these benefits:
● Filters spam contents
● Discard feature to block spam
● Status history of each comment
5. Just Writing:
As we are aware not everyone is accustomed to writing content. As a digital marketer, you know well the importance of content; it's definitely the king and will be. Never ever compromise again when you use the plugin Just Writing which helps you to check spelling, grammar, alter paragraph style and other formatting styles as you wish! These include:
● Font formatting and text styles
● Spellcheck and paragraph style
● Full-screen mode browser
6. All in One SEO Pack:
There has always been some really hard competition between Yoast SEO and All in One SEO Pack when it comes to SEO performance plugins. While Yoast SEO ensures that you don't lose out on a single bit of your SEO,you can count on some amazing features of the All in One SEO plugin such as bug-free performance and regular updates. Not to forget, it's trusted by 1+ Million users, so you should definitely try it out. Here's are some key highlights:
● Google Analytics Support
● 3 Million+ Active Installs
● Ping Search Engines
7. Broken Link Checker:
Did you know that broken links are some serious spoilers for your WordPress website? With this plugin, Broken Link Checker, you can get quick notifications so that you can mend them and not let your website traffic suffer! In fact, these are some key benefits:
● Removes broken links
● Fixes redirections
● URL checking and reporting
8. SEO Image Optimizer:
Those having in-depth digital marketing and SEO knowledge know the importance of SEO optimized images for high search engine ranking. Here we have a plugin – SEO Image Optimizer – which automatically adds Alt and Title attributes to the images. In fact, it comes with these benefits:
● Dynamically replaces Alt and Title tags
● No effect on the database
● Image compression
● Multi-site support
9. Wordfence Security:
Wordfence is a plugin that is worth hundreds and thousands of dollars since it meets your needs to ensure your website never gets hacked or attacked by malware. Security scanning, multi-site security, WordPress firewall, monitoring features and more will definitely press you to choose this must-have plugin. Some key features include:
● No data leakage
● Integrated malware scanner
● Protection from brute force
10. WordPress Landing Pages:
Improving the traffic through various channels and strategies is the core aim of any digital marketer. This is where WordPress Landing Pages comes in handy. Using this plugin, you not only create the most aesthetically beautiful landing pages, but also run A/B split testing on the pages to see if they will convert well or not! The level of this plugin suits all and will benefit everyone! Here are some key features:
● Beautiful landing pages
● Visual editor
● Track lead activity
While considering these plugins, make sure you do a little more research on your own to find the most suitable WordPress plugins for your website since every website is different.
However, to summarize, some common factors are fast loading time, regular support and maintenance, integration, potential for customization as well as shortcode support. Best of Luck!
Jason Daszkewicz is a web enthusiast who serves as a WordPress plugin developer for WordSuccor Ltd. that provides WordPress web development services for businesses. Jason loves to spend his time outdoors exploring the world, people and technology. Follow him on Twitter and Instagram