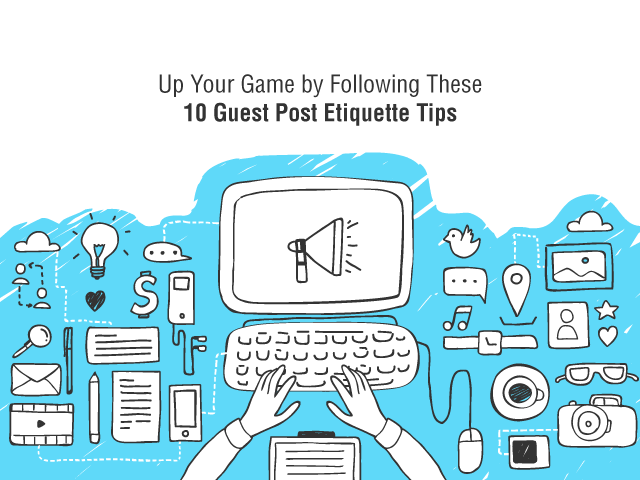 Up Your Game by Following These 10 Guest Post Etiquette Tips
Guest post etiquette is often overlooked by eager contributors. Because they are so intent on getting that elusive high DA-ranking website to agree to host their content, they often miss the mark. This happens when the contributor is so focused on how she'll benefit from the guest post that she fails to see the contribution from the eyes of the hosting site.
As a freelancer, I have hands-on knowledge of the universe of guest blogging. I write guest posts for my clients, I sometimes assist my clients with outreach to host blogs, and I have my own blog and receive many guest post requests every day. As a result, I have become a stickler for guest post etiquette. I have learned what works and what doesn't through my own trial and errors. Today, I wanted to share some of the etiquette tips that I've learned along the way.
10 Guest Post Etiquette Tips
1. Ask Nicely
As a child, you were probably told to ask nicely when you want something. The same goes for guest blogging. Don't send a pushy email and brag about how great you are. The blogger you're sending the initial email to gets dozens of daily inquiries. Quite frankly, he can pick and choose who he will allow to contribute. Asking nicely makes him like you. It goes a long way.
2. Get to the Point
When you send your inquiry, there's not a set format. You will usually acknowledge you love the blog, assure the blogger that you're a professional in your field, and offer to submit an article. However, don't make this too wordy. Tell just a quick story of a couple of sentences to explain why you're qualified to submit a guest post. Remember, it's all about how you can help his blog with quality content and not about how awesome a writer you are (even though you are!).
Inquiries that are overly wordy are likely to get deleted.
3. Pitch a Topic or Title in the First Email
Recently, I received the following email from a hopeful guest blogger:
"Hi, I really love your website. It's so useful. I'd love to contribute a post. May I?"  Really, folks. I can't make this up.
This person didn't tell me anything about her own website, where she's backlinking to, or a title or topic. I had no clue what her content topic was or reveal any information to me. Out of courtesy, and because I pitch topics to bloggers as well, I did respond and ask for some details. However, most bloggers will delete this.
Research keywords and send the blogger a good working title for your article in that important first email. It saves him time and allows him to say yes or no to the topic at hand. In turn, you will increase your chances of successfully placing a blog post.
4. Visit the Host's Website to Review Content
Before you start tossing ideas at a blogger, visit her website. Check to see what kinds of articles she publishes. This is smart for a couple of reasons.
First, if you see that her content is in direct opposition to everything you hold dear, you can skip it and not wind up with egg on your face. Sticking to your own ideals and remaining true to your own beliefs will endear you to your own followers. If the blog contains objectionable material, skip it and find a better match to host your blog post.
Second, a visit to the website can help you craft titles for topics that she hasn't covered recently. If she just published an article on "How to Flip a Pancake Perfectly Every Time," you don't want to send her that idea. However, a follow-up article on "The Best 5 Pancake Recipes of All Time" might be a timely topic that will appeal to her.
5. Visit the Guest Post Guidelines on Their Website
While you're on the prospective host's website, check out the Guest Post Guidelines. You might find a note that they are no longer accepting guest posts due to a large volume of low-quality requests. Or, you may see that they require a very long post that you don't have time to create.
I actually like to put a short sentence into my first email that states that I've visited their guidelines and am confident I can deliver the quality they expect. Trust me when I tell you that this is like music to her ears!
Keep these guidelines in mind as your draft your article and make sure you adhere to them throughout the process.
6. Honor Deadlines
Deliver your guest posts when promised. As a guest blogger, you probably know that some blogs take a long time to publish your work. This is often because you get added to a publication schedule that's several weeks out.
The higher DA blogs, with lots of content and followers, often schedule posts. If they are depending on your post for one of those dates, and you fail to deliver, they might decide not to work with you again.
Second, meeting your deadline is a professional courtesy. You should want to give this respect to the blogger who is helping you obtain those much-needed backlinks.
7. Send Clean Copy
The host blog is your host and not your editor. Send them over only clean content that's fully edited for both grammar and spelling. While some hosts don't mind cleaning up a typo for you, most don't want to do this. They expect the copy to be error-free upon delivery.
As a writer, it will hurt your feelings to get a terse email response that an article isn't up to quality standards. I know this firsthand as it happened to me one time when I carelessly attached a first draft article instead of a finished and edited product. Never again, I swore!
8. Include Author Bio and Other Information
Don't make the blogger come to you begging for additional information that you should have included! In fact, most won't…they just won't publish your post.
Therefore, if they ask you for a headshot, author bio, royalty-free images, or social links, please be sure to include them when you submit your post. It's part of a quality standard that the blogger has in place. In fact, this quality is what drives readers and add value to your backlinks. Help the blogger maintain that standard.
9. Offer to Share
When you submit your content, send a quick message offering to share the published post on social media.
This adds value to the blogger. It shows him that you are proud of the work and willing to show it off. Plus, it drives your followers to his blog and gives him a traffic surge. He will be impressed with your professionalism.
Second, it gives you a way to follow up with the blogger if he doesn't publish. The truth is that bloggers are busy people. Many bloggers work a job plus produce their blog. Others have queues of guest blogs to schedule. Additionally, they sometimes just forget about your post. It stinks when you've put time and energy and you're waiting for that guest blog to appear online.
I use this as a follow phrased something like, "Please let me know when you plan to publish so I can be sure to share on my social media." Doesn't that sound nicer than "When are you going to publish the article that I sent you?"
10. Send a Thank You
Once a guest blog is alive and well online, it's nice to follow up with a quick little thank you message. It literally only takes 30 seconds to send a two-line email thanking the blogger for allowing you to collaborate.
Ending the guest post process on this positive note will ensure that the door remains open to you. Some bloggers have several websites. You never know when the next opportunity will arise.
Closing
In closing, guest post etiquette is a new form of etiquette. If you're already doing some of these things, you're on the right path. When you include all of them, you will up your game. If you're not following these tips, give them a try. I am confident you'll see increases in how many guest post opportunities you will find!
Deborah Tayloe is a writer and contributor to EmailMeForm. She resides in North Carolina with her husband and an energetic toy fox terrier. She holds a Bachelor's Degree in Secondary Education/English from the Edinboro University of Pennsylvania.