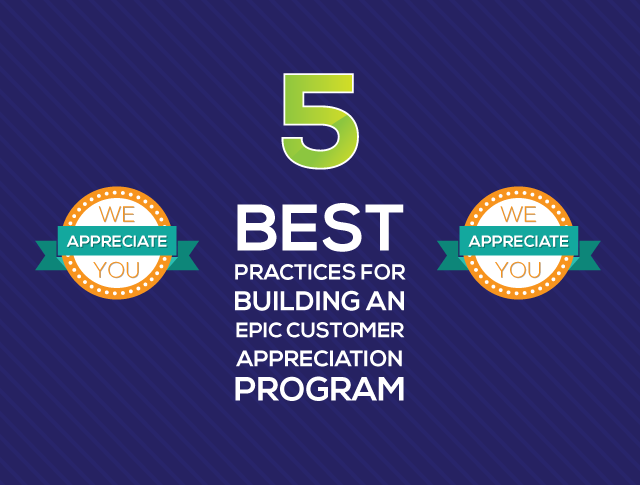 5 Best Practices for Building an Epic Customer Appreciation Program
So, you've been instructed to build a customer appreciation strategy from the bottom up, or have been tasked to reinvigorate a failing program. Let's set the context first by debunking the myth that building a customer appreciation program isn't about spending a lot of money on premium gifts; it's about investing time and focusing attention on your customers. So before you help yourself to that fourth cup of coffee, be aware that you can save yourself some precious time brainstorming in the boardroom by quickly knowing about these 5 best practices for building that epic customer appreciation program.
Start with a plan
First things first – determine what you'd like to achieve through building a customer success program. Is it an exercise in brand awareness? Do you want to increase your customer reference library or generate a case study? With a clear objective in mind, you'll be able to build a solid business case and establish a budget and timeline for the project. In addition, having a clearly defined plan will make you better prepared to recruit other stakeholders to the project or rope-in an internal champion to help promote the program's success.
Talk to the experts
Look across the business for different insights and perspectives on what makes your customers special. From customer success to your sales team, you'll likely receive different nominations or criteria for award winners depending on how they've collaborated with customers in the past. By working on different areas of the business, you'll become more familiar with your customers and maybe even learn something new about your own product! Beyond this project, a more comprehensive understanding of your customer persona will make you a more effective marketer overall.
Delight on delivery
Don't just repurpose the corporate giveaways you buy in bulk for tradeshows and events. Design a prize package exclusively for members of the customer appreciation program. When your branded gift is unique, useful, or personalized, it's less likely to end up in the trash or a garage sale.
For the 1E Hero program, we opted to send our customers personalized trophies, certificates, and a hand-signed letter from our CEO outlining their accomplishments. We also included a card inviting our Heroes to share their accomplishments on social media.
Pro tip: Looking for a budget friendly, fast printing service to supply project deliverables? It only took me a few minutes to design a Moo Mini Card for our packages.
Publicize the program
Activate your marketing channels to spread the word. Write a blog announcing the program or celebrating your amazing customers. Share a hero's story in a relevant webcast, and give your customers shout outs on social media! At 1E, we regularly post company updates to our LinkedIn page celebrating the accomplishments of our customer hero recipients. It's a small gesture that they'll be sure to appreciate. We have also created an official certification badge on LinkedIn that Heroes can add to their profiles.
In addition, some marketing automation tools like HubSpot can capture social media profiles or twitter handles. Leverage that data and give your customers a smile with 140 characters or less.
Listen and Learn
Follow up with your award winners to ensure the safe delivery of their award package. Use this opportunity to touch base with your customers. While you've got their attention, why not ask if they have a success story about your product they'd like to share or if they can refer any potential new customers that could benefit from your services?
Customer appreciation should be relevant and personalized, fun and sincere. Create a process that's easy to replicate and customer appreciation will have an enduring place in your marketing strategy. You'll want to repeat your customer recognition process annually, quarterly, or monthly to maintain a consistent cadence. Plus, you'll strengthen relationships with customers who can provide referrals or serve as brand advocates in the market place.
Keeping that in mind, follow these best practices to build a successful program and grow stronger relationships with your customers. Now enter that boardroom.

Michelle Berninger is a Digital Marketing Manager at 1E running the company blog and social media. Prior to joining 1E, she worked in the documentary film industry where stories about privacy, cyber security, and the changing digital landscape caught her attention. Michelle lives in Brooklyn and is based out of 1E's New York City office.