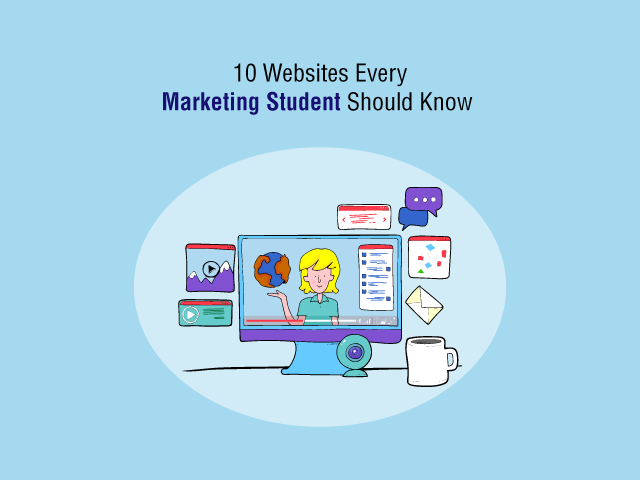 10 Websites Every Marketing Student Should Know
The marketing industry is growing and changing fast and all marketing students must stay up to date with the current analysis and trends. With this information, the students can sharpen their skills and broaden their knowledge. One of the easiest and convenient ways to do this is using the internet.
The internet provides easily accessible and useful information concerning different digital marketing strategies, news, and insights. Most marketing websites are updated regularly and contain useful information that can benefit the students and ensure that they are at the top of their game. However, scrolling through different websites can be quite exhausting and time wasting.
Here is a list of 10 websites that every marketing student should know.
Content Marketing Institute
Content Marketing Institute is an international content marketing training organization that teaches brands how to reach out to customers and retain them through compelling stories on multiple channels. It also provides news on content marketing, different successful content marketing strategies as well as statistics on marketing in their annual marketing research. This website is updated regularly to ensure that readers get all the important and latest marketing news.
In addition to this, CMI has a consulting group led by top-notch marketing strategists who help you through your content marketing challenges. This makes it an important website for all students interested in content marketing.
Contently
Content is the main form of currency in digital marketing. This is why Contently is dedicated to integrating the dateless art of creating compelling stories into the digital era. It provides remarkable software that helps upcoming business create good content. This is aimed at helping marketers as well achieve great business and company outcomes via leveraging data-driven and technological insights.
The website's blog also contains storytelling strategies, courses, guides, eBooks and resources that will be of immense value to marketing students. Contently also provides freelancers with the opportunity to work with the best brands on high paying projects. Freelancers get the chance to pitch their creative ideas, work and receive instant payment on submission. To apply for these jobs, sign up on their website and create a free portfolio that showcases your expertise. You can also go ahead and sign up for their newsletters, to get the latest information from the content marketing industry.
HubSpot
HubSpot is one of the most popular and outstanding companies in the marketing industry. It offers marketing automation tools that are easy to use even for people with no prior knowledge of coding or programming. The in-built analytic tools allow you to monitor traffic on your website and social media. They provide charts and statistical sheets that help you recognize which pages are generating leads and which ones are not. This will help you recognize the SEO strength of each page and allow you to make the appropriate changes.
HubSpot has three blogs – sales, marketing and agency that offer marketing insight. Therefore, this website is a must visit for all marketing students.
Four Dots
The Four Dots blog is the most suitable blog for marketing students looking for comprehensive information on SEO, digital marketing, link building and content marketing. With this, you get the opportunity to learn about marketing from experts.
The team of interdisciplinary experts offers different views and approach on the challenges faced in marketing, thus providing the most beneficial solution.
The blog also contains numerous case studies and informative blog posts that are both educational as well as entertaining.
The Moz Blog
MOZ focuses on Search Engine Optimization. The site contains research, insight and the best advice from the industry's experts about SEO. With the information provided, you can predict the conversion value of keywords for SEO. This will help you use keywords that highly profitable for your business.
It also provides valuable knowledge on how to understand Google's algorithms.
Social Media Explorer
There are over 2.4 billion internet users on the various social media platforms. To reach them, brands have to know how to build a strong presence on social media. Social Media Explorer provides practical tips on how to create captivating content in order to sensitize people about it on different social media channels. It also offers information on how to make the best out of social media marketing.
Mobile Marketing Watch
The articles on this site focus on mobile advertising, mobile marketing, and mobile retail. What makes it stand out from other sites is its ability to incorporate marketing tactics into mobile platforms. It publishes trending news on mobile marketing and email marketing.
It covers topics in all areas in the field of marketing ecosystem from technology to advertising and healthcare.
Google Inside AdWords
Google Inside AdWords offers wisdom that's crucial in shaping the marketing industry. It contains information about Google products and services that are crucial to marketers. It also contains insight on Pay-Per-Click marketing (PPC) and Cost per Acquisition (CPA) advertising.
In addition to that, it also contains a gold mine of educative information about application marketing which will be of great value to marketing students.
Neil Patel's Blog
All marketing students who need advice on digital marketing and Search Engine Optimization should definitely visit Neil Patel's Blog. Neil Patel is a man with in-depth knowledge of the marketing industry and he specializes in writing marketing content that is invaluable to all marketers.
His blog contains knowledge on growing web traffic, digital marketing conversion rates optimization and content marketing. You will not find news updates on this blog, however; it remains one of the best marketing websites as it contains advice from the top marketing influencers.
Buffer
Buffer offers a simple way to schedule posts, manage all your social media accounts from one dashboard and monitor the engagement and interaction of the content that you put out. It has the unique prowess in social media marketing and publishing. It also allows marketers to maintain a consistent online presence and build their following and influence.
The site offers elaborate information on how to get the best out of marketing on social media platforms. It also analyses organizations that specialize in social media marketing, providing insight on what these organizations do differently that makes them successful. Therefore, marketing students can visit this website and take notes on the best tips on social media marketing.
Conclusion
Learning marketing does not have to be limited to the four walls of a classroom. The internet is full of educative information in marketing. This is why marketing students should incorporate the use of internet into their learning curriculums. This article has expounded on some of the best ways in which a marketing student can actualize the use of websites to help their marketing classes. Make use of them!