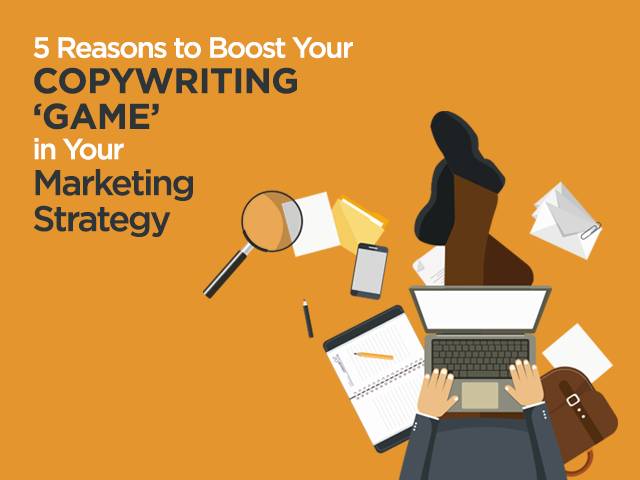 5 Reasons to Boost Your Copywriting 'Game' in Your Marketing Strategy
Know this: copywriting and content marketing is not the same thing. Copywriting refers to any writing that introduces others to a company brand (e.g. website content), educates, entertains, or inspires (e.g., blog and social media posts, newsletters, etc.). Content marketing is how that copywriting is used to attract readers and compel them to take some action so that they can ultimately become customers.
The two functions are now inextricably linked. Everything that a business puts 'out there' on the web must be considered critical to its marketing efforts. It develops relationships with customers and potential customers; it projects a brand identity, trust, and value; and it supports SEO efforts so that searchers can find you.
Here are five reasons why you need to 'up your game' with copywriting as a part of your overall marketing strategy.
Developing a Brand Story
Who are you? Where did you come from? What are your values as a business? And what value do you hope to bring to others? Today's consumer is savvy and wants to do business with companies that share his values and that can provide a value to him specifically. When you let that consumer 'see' you as a real person with real people on your team, you form the connections that he wants. When you can provide solid information that he wants or needs, he sees you as a valuable resource.
Your copywriting efforts in developing your brand should never be focused on making a sale. It must focus on connections, relationships, and value. According to Andrew Cranston, a copywriter for Canada-Writers, "Once we made the decision to tell our back-story and to feature our writers and customer support team staff, we actually began to get comments and questions. The more we were able to interact with our readers, the more we were able to convince them to try our service."
Improving SEO Rankings
The newer algorithms of Google and other search engines are focused on unique and valuable content. Stuffing keywords into a piece of content will no longer work – in fact, they will actually penalize your efforts. Your copywriting will be judged on its value to others, the backlinks that come from reputable sources, and the traffic that you get. Google bots are highly sophisticated, and they can easily separate the good from the mediocre or bad. If you want to rank well for generic searches, you must create content that truly provides value.
Find and Use Brand Ambassadors
Social proof is a powerful marketing strategy, and your copywriting efforts should include as much of this as possible. When your copywriting can include real customers, in photos, videos, etc. using your product or service and describing the value it has had for them, you establish your legitimacy and your trustworthiness. Consumers love to see people just like them and their stories of experience with your brand.
Amanda Sparks, a digital marketer and author of Top Down Writer, describes their success with brand ambassadors: "A lot of companies publish testimonials on their sites. Smart consumers are not trusting of these. And they are not sure how authentic review sites are either. What we discovered is that we could solicit videos from our customers in exchange for a discount on a future order. We got a great response and posting them on our side and social media gave us the authenticity that our audience was looking for."
Providing Amazing User Experiences
User experience goes well beyond just a great website. Today's consumer wants to be involved with a brand, so interactivity has now become part of strong marketing strategies. Surveys and quizzes have been around for a long time. Now, there are augmented and virtual reality experiences incorporated into copywriting, providing users with an exceptional level of participation with a brand. While this was once only possible by contracting with developers who could create these experiences, there are now tools that, with a small learning curve, allow content marketers to design AR/VR experiences for their companies. If you want to 'up' your visibility and want to make sure that your content will be shared, incorporating these into your copywriting efforts will be well worth it.
Making Special Offers Within the Copywriting Content
One of the things that copywriting should achieve for marketing purposes is moving readers toward conversions. While direct selling is a big 'no-no,' there are other actions that you can ask readers to take – opt into your newsletter or emails for special offers, a download that provides additional key information in exchange for an email address. Gaining initial interest and having a method of re-targeting your audience for marketing purposes keeps your brand in front of that audience so that when they are ready to purchase, they will remember you.
Natalie Anderson, CEO GetGoodGrade.com, speaks to incorporating 'mild marketing': "Some of our site content has direct calls to action for visitors to place an order. And we also publish regular discounts. In our content, though, we tend to engage our audiences with what I call 'mild marketing.' We don't ask for the sale. Instead, we offer value in exchange for opt-ins. This allows us to nurture, not sell. It's a more long-term strategy, but it works."
What Constitutes Effective Copywriting?
There are oceans of content on the web, and making yours unique and engaging requires some creativity and some specific guidelines:
Your headlines are critical – they engage immediately and motivate a reader to go on. They should be clever and offer an immediate benefit.
The tone and style must be informal, friendly, and project a helpful and caring image.
The reading level of any copywriting content should not be higher than the 7th grade level. And, it should be written in a style that you would write to a friend, yet still exhibit expertise and authority in the content area. When readers see you as an expert with valuable information, they will return and share.
If you have difficulty with content creation, there are plenty of tools to help you out: Top Australia Writers and Best Writers Canada are two writing services with highly respected and successful copywriting departments; Portent is an excellent tool for crafting engaging headlines; Upwork is a site that offers individual freelancers with portfolios that demonstrate their copywriting expertise.
Final Thoughts
Marketing products and services have become more and more complex and difficult, given the explosion of the Internet. Marketers have an amazing sea of potential methods to use, and, in fact, the Internet has been a great equalizer between the 'big boys' and the 'little fish.'
Direct sales only work so far; paid advertising only connects with some people; engaging a target audience with amazing content will do more for marketing in the long-term than any other methods. It should have top priority in any online marketing strategy.