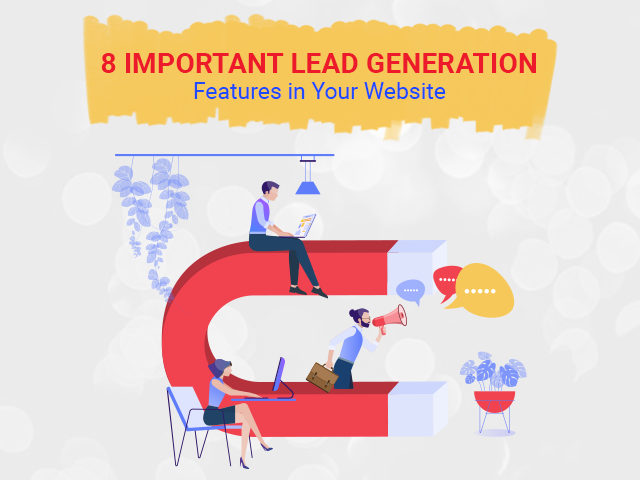 8 Important Lead Generation Features in Your Website
Your website is more than just an online brochure; it is, in fact, your holy grail for lead generation. Although enhancing your website to generate leads may seem like a no-brainer, it requires a more strategic approach than just placing a 'click here' button.
Websites can generate leads over a thousand or even million times in a day using a particular set of pages, each optimized with a specific element. In this post, we'll go through some of the most essential lead generation features to include in your website, but before we get to that, let's take a quick look at the lead generation process.
When it comes to converting a visitor into a lead, there are three specific components at play:
The lead generation procedure begins when a visitor on your website clicks on a CTA button on your blog posts or site pages. Examples of CTAs include 'join free for a month', 'get your free report today', 'register now', 'download free eBook', and so on.
Clicking on the CTA redirects the visitor to a landing page, which consists of forms used to gather the visitor's contact details.
After the visitor fills and submits the form, they are directed to a thank you page.
Now that we've covered the lead generation process, let's move on to the essential features that will help you achieve this:
Incorporate forms on every page
All businesses need to take advantage of their online traffic and lead conversions. Including easy-to-access lead generation forms is crucial to increasing the number of leads. In fact, some of your pages may end up being excellent lead generators even without your knowledge. Examples of common places you could be getting visitors include blog posts, email marketing, photography, social media, and live chats among others.
However, the secret lies in asking for as minimal information as possible during the initial steps to improve the chances of people providing you with their valued personal details. Also, placing a lead generation form above the fold triples the possibility that a customer will notice it and fill it out, especially when accompanied with visual cues such as an arrow and a compelling offer.
Adding your contact number
Including a contact number in your website might seem counterintuitive for some business models, but doing so increases customer trust and the credibility of the products and services you're offering.
Calls-to-action
A call to action should be effectively designed to prompt a user to take a particular action. Utilizing a distinct color to that of your site makes it stand out more, but keep it simple. Tools such as Canva are excellent because they allow you to create images easily and for free.
The more landing pages, the better
According to a review, companies that contain more than 30 landing pages on their site attract seven times more leads than those with less than 10 landing pages.
The thank-you pages
Most of the time, thank-you pages are overlooked during the lead generation process. However, this page where a visitor is directed after submitting a form on the landing page and converted into a lead shouldn't be ignored. Also, besides saying thank-you, ensure that you include relevant links, social sharing buttons, or related forms so that your new lead actually downloads relevant data from the page.
Live chat services
Live chat services are increasingly gaining popularity. A sizeable chunk of consumers expect a live chat, especially when they want to learn about potential vendors, making live chat service a significant lead generator.
The fold
The fold refers to the line that separates the visible part of a webpage from information that cannot be seen without scrolling. Marketers and designers are strategically placing crucial elements of a site just above the fold to generate leads. The content here is tailored to the customers' needs and optimized to make it easier for them to find what they are looking for.
Social sharing
Social sharing is a powerful lead-generation tool. Numerous studies indicate that family and friends often influence the purchase decision of potential customers. Social sharing can enable brands to tap into a customer's active influencer network, thereby nearly tripling the impact and outreach of its lead-generation efforts.
Businesses depend on leads to close sales and grow their brand. Focusing on optimizing the features listed above will ensure you have a strong lead generating website.
Fazreen Razeek from Grafdom has served the digital industry for over 5 years. He collaborates and works alongside agencies, event organizers, and suppliers to develop and execute their marketing strategies. He is extremely passionate about education technology and also writes for various local and international publications. A graduate with High Distinction from the Edith Cowan University, Perth, Australia, Fazreen holds a Bachelor's Degree with a double major in Marketing & Management.