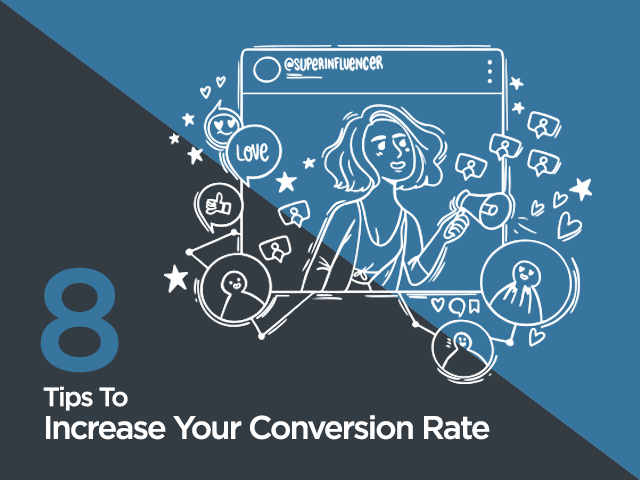 8 Tips To Increase Your Conversion Rate
Nowadays, generating traffic on a business' website is essential. Brands dedicates hundreds of hours towards ensuring that they rank higher than they competitors. Some brands even spend money on experts who can help them generate traffics.
But, is this the most profitable way to secure clients on the internet? The amount of traffic on your website is not directly related to the amount of revenue your site generates.
A more convenient measure of success could be the number of conversions that the website produces from the total traffic. More conversions mean a quantifiable increase in sales and qualified leads. It is not just a measure of traffic.
The eight tips below will not exponentially increase clicks on your website or drive you to the top of the search results. However, they will help your site by getting the best from those who visit your website which is better than the amount of visitor. If you cannot convert a good percentage of your visitors into clients, then it is pointless to have lots of them. You should meet with app development companies to get the best tools to optimize your conversion rate.
The following strategy will assist you in converting visitors to customers, where the conversion rate of your website will significantly increase. If these strategies are implemented correctly, they could determine the success of your online presence.
Update your Portfolio, Revitalize the Text of your Ad and Fix Grammatical Errors
A solitary mistake in your grammar can hurt what could have been a fantastic business website. Likewise, an outdated portfolio can be more harmful than good for what could be a great design firm. Keeping your website up to date will attract interest, even if you do not actively promote it.
Every six months, check your website for things that can decrease your conversion rate: misspellings, strange phrases, pixelated images, broken links, pieces that look amateur in your portfolio, etc. It is essential that your present yourself professionally and avoid simple mistakes.
Strengthen your Contacts Page to Increase the Trust Factor
Big businesses take advantage of their publicity both abroad and online. It is important that you develop trustworthiness in people in this digital era. Large firms use their big stores and offices to show solvency and reliability to existing and potential clients.
Without external resources, you are to achieve similar status for your online business. This is the form: add a phone number and address on the contact page and to your order forms and offer links to clients who appreciate your service. Add links to your portfolio, and to your social media profiles. To boost your conversion rate, you should inspire confidence in your visitors. Create a formidable profile and make contacting you easy.
Can't Complete a Sale? Try Getting an Email Address
No matter how optimized your website is, not all your visitors will become buyers. Some clients, particularly those with small businesses, like to investigate before committing. Although this must be frustrating, you can use it to your advantage.
Instead of giving your customers only two options – buying or leaving – give them a third option: add their email address to receive information directly from you.
Some visitors will not want to buy immediately, but with their permission, you can send them emails, show why they should hire you, how you can help them and which package is most convenient for their choice.
Add Graphic Testimonials
It replaces the excessive, long and ineffective written testimonies with a selection of graphic testimonies. Why? This is because unlike text testimonials that can easily be manufactured by the company itself, graphic testimonials are not easy to pretend. Also, they add a personal touch to the websites.
Explain your Services Clearly
Learn to predict how customers seek your service. What are the most important factors when evaluating a professional in your sector? How will customers make their decision?
Clarity and simplicity are vital components. Professionals and companies that provide services in a simple and clear manner are mostly hired and extend their customer base more quickly. Letting your clients clearly understand what they will be getting will result in attracting more clients to your website. Difficulty in doing this will hurt your conversion rate.
Simplify your Proforma Systems and Orders
Many emails, queries, and sales are lost due to poor order systems. Due of faulty WordPress emails that lose information and confusing and long forms that prevent the customer from completing the order or requesting more information, many potential and lucrative sales are lost.
Make your sales page as simple as possible – be it a product order form, proforma generator or email address. With enough traffic guided to your simple order form, even the smallest change could increase the conversion rate of your website.
Add your Direct Contact Data in the header of your page
If you operate a service business, this basic option can considerably improve your sales record. Contact data and an accessible phone number can improve your website's conversion rate, even if an answering machine is used to receive calls. You can differentiate your brand from others by using this.
Use Google Website Optimizer for Testing
Using Google Website Optimizer, you can easily discover which the most effective variations of your pages, how visitors interact with your site and what leads to your sales.
It is a way of testing at a higher level. Google Website Optimizer will help you to understand the best way to generate income. This will enable you to know where you are doing fine and where you need to improve. You can also make use of other tools for testing. Contact app development companies to get these tools.
Hopefully, these tips are useful in the process of optimizing your web pages. You should meet app development companies to perfect your web apps and include features that will make your landing page excellent.
Kenneth Evans is a Content Marketing Strategist for Top App Development Companies, a research platform for top app development companies in USA, UK, India, UAE, Australia and around the world. He has been contributing to various blogging platforms and Forums.