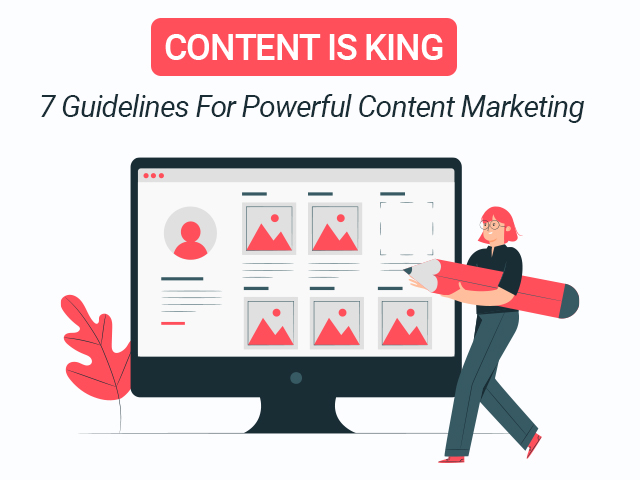 CONTENT IS KING 7 GUIDELINES FOR POWERFUL CONTENT MARKETING
"Content marketing is like a first date. If all you do is talk about yourself, there won't be a second date."
-David Beebe
As a brand, if you are only talk, without providing value to the consumer, it's safe to write off your obituary. It's a two-way street, where along with telling a story brands must listen to their customer's needs, desires and wants. That's where the power content marketing shines.
To be more specific, content marketing is all about engaging customers and potential customers by informing and engaging first. This is how brands add value to customers lives. Once a relationship is established, customers will in turn create value for us.
Now that we know content marketing is the need of the hour, let's talk about an opinion that has been spreading like wildfire: content marketing is seriously hard work.
Really- is that the case? Far from the truth, as impactful content can be marketed to it's fullest with the right kind of approach. It is this approach that is missing in businesses.
According to Zazzle Media:
-60% of companies struggle to produce content consistently, and
-65% find it a challenge to produce engaging content.
It is this particular misconception that might cost you your business along with credibility. Failing to engage your audience is losing money- this fact should be hardwired to your brain! This unfound fear needs to be dispelled on an immediate basis- we are here to bust that! Here are  7 carefully selected guidelines that can help you ace your content marketing strategies:
Map the content to the pain points: Then use the right type of content for that problem. Know what pains your customers and then present your brand as the balm they need.
Provide multiple content formats for your TG: Providing different formats for your clients is a great way to give existing customers easier ways to consume content and bring in newer clients. The formats can be anything ranging from YouTube videos to social media content and infographics.
Adopt a holistic approach: A great way to start approaching the entirety of content is to brainstorm with your team ideas across all content formats and fields, helping create a consistent strategy. For example, when you delve into the Marvel Cinematic Universe, you will see an overlap of heroes and villains throughout several movies, weaving stories from different films together to create a larger, integrated storyline.
Help evangelists tell their stories: Enable influential members of your audience to share their experiences with your business through ideas, opinions, or artistic talents. Recognize them for their contributions and watch them grow fonder towards your brand. Fun fact: 84% of consumers say they either completely or somewhat trust recommendations from family and friends about products, according to Nielson.
CRM is the key: Answering customer questions and providing easy access to account data, tech support, or other customized solutions is a great way to increase your customer's satisfaction with your business.
Data is the new oil, so are AI & personalization: The best content campaigns are those that linger long past the initial engagement and satisfy a customer's need for ongoing personal attention. Crafting content that speaks to their specific motivations and unique situations is a powerful way to build more trusting and loyal relationships. Did you know 35% of Amazon's sales come from personalized recommendations?
Punch in the awe factor: Being among the first brands to wander into uncharted territories can also give you a distinctive edge over your competition.
As content marketers perpetually on the cusp of innovation, let's not get lost in the translation and break down the full genome of content genius to a repeatable science. Instead, let's drive powerful storytelling that inspires audiences to take action.