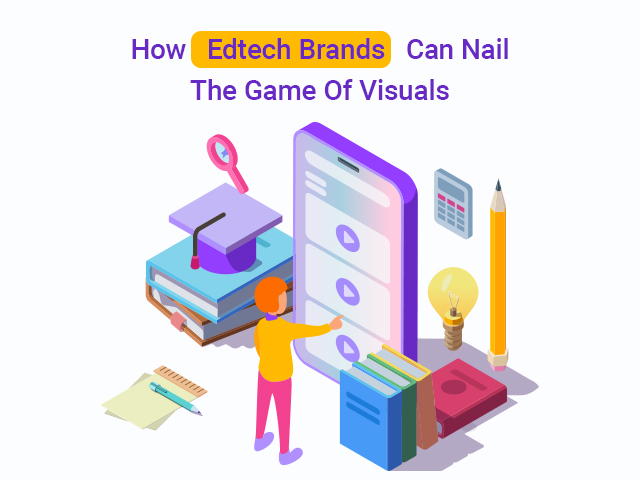 How Edtech Brands Can Nail The Game Of Visuals
Visual forms of marketing and data representation have been gaining a lot of momentum in recent years. Within the education sector, visual aids can prove useful for educators and students alike. Visuals when used effectively, can substantially enhance the extent of engagement and attractiveness of your content. As of 2021, an estimated 88% of marketers prefer using visuals within their published content. 
With technology becoming increasingly accessible, Edtech is a growing field within the education industry. Training students through technology offers a plethora of benefits but a significant advantage is the ability to include multiple forms of content and disseminating it across several digital platforms. Impactful visuals also have a key role to play in defining success for Edtech products, considering they can impact the learning process greatly for students.
Differentiate User Personas
An important aspect that a lot of Edtech brands miss out on while designing their application is that they need to deliver an exceptional customer experience for all users. Edtech applications like Moodle, and Blackboard which provide customized platforms for teachers and students to enhance curriculum management invest a lot in ensuring a superior user experience for different users. More importantly, differentiating between different types of users and providing tailored in-app experience to each of them. 
Visuals can be definitive in differentiating various types of users. For example, Edtech platforms that have teachers and students can provide different kinds of experiences for both. Since students are going to be the primary learners, the visuals could reflect that aspect more, whereas, for teachers, utility is more important so visuals could be targeted at helping them find necessary features and functionalities quickly. 
Enable Data Visualization
What according to you is the essence of any Edtech platform? One goal that almost every Edtech brand promotes is the ability to share knowledge and disseminate it to a diverse audience. Moreover, the essence of having an application for any function is that it is supposed to make things simpler and easier. Considering this, Edtech applications should offer options for visually representing complex concepts and data in a simplified way for learners.
It is estimated that infographics are liked and shared 3X more times on social media than textual content. This means that users would not only engage with the content but when presented with visual aids, they are also more likely to share it with others, which can greatly benefit your brand reach and awareness. As you may already know, the number of people visiting libraries and relying on books has been on a constant decline. The reason for that has a lot to do with students finding information more easily on the internet wherein infographics and videos are used for sharing knowledge. 
Integrate Videos
Another popular way to enhance your content is to support it with relevant and impactful videos. Videos have become one of the most reliable and preferred ways to increase engagement and brand recognition. Users worldwide also designate videos to be their preferred medium of receiving information, when compared to other common ways of knowledge sharing.

Edtech brands can leverage video content even more, by opting to share knowledge through short videos as opposed to large sections of textual content. For example, if you are teaching your students how to make a graphical abstract, it is better to teach them that using an online tool and with visual aids, rather than theoretically explaining the steps that should be followed to create one.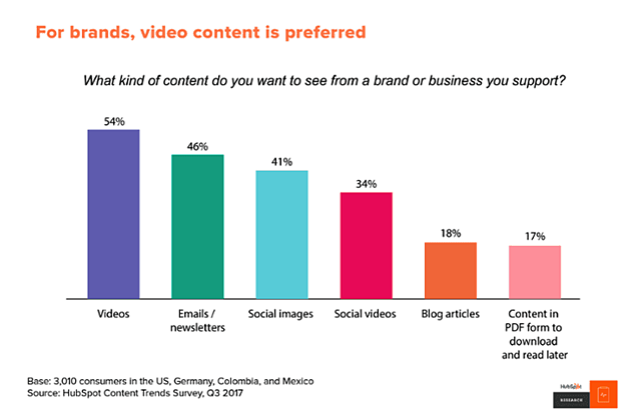 More importantly, having video content makes it easy for brands to repurpose their content across different digital platforms. Edtech brands can post informational videos on social media to reach their target audience, engage them and bring them to your application. 
Create Immersive Learning Experiences
The technological advent has globally transformed the traditional learning process and experience. It has now expanded to include experiential learning, wherein students can learn in unique environments that boost their engagement and information retention. Not to forget, students today have to absorb a lot of knowledge and the competition that they have to face for better career prospects is only growing. 
With that in mind, Edtech platforms need to evolve so that they can include immersive learning experiences powered by AR, and VR. With these immersive technologies, Edtech applications can make learning more engaging, and lucid for students, and prove to be highly effective in explaining complex concepts. For example, Strivr is a reputed immersive learning platform that facilitates VR-based training among employees thus offering data-driven insights and a highly effective form of training. Leading brands such as Walmart, Verizon, and JetBlue use the platform to train their employees with highly reduced training times. Many schools and institutions in countries such as the US and China have also started creating similar immersive experiences for students. 
Develop Superior Educational Toys
Another major trend within the Edtech industry is the sharp increase in the number of brands that provide educational toys for children. The children of today, are engaged with tech from a very nascent age, making it important for parents to get toys that can leverage their developing tech abilities. With the integration of technologies such as VR, AR, and other visual aids, these educational toys are reinventing the classroom environment, as well as playtime at home. 
For instance, PlayShifu, an Indian educational toy manufacturer based in Bengaluru, recently saw their sales in the US spike, as the demand for AR and VR-driven toys continue to grow. The toys have been designed to train children effectively in STEM and STEAM, apart from other necessary skills that children should learn from a young age. These toys are highly sought after by teachers, parents, and students alike due to their highly visual and interactive experience. 
Empower Edtech with Visuals
Edtech is transforming the way the education sector functions, one application at a time. Parents and teachers are now actively seeking applications that can help them provide the perfect learning environment for their children, especially in the current times, where most of the education is now online. If leveraged correctly, Edtech can help you bridge the gap between fruitful screen time and visual learning, which is ultimately the future of education as we see it.
Fabricio Pamplona is the founder of Mind the Graph – a tool used by over 400K users in 60 countries. He has a Ph.D. and solid scientific background in Psychopharmacology and experience as a Guest Researcher at the Max Planck Institute of Psychiatry (Germany) and a Researcher in D'Or Institute for Research and Education (IDOR, Brazil). Fabricio holds over 2500 citations in Google Scholar. He has 10 years of experience in small innovative businesses, with relevant experience in product design and innovation management. Connect with him on LinkedIn – Fabricio Pamplona.