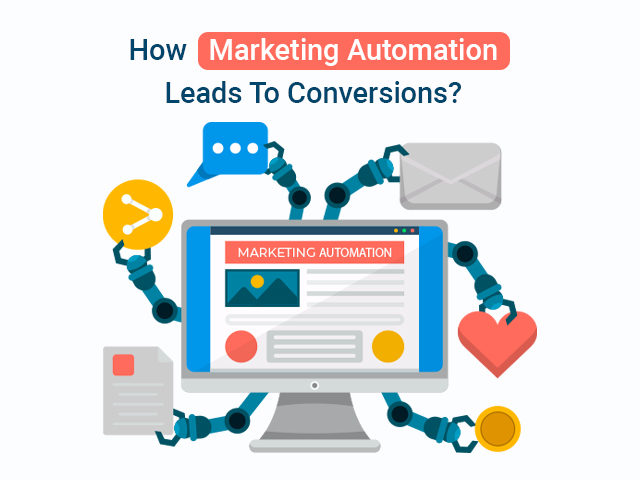 HOW MARKETING AUTOMATION LEADS TO CONVERSIONS?
One of the most important trends in digital marketing is marketing automation. Studies say that marketing automation heightens conversions by 77%, increases sales productivity by 14.5%, and reduces marketing overhead by 12.2%. So, businesses and marketers consider that it is imperative to the overall success of online marketing.
This blog discusses what marketing automation is and how it nurtures and prime leads to be buyers.
What is marketing automation?
Marketing automation is the use of software for automating manual marketing processes. Businesses automate repetitive activities such as sending emails, ad campaigns, social media posting, qualifying website leads, and more. This simplifies these tasks, renders efficiency, and provides customers with a more personalized experience.
What are the benefits of marketing automation?
The following are the broad benefits of marketing automation.
More efficient and effective marketing campaigns: Marketing automation helps you reach the right person at the right time with the right message.
Conservation of resources: Since automation relieves businesses and marketers of repetitive marketing tasks, a significant amount of resources, including time, money, and manpower is saved.
Ushers creativity: Marketing automation allows innovative marketers to go beyond stale concepts and traditional methods.
A better customer experience: Marketing automation enables you to provide a better customer experience with materials and content, which are highly personalized and educational.
Nurtures lead and automates the sales cycle: Marketing automation helps educate your leads about your brand so that they become ready to purchase from you.
Track metrics: Marketing automation helps you to track metrics such as
Marketing-Qualified Leads (MQL)
Sales Qualified Leads (SQL)
Sales Accepted Leads (SAL)
Won/ Closed/Lost Business
Investment-to-Revenue
Number of Inquiries
Where do businesses employ automation?
The most common areas where businesses employ automation are
Lead nurturing: Firms employ automation for intriguing their leads and invoking their interest in their brand.
Email marketing: Firms establish customer journeys through their email marketing automation software. This automatically triggers and executes all actions, relieving the firm of nurturing prospects' responsibility and taking them through the conversion path manually.
Software integrations: Automation is employed in software integrations of systems like social media, mobile, and CRM. For instance, Customer Relationship Management software automatically collects customer interactions across different channels at a single place so that you can centrally manage data to enhance customer service, satisfaction, experience, and retention.
Though these are the most common areas where marketing automation is used, almost all digital marketing initiatives can be automated somehow. User segmentation, cross-selling, ROI measurement, etc., are a few instances. It facilitates businesses and marketers to allocate their time and resources to offer diverse consumers more robust content and recommendations across different channels.
What Are the Goals of Marketing Automation?
Marketing automation enables firms to organize, automate, evaluate, and track their marketing activities and workflows to increase operational efficiency and revenue generation. It helps brands and businesses to accomplish certain business goals including-
Generating qualified sales leads.
Transforming qualified sales leads into loyal customers
Increasing customers' lifetime value through customer retention strategies.
How does marketing automation lead to conversions?
Marketing automation is linked to all aspects of your digital marketing program, like landing pages, website, email campaigns, etc. You can set up automated responses in these venues to actions performed by prospects, visitors, leads, and customers depicting their interest in your brand. These actions are referred to as triggers.
For instance, if a visitor subscribes to your newsletter, you can send him an email with a link to the event promoted by your newsletter. If someone downloads an ebook from your site, you can notify him through an email when the next ebook in that series becomes available. If a customer buys an item (like a pair of shoes), you can send them related products that are often brought together with it (like shoe polish, socks, etc.).
Here is a list of possible actions your business can take for certain triggers
Triggers
Corresponding actions
A subscriber signs up with you.
Send him how-to emails to make his onboarding easier.
Someone downloads your ebook.
Send him a list of other ebooks and resources available for download.
Someone signs up for an event.
Send a thank-you note and inform them of other upcoming events in that series.
A customer is facing issues with your services or products.
Send him an email apologizing for the difficulty and suggesting potential solutions.
Someone keeps engaging with your brand.
Notify your sales team about him so that it can contact him.
Someone buys from you.
Send him special offers, more personalized content, new features, product updates, and an invitation to forthcoming events.
Someone has been your customer for a while.
Send him an email celebrating your relationship with him.
A customer or lead has refrained from engaging with your brand for some time.
Send a customized email to convey that you miss him and inform him about a special offer or an upcoming event.
You essentially provide relevant information and content to build upon the interest shown by someone. You persuade and convince them with useful knowledge to increasingly engage them with your brand and take them down the sales funnel so that they ultimately start purchasing from you and become your loyal customers.
Thus, automating a workflow can aid in transforming a prospect (someone interested in your brand) into a lead, a lead into a buyer, and a buyer into a loyal customer.
An ideal marketing automation software
NotifyVisitors marketing automation software is powered by AI and Machine Learning. It allows you to deliver personalized campaigns seamlessly across devices and channels. It thus enables personalization and drives customer engagement and conversions.
Its customer journey designer facilitates the creation and visualization of campaigns and the automation of customer journeys, both simple and complex, irrespective of your customer base's size. You can trigger personalized journeys based on customer engagement and behaviours like purchases, registrations, clicks, and sales. The software can use intelligence to deliver relevant content on time.
The software also helps analyze and evaluate each step in your campaign's progress in terms of CTRs, timings, conversions, channels, etc. This way, you can optimize your future campaigns.
NotifyVisitors marketing automation software is a trusted partner of more than 6000 partners, some of which are well-known names like Vodafone, IndusInd Bank, Domino's, American Express, Axis Bank, Jet Airways, HDFC Bank, Coca-Cola, and Times Jobs.com.
How to reap the rewards of marketing automation?
Marketing automation is a blend of software and strategy. With it, you should be able to nurture prospects with useful and highly personalized content that intrigues prospects to become felicitated customers.
Effective marketing automation is like growing and tending to a garden. You need to nurture leads well enough to turn them into purchasing customers. And it is your continual process in which you need to nurture your customers. You should have them at the center of all of your marketing efforts rather than as an afterthought at the end of the sales funnel.
You should focus on building a contextual experience with each lead and customer instead of bombarding them with irrelevant and inconsistent content to force them through a funnel. This would reduce those points of friction likely to be faced by your customers.
Further, do remember that the "setting it up and then forgetting it" principle will not work in the case of marketing automation. It needs a human touch as it is humans and their complex mix of behaviors and decisions that you are dealing with. So do have space for some invaluable human interactions in it.
This will foster long-term, productive relationships with your customers and pave the way to discover new horizons for expanding your marketing.
Rounding up
Marketing automation is one of the most important digital marketing trends. Businesses usually employ automation for lead nurturing, email marketing, and software integrations of systems like social media, mobile, and CRM. Automation helps brands and businesses to generate qualified sales leads, transform those into loyal customers, and increase their lifetime value.
Marketing automation leads to conversions by providing relevant information and content to build upon someone's interest. You can establish automated responses for these triggers to turn your prospect into a lead, a lead into a buyer, and a buyer into a loyal customer.
However, these efforts should not be something mechanical to force your leads down the sales funnel. Rather you should have your customers at the center of all your marketing efforts and build a contextual experience with each of them.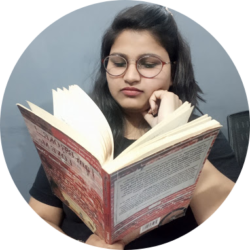 Shivani is a content writer at NotifyVisitors. She writes SEO articles, blogs, and guest posts for businesses to improve website ranking on SERP. She follows a balanced approach to the quality of content and its marketing. She loves to do creative, although she had an English major in her graduation.