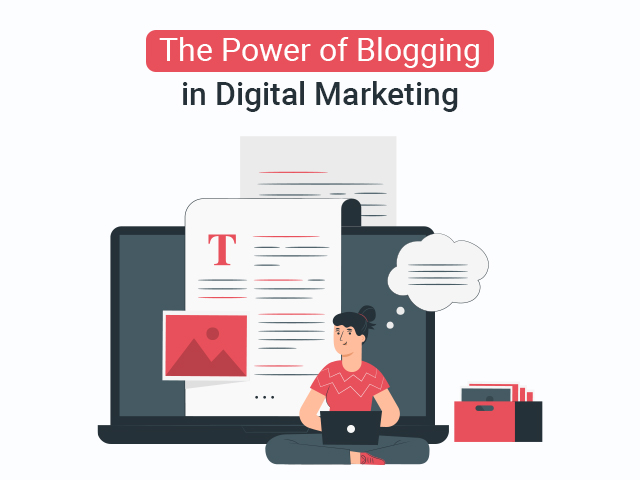 The Power of Blogging in Digital Marketing
Blogging, which was once seen as a unique platform for individuals to express their views, opinions, and experiences, has now become a powerful tool for businesses. So, whether you are a new business owner or a well-known organization, blogs are a great way to promote your business and increase the visibility and ranking of your website in the leading search engines. Blogs are considered to be authentic and more credible sources of information than advertisements. The opinion of expert bloggers can be seen as equal to the opinion of a trusted friend or family member. Well-written and insightful blogs, therefore, have a tremendous potential to turn the readers into customers. It is the most cost-effective strategy that can help you drive results for months or even years to come.
Here are a few more reasons to include blogging in your digital marketing strategy:
Generate organic traffic 
An effective digital marketing strategy often revolves around a company's website. The more the number of people visits your website, the higher the conversion rate. With blogs, you can create relevant content for your audience that can attract them to your website. If your company has a social media presence, then you can post the link of the blogs along with attractive visuals on your social media channels. This will help you bring more traction to your website and, in turn, help to increase conversion rates.
Bolster brand position
Blogs are an excellent way of strengthening your reputation in the market. They not only boost your brand image but also help to highlight your organization's expertise and skills to your potential customers. If you are a fashion retailer, you can write blogs about the latest fashion trends that can be a source of inspiration for the readers. It can also help you connect with your community and open new avenues for your company.
Improve SEO/SERP
Updating content on your website from time to time is a key to beating out your competitors on the search engine results page (SERP). Although it is difficult to update your goods or services page now and then, you can, however, add some compelling blog pieces to help boost your site ranking. With the right search engine optimization (SEO) tactics, such as using specific business keywords, meta descriptions, catchy titles, and more, your blog posts can become a powerful tool to make your brand more visible. So, if you want your target audience to find your website easily on the search engine pages, then blogging is an effective and affordable way to do that.
Develop better customer relationship
Building trust with your customer is a crucial pillar in growing your business. Blogging is a perfect way to establish long-lasting relationships with your clients and prospects. It helps you to share your perspective with your audience. As per the research, 60% of consumers feel more positively about a company after reading custom content on its site. Additionally, when you provide informative and accurate content, your clients not only get to know about your products or services but will also begin to see your business as a figure of authority. It also encourages your visitors to stay longer and give them a reason to come back to your website again, hopefully, to convert along the way as they learn more about you and your company.
In short, when it comes to implementing a successful digital marketing strategy, there is no replacement for blogging. Whatever your needs are, blogging is an excellent tool for generating website traffic, grow audiences, and attract new customers.
If you are interested in implementing a cohesive blogging strategy or looking to improve your current blog strategy, we invite you to get in touch with our marketing team.