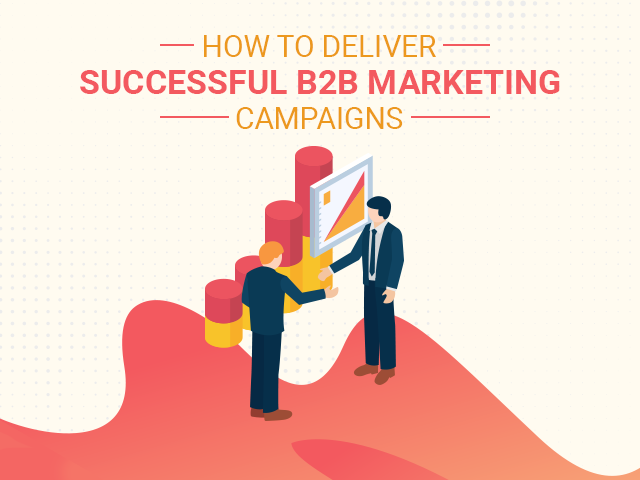 How to Deliver Successful B2B Marketing Campaigns
To be successful with any B2B marketing campaign, it's imperative to know what a B2B marketing campaign truly is. B2B marketing campaigns are systematic, targeted set of efforts devised to achieve a certain goal. The objective could be creating buzz and awareness around a new product, lead creation for a current product, company rebranding, responding to important industry regulations or news, etc. B2B marketing campaigns are a lot more than just some creative taglines and print ads. Here are some detailed instructions to help you deliver a successful B2B marketing campaign.
Define Your Unique Selling Points (USPs)
Before you could think about the audience your B2B digital marketing campaign would cater to, look inside your company and ascertain what its true unique selling points are. You must be able to answer the following questions:
What are you promoting?
What makes your offering or company different?
Why should the market take notice?
If you cannot clearly answer these questions, reconsider your decision to carry out a marketing campaign for the product in question. The USPs could be:
Our software program can process 1 TB of information 25 percent quicker than the competition
Our product can last two times longer than the competition
Our support and upgrades are for life, unlike the competition that charges for yearly maintenance
Define the Market
The more you learn about the market you want to cater to, the better your USPs would be. To make sure your marketing campaign delivers, you must know the answers to at least the following:
Is your offering targeted at large companies, SMBs, or the whole industry?
What kinds of prospects can likely turn into your ideal customers?
What are the questions potential buyers are asking?
The outcomes are usually referred to as 'buyer personas' – an integral component of the content marketing mix for B2B campaigns. To get the data you require, you must begin by interacting with your team. Sales representatives can provide you buyer persona information in the dozens. At times, you'll have to delve into market research and ask future buyers about the challenges they face every day and their business realities.
Know What You are Offering
Irrespective of whether you are running a B2B marketing strategy for brand awareness, lead generation, or interest creation, you should make it fairly straightforward for interested buyers to switch – that is, seeking contact information of prospects so that your sales team can get back to them.
As a thumb rule, you would make more conversions when you ask for people's email addresses and not their phone numbers. However, those conversions would be of low quality. Conversely, the fewer users who commit to talking to your sales team on the phone would likely be a lot more serious prospects.
The right B2B online marketing strategies fall somewhere in between phone numbers and email addresses. In other words, create a solid piece of content – such as an ebook, how-to-guide, or industry study report – that can be traded in for some buyer contact details. Ensure the content you offer to share is highly useful, and use advertising or content optimisation techniques (such as SEO or Google Ads) so that the maximum number of prospects could see the content.
Define a Message Creatively
Not all B2B digital marketing campaigns are the same. For instance, a B2B digital marketing campaign to sell software to law professionals will not work for selling or marketing clinical trial management programs to top pharma companies.
To come up with a unique and creative message, think about your brand and its targets. The engaging message you craft should align with your company's values and missions while ensuring it provides your potential buyers things they want.
Create a Campaign Workflow
A B2B marketing strategy cannot be created without building a workflow. A workflow visually exhibits how users would move ahead in your campaign, from the first engagement to the ultimate conversion. The quicker the workflow is created, the sooner you would be able to create assets, such as digital ads for a search engine or landing pages.
There is no limit to the number of tools you may use to reach prospects – from demand side platforms and associating with a digital marketing agency to print advertising and sponsorships. Your prospect's behaviour is the only thing limiting your imagination and budget. If they are not on a particular social media site, don't advertise on that platform.
Start Your Campaign with Little Noise
Once you have set clear goals, created a workflow, defined a message, and learnt more about your future buyers, go live. Kindly note that the job doesn't end as soon as the ads start to roll, emails go out and your teams start executing the plan. You must constantly test and enhance things to make sure your goals are met.
Check if the landing page is performing, ads are receiving clicks, emails are being reciprocated, etc. If not, try something else. For instance, try changing the subject line in your email messages. Just keep an eye on how things progress, and do not misconceive those minor hurdles or hiccups as failures.
Riya is an inspired writer writing in several areas of expertise. Spending her years working with marketing communication, Riya is delighted to work with aspiring small business owners. She is also part of the content marketing team behind Noria Digital, a digital marketing agency in Chiang Mai, Thailand, which provides SEO services, Google Adwords and Social Media marketing services. Connect with her on Twitter, @sanderriya.