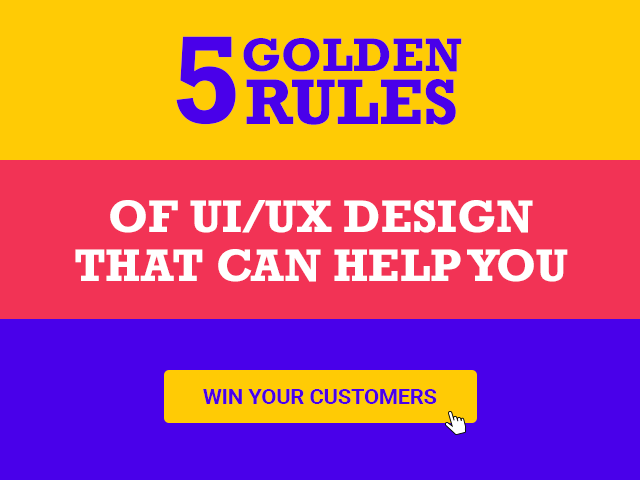 5 Golden Rules of UI/UX Design that can Help You Win Your Customers
Do you own a business? Great! Do you have a business website and mobile app? Superb! Is it designed to make your users happy?
Most of the times, we fall for things that look all glittery to us without checking how useful they are. A case in point, when we're looking for a good design for our mobile app and website, we generally tend to overlook the functionality aspect of the design.
Dealing with and checking a lot of mobile apps and websites by now, you may have got the gist of how important the design is for user interaction.
The design of a mobile app and website is not limited to its graphics, color, and pattern, but it also includes navigation, buttons, grids, menu options, layou, and much more.
Thus, if any of these things do not function properly, the user will not be happy with our mobile app or website, and as we all know very well, there million other options available for the end-users.
Here, we bring you the five golden rules to follow while designing for the user interface and user experience of your mobile app and website.
Rule #1. Let it flow consistently
Irrespective of whether your design has elegant colors, fancy lines drawn across, or shiny buttons, a consistent flow is a must.
Often, the graphic design of a website or mobile app is astounding but does not have any consistency in the flow of the elements. Elements that look stunning but misguide or confuse the user are of absolutely no use.
A good UI design supports elements that refelect the way they would behave on command. For example, an icon for settings must be represented by a symbol that prompts the user to the parameters of the app or website.
Rule #2. Speed it up to speed up the customer interaction
It often happens that to make a design beautiful and appealing, we make the mistake of using heavy graphics, which increases the load time, leaving the user irritated.
You need to be smart here and choose the graphics and design flow that does not affect the load time. Design your mobile app and website in such a way that it is a breeze for your users to connect and engage with the features and elements.
It must be friendly enough to impress your user such that they visit your app and website again and again. They should not forget the name of your brand.
Rule #3. Get feedback; it helps!
Believing yourself is the first and foremost thing; however, it never hurts to consider feedback at every stage of the designing process.
When you design the elements and functions, you look at the design from your eyes with a defined mindset where you know everything about the aspects that you are creating. Nevertheless, you will possibly be the last one to use the app/website once it is designed.
Hence, you need to consider looking at it from a fresh pair of eyes, consulting and asking other people around you to use the app or website and hear their feedback.
Ask from people who do not know anything about your design or elements used, and they are entirely unaware of the concept that you are following or applying.
Get their feedback and understand it from a neutral point of view, so it helps you modify the design in a manner that it is understandable for all user categories.
Rule #4. Gift it the most Aesthetic Graphics
No matter what, your mobile app and website need to look outstanding.
All the elements are equally important, but compromising on its appearance cannot be acceptable in any case. You should have an astutely artistic eye for the design of your app and website to enhance its look and feel.
Choose the graphics smartly for all the elements, buttons, grids, pages, and features in a way that it reflects what it is made for and is easy to understand for the users.
A page representing your company home page should have the graphics reflecting your brand's personality.
Rule #5. Let users correct their mistakes
The user can make mistakes at any stage of using your mobile app or website; they may accidentally go to a different page, tab, or command; from where they would want to return.
It should not become a punishment for them to bear the hassles of starting from scratch just because they landed somewhere by mistake.
They are humans as we are, and we all are bound to err. Thus, leave the space, add that extra button or give them the option to undo what they did incorrectly.
Were you following these?
As a UI/UX design company, you might be piled up with a lot of pending projects and may be under the pressure to speed up the design.
However, delighting your clients depends on how you deliver the design. The above golden rules of UI/UX design, if followed sincerely, can help you achieve your goals. Ultimately, it will help your clients win the hearts of their users.
Vivek Shah is the founder and CEO of Capermint Technologies Pvt Ltd: a thriving Mobile App Development Company. As a CEO, he likes to help partner companies to transform their app ideas into reality. He likes to share his knowledge on the latest mobile technologies, including Android, iOS, and others.