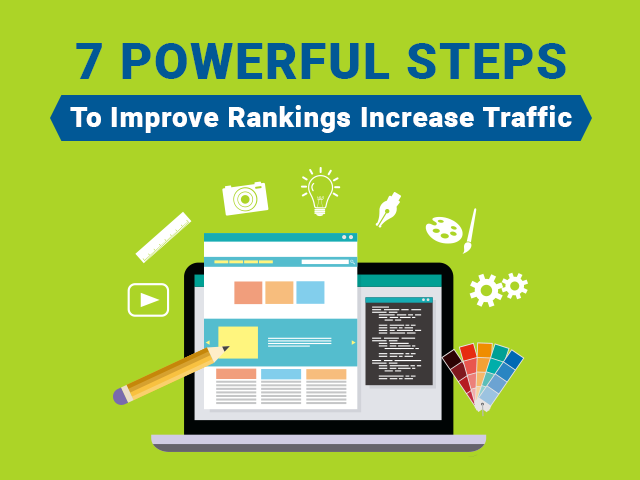 7 Powerful Steps To Improve Rankings & Increase Traffic
New website? No problem. You can increase traffic to your website to produce visitors who want to give you their business by following these high impact strategies to kick start traffic and boost the number of visitors your website receives.
Audit your website
Plan your keywords
Publish amazing content
Optimize your pages
Post content to social media
Demonstrate your expertise
Earn authority
Audit your website
Speed and functionality contribute to user experience so make your website run as smooth as possible by doing a website audit to uncover any problems that may cause performance issues.
SEMrush provides an extensive site analysis you can use to identify technical issues that are causing errors and contributing to a poor performance score. Broken links and slow page speed are only a couple of examples in a website audit of what can adversely affect your rankings.
Plan your keywords
Keyword research is a non-negotiable part of building your website content to rank in the search results. An effective keyword strategy will provide the blueprint for building traffic that converts by uncovering popularly searched terms of which your site should be optimized. Your keyword research will identify the content you will need to create in order to satisfy search intent.
Publish amazing content
High-quality content is a necessity. It's the first means of communicating with potential clients, so make a good impression by being in touch with their needs and delivering what will satisfy those needs.
Search engines will read your content and assess its ability to satisfy search intent. The standards in quality are continuing to rise due to this fact so you need to adhere to what works and make sure you have great content that engages and encourages users to click further into your site.
Optimize your pages
Make sure you tackle all of the details that you control such as using keywords in the title, subtitles and image alt attributes. Use keyword synonyms throughout the body of your content and incorporate as many related topics to your main keyword as possible. If you've done your keyword research effectively you will have all of these items outlined when building your content.
Post content to social media
Use the power of social media to get an audience for your content as soon as you publish it. The objective is to get your article shared and read by as many people as possible. It won't affect your ranking directly, but if people share your content with a link from their website, it will count as a positive ranking signal. Develop your network and build a large list of subscribers to increase your chances of instantly acquiring backlinks to articles when you publish them.
Demonstrate your expertise
Use forums related to your niche as ways to build your expertise and increase brand recognition. There are a lot of people that use forums to voice concerns and ask questions that can be highly oriented to your field of expertise. By providing a solution to people's problems you can be the expert that saves the day.
Quora is a place that has a ton of traffic which you can find questions on literally any and everything under the sun. Find a question where you can deliver a comprehensive answer that will last long into the foreseeable future. Provide the best, most comprehensive response to serve as a promotional piece of content. If your answer is legitimately helping people it could be read for years by thousands of people which will create brand recognition and a stream of referral traffic.
Earn authority
Increase the authority of your website in your industry by publishing articles on niche related websites. The accumulation of links from related external websites forces search engines to recognize your company as a legitimate brand in your industry. This recognition comes in the form of authority which is strengthened by links from higher authority sites and the number of referring domains your backlink profile accumulates.
Earning authority in your niche will improve your website's ability to outrank other websites and connect your site to niche related keywords.
Conclusion
There aren't too many secrets to developing your website to produce traffic that converts to clients. The process is fairly straightforward but requires a commitment to continuous improvement in these seven areas until you reach the top ranking standards of your industry. Put these strategies into practice to see an increase in rankings and traffic which results in more visitors to your site and more opportunities for new clients.
Christian Carere is an SEO expert and founder of Digital Ducats Inc. Christian offers traffic generation services to produce more opportunities for new business.