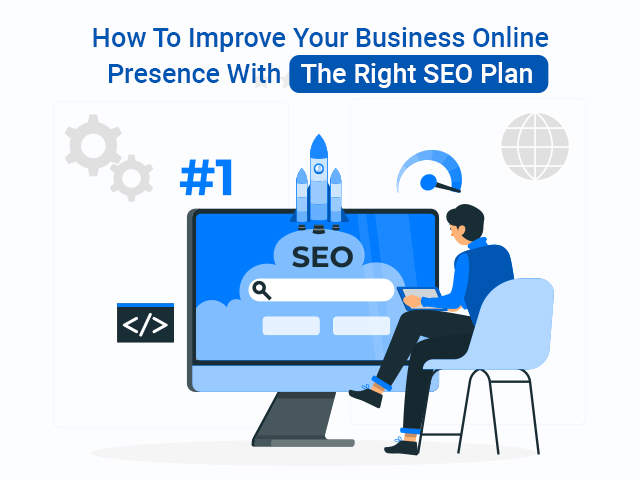 How To Improve Your Business Online Presence With The Right SEO Plan
Many companies tend to underestimate the importance of having an online presence. Some decades back, a website was all a company needed to have an online presence. However, billions of websites have been created which makes it hard for a company to rely on a website only for its online presence. Online presence is made up of digital footprints that lead both prospective and existing customers to a company. These footprints make it easy for people to find a company online and create more awareness for the company.
Many companies provide excellent service but do not pay attention to their online presence and this can make the business suffer. Having an online presence does not require a lot of work. All you need is enough time and the right SEO plan. Having the right SEO plan involves using online platforms to create visibility on the internet. Here are some ways that you can improve your business online presence with the right SEO plan;
1.Website Optimization:
When people are looking for a product or service, they will prefer finding those products on a website than anywhere else. To build a website is the first and the most important step. Even if they have read reviews about the products, they will still like to visit the website to check for contact details, Frequently Asked Questions (FAQs), and other details that they need. However, small businesses do not recognize this fact and most of them rely on social media pages to market their product or services.
Your website does not need to be sophisticated. A couple of pages where you display your products and services, reviews from clients, information about the business, and contact details will be enough. To boost your online presence, your website needs to be optimized for search engines,  be mobile-friendly, have a quick load speed, etc. and you can work with an SEO agency to achieve these. They can help you to optimize your page and put your brand in front of a large audience.
2. Blog:
A blog is a powerful tool in building your business's online presence. It involves finding a need in your niche and procuring a solution or giving your thoughts on a trending issue. Being consistent with your blog will help you to gain the trust of people, create awareness for your brand, and ultimately build an online presence. When writing blog posts, make sure that you provide authentic information. To give your blog more credence, provide links to back up your facts. Links to journals, Wikipedia pages, and other authoritative sites. This will help you get more traffic on your blog and help you to convert leads to customers.
Your blog, like your website, needs to be SEO optimized. You need to strategically plan the topics that you will be writing about and how you will write them. There is no better way to maintain a blog than to have an SEO consultant who will give you SEO tips and help you draft effective plans that will help you to improve your business online presence. These tips can be shared throughout files to help more and more people, just make sure that you convert to PDF so it's easier to access.
3. Social Media:

Social media is arguably the biggest platform for brands to advertise their products and services. You need to consider your target audience when choosing social media platforms where you want to market your brand. Being active on these social media will help you contribute to online discussions and build your online presence. You can also use your social media handles to share your blog posts. Another way to boost your online presence on social media is by asking your employees to share your posts on their social media. Social media can help you reach a very large audience and get more customers for your business.
3. Email Marketing and Guest Blogging:
Reaching out to people through their emails and publishing articles on sites that people trust are two proven ways to improve your business's online presence. Email marketing allows you to target specific people. You can analyze the time that people open their emails the most and use that to decide the best time to send emails. You can also try out different approaches to find out which one works best in converting. Guest blogging has to do with publishing articles on established sites. When your article or articles appear on sites that people already trust, it will be easy for people to trust your brand.
4. Engage Your Audience's Imagination:
To make your people connect more with your brand, use images and videos on your site and blog. This will allow your content to be more captivating and allow more people to visualize your message. You can also use stories to explain the uniqueness of your brand and the services that you offer.
Conclusion
The competition is getting stronger every day so if you want your brand to stand out among your competitors, you need to improve your brand's online presence and gain credibility in the minds of internet users. Effectively utilizing these strategies will put you ahead of your competitors, allow you to get more customers and make more sales, and ultimately help you make more profit which is the sole purpose of starting a business.
As an SEO specialist Norvin identifies strategies, techniques and tactics to increase the number of visitors to a website and obtain a high-ranking placement in the results page of search engines