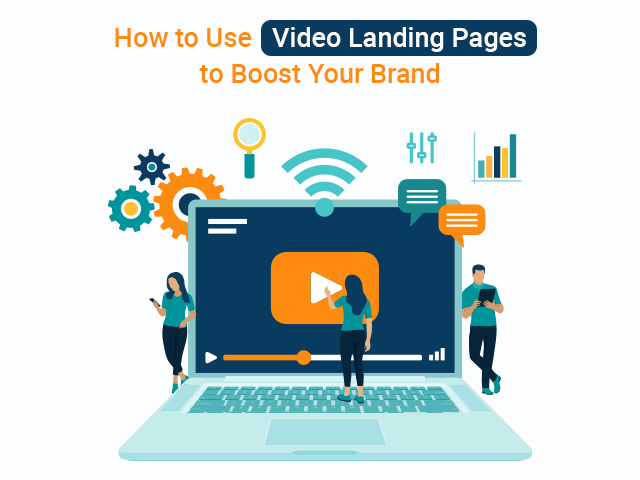 How to Use Video Landing Pages to Boost Your Brand
You've probably already heard quite a lot about the importance of quality landing pages to your business. But what can you say about video landing pages? At first glance, using a video on a landing page may seem like a very tempting idea. Still, you shouldn't insert a video on a landing page thoughtlessly, without careful analysis. For this marketing tool to work correctly and bring the expected results, it must be implemented correctly and carefully.
A few words about video marketing
Your business needs video marketing. Videos promoting your brand attract customers and increase sales several times. They demonstrate the benefits of the product and inspire confidence. And all investments in video creation quickly pay off due to increased conversion.
According to statistics, video landing pages outperform regular one-page sites. The statistics about the usefulness of videos on landing pages speak for themselves:
59% of users will choose video over reading text on a landing page.
66% of customers confirm that the video increases the confidence that they need a purchase.
70% of users review videos about complex products.
Everything you need to know about video landing pages
For your landing page to also get a compelling video, you need to create it. Today it is easy to do it. You can do without professional equipment for filming and editing. Sometimes a smartphone or graphics tablet is enough. Monitor the quality of the picture and sound to grab the customer's attention accurately.
On the other hand, it's best to find an SEO consultant who can help you with video landing pages. In any case, a professional SEO consultant knows how best to stir up interest with visual effects when, for example, the background on the video is accompanied by explanatory animated text.
Key factors to consider when creating a video landing page
A video is not only a beautiful picture. Length, location, and even the type of launch are essential for conversion growth.
Be careful because most of the time, auto-playing on a landing page is annoying. On the other hand, there are only 3-5 seconds to grab the readers' attention. And they may not press the Play button. If you realize that auto-playing lowers conversions, then work on a video preview. The picture should be intriguing and understandable. Add a couple of sentences in front of the video. Then the client will understand what awaits him after clicking on Play. A short, intriguing text can also be inserted next to the video to motivate the client to start watching. This can work if you are creating a video for a knowledge management platform or any other topic.
You have a limited resource at your disposal – the visitor's attention. As soon as the users get bored, they close the page. Therefore, videos for 60-90 seconds are best perceived. Tell us about your brand identity, using the length of the video as an advantage in the preview. Even explaining a complex product often takes a couple of minutes or even less than 30 seconds. Also, enable users to share these videos. Give them the option to upload large files via file transfers. With video in marketing, everything is the same as with text – you only need a squeeze, a message that evokes emotions in a matter of seconds. The video should either explain (how it works) or evoke a powerful emotion (laughter, adrenaline, admiration). Ideally, do both.
The video size is on the page
The video should fit harmoniously into the landing page, so its size often matches the text blocks' width. Sometimes the description "wraps around" the video, especially if several or you place the video on the side. Your landing page can be viewed while traveling, at work, and on the road. Make the video fit on the screen of your smartphone and tablet.
Types of videos on landing pages
Videos can be different. Choose the one that best reveals the advantages of your product. I will highlight the main types:
Most often, videos are placed in the header of the landing page.
They are placed on the first screen. They introduce the business and describe the main advantages of the product.
The videos detail the product or service. For example, some sites have instructions on building websites on platforms, and each step is illustrated in a video.
Final word
A genuinely high-quality, well-thought-out, and created to the highest standards video has many advantages, against which many existing methods of lead generation pale into insignificance. We hope that this post gives you an idea of how effective its influence on the target audience is.
Katrina Paulsson is a freelance content writer. She searches for strengths in uncovering errors in grammar, punctuation, and sentence structure. Her mission is to inspire others through her pieces.