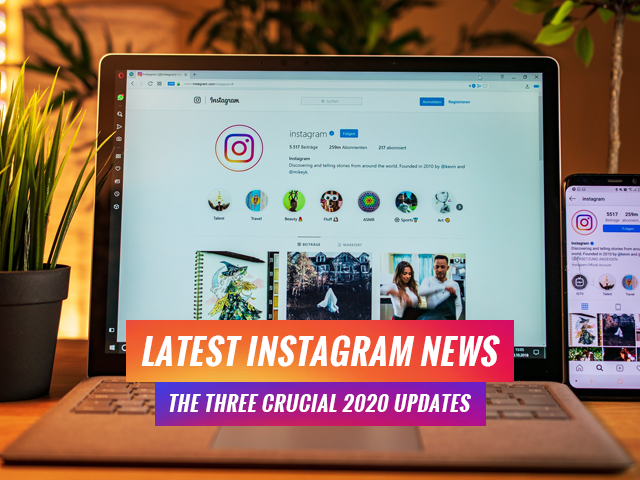 Latest Instagram news – The three crucial 2020 updates
Instagram is a popular and favorite social media channel for entrepreneurs and individual users. The platform undergoes constant changes and updates that help users to leverage social media marketing benefits. It's 2020, and despite the apparent economic downswing that might occur due to the pandemic there are social media changes, news, and relevant updates. Even though we are practicing social distancing, it's a good time to check out the changes in social media and Instagram in particular.
With every update, there are new features that come to the fore! It helps you to market your brand better and also network with your online audience seamlessly. Also, making use of these features optimally will make you increase your follower count as well. Else, you can also opt-in for what most people on Instagram opts for today, i.e., to purchase likes and followers. There are service providers that enable you to buy Instagram likes 50 or more based on your preference and requirement.
Here are some updates that can help use Instagram better
March 2020 has been a month of slow growth and upgrades in terms of Instagram news. But still, there are significant updates that business owners, entrepreneurs, bloggers, celebrities, and other individual users can use to their advantage. Let's have a look at it:
Enhanced reporting action
Instagram attaches ample relevance and importance to the service terms and guidelines. And there are features, that enable the users to report others as well as take action. This method can either be a miss or a hit, along with unimpressive regulation and inconsistent penalties. However, today Instagram is continually trying to enhance this and the way they respond to the issues that other users witness.
You can have access to many features that come to help! To start with, there's the "Support Requests" that highlights the state of the recently submitted reports and report records. It alerts you on the posts that you reported about and the actions that got taken.
Have you ever reported any post and got told that its perfectly okay, when you are aware that it's not? If yes, then you would want to know more about the next Instagram news. Now, Instagram allows its users to appeal to decisions to which they agree, based on the content reported for using a fast "Request a Review" button. Here the Instagram team should review the post once again and analyze the situation at hand. When you think something is missing, it's always a smart call to get it correct.
The latest posts make it to the testing
Most users don't respond well to the social media algorithms, which makes them have a look at the content out of order. It could even mean that they are viewing content, which might be most relevant based on the search. The brands, too, are not the best fans always, especially when they realize that their content isn't making to the top customer preference list.
Right now, Instagram is trying to make sure that their end-users are updated about a post and doesn't miss any update. And for this, the feature is in the testing and development phase. It's the "latest posts" features that you can opt-in for. You can see it when a user browses through his/her main feed. The feature notifies the users about the brand-new posts and provides them the choice to keep updated with posts from accounts they follow. The news feed at times includes advertised content as well.
Is your brand working extra hard with Instagram engagement? Do you want your news updates to get highlighted in the user's timeline? If yes, then this feature might help you. It helps you to get added visibility, and that enables you to promote your posts better than ever. It helps in increasing the brand awareness and recall value as well.
The IGTV monetization is available to chosen channels
Finally, Instagram has launched IGTV monetization. And with that, several options are coming your way as well, where you get to choose the channels. There are a few in-stream ads that are running on some of the video content. Interestingly, Bloomberg reported that the program creators would get about 55% advertisement profit share on IGTV. That's the exact price that YouTube pays.
Also, IGTV is gradually gaining momentum. The capacity of the influencers and creators to monetize it is also relevant. It encourages several creators to spend ample time on the platforms and trying to generate the user base. Since they can already create Facebook and YouTube revenue, it adds more to the game and allows Instagram to fight its way as well.
These are some of the crucial changes and developments that Instagram offers this month. Stayed tuned to more updates and changes to use this platform to your advantage and promote your account or business seamlessly.
Run a Contest
Challenges and giveaways are gold mines with regard to empowering commitment. Any sort of battle wherein clients get an opportunity to win a prize should work to bring you, potential adherents. Individuals love free stuff. Like-to-win challenges expect contestants to like a post for a took shots at winning.
That is an ensured like for you, however, it's not by any means the only sort of substance that can profit you. For whatever length of time that the giveaway offers something of significant worth, individuals will need to enter. It's an opportunity to draw in more guests to your profile, prompting more supporters and commitment in the event that they discover your image sufficiently engaging to stay.
Instagram now accessible on the dark mode –
On the off chance that your preferred shading is dark, at that point there's uplifting news for you. Presently, you can utilize Instagram in dark mode. Indeed, you heard it right. Instagram is currently additionally accessible in a dark subject. Be that as it may, this subject of Instagram is just available for iOS 13, Android 9 Pie, and Android 10 working frameworks.
To get to Instagram in dark mode, you need to follow the given advances
Open your versatile (Android 9 Pie, Android 10, and iOS 13) settings.
Tap on Display and Brightness window.
Snap the Dark mode choice accessible there.
Finally, open and revive your Instagram application.
In the wake of following these four simple advances, you will have the option to utilize Instagram with a dark subject.
Conclusion
A year ago was incredibly intense for Instagram. There were, in any event, one update and usefulness showing up each month. A large number of them altogether impacted web-based shopping. Many will influence the procedure later on.
Instagram unquestionably concentrates on overseeing makers and brand relations. They don't lose their enthusiasm for supporting substance also. As a rule, they have proceeded with enormous improvements to Shoppable Instagram apparatuses.
It is hard not to be very inquisitive about what up and coming months will bring. There are a lot of fascinating highlights with regards to testing and we see some distinct advantages there.