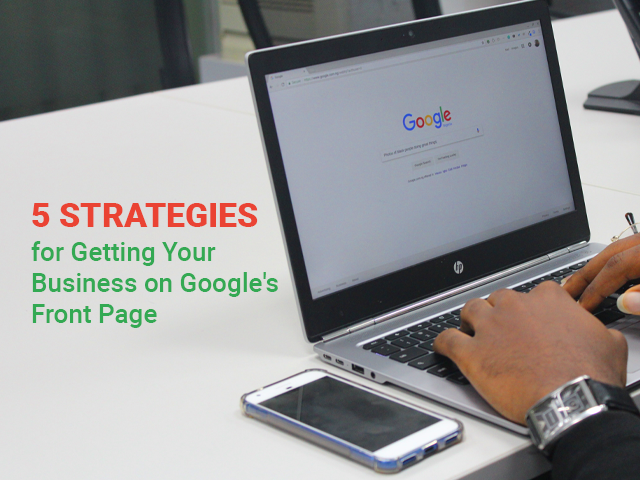 5 Strategies for Getting Your Business on Google's Front Page
More than 80% of customers report researching purchases online, but less than three percent of people ever scroll past the first page of search engine results. This statistic makes it extremely important to ensure that your business page ranks on the first page of Google results for relevant keywords. These five techniques can help you improve your business page's Google ranking.
Choose the Right Keywords
Getting your page to rank highly for completely irrelevant keywords is not likely to result in new customers for your business. The keywords you focus on should be something that customers who might be interested in purchasing your goods or services would be searching for. For instance, if you sell pizza, then an obvious keyword would be "pizza." However, extremely competitive keywords can be difficult to achieve a high ranking on, so you will want to either determine less competitive keywords that could bring customers to your business or narrow it down in some way. Using the pizza example, you probably are only interested in attracting customers in your local area, so you might focus on a geographic-based keyword, such as "pizza in New York." Or, if there is something unique about your pizza, such as cooking it in a brick oven, you might focus on "brick oven pizza."
Optimize for Google Snippets
Many Google search results pages now begin with one or more blocks of content intended to provide users with the answer to their query, without the need for any additional clicks. If you want your page to be featured in these snippets, you will need to optimize it. Questions are the most likely searches to result in these snippets, so try to answer any questions that your page might be able to answer for users as fully as possible. Use headers and bullets. Focus on facts. Keep the answer as short as possible, while still being a complete answer. Uses images, video and schema markup.
Improve Your Local Results
If you want to attract visit-in-person customers, you will need to improve your local results. Google advises businesses to improve their Google My Business data to produce better local results. Areas to focus on include, inputting complete and accurate data about your business, verifying your location, keeping your hours accurate, managing and responding to reviews and adding photos.
Make It Easy for Google To Scan Your Site
When a user searches on Google, it doesn't search through the entire internet. Instead, Google periodically scans and indexes sites and adds that information to a database. The information in the database is what determines the search results. You can improve your ranking by making it easier for Google to scan, index and retrieve your site. Place keywords in the title, meta description, URL and alt tags.
Build Links
One of the best ways to improve your ranking is to get other sites to link to your content. The process of getting other sites to link to yours is called link building. Google's algorithm penalizes sites that game the system by using "spammy" links, so you will want to use this technique carefully. Start building your links by researching high-quality sites with content that is relevant to your business. Paying other sites to host your content will get you penalized by Google, so instead, you will want to build strong, mutually beneficial relationships that encourage these sites to host your content as a value add. It is important to ensure that both the content you create and the site that will host your content is helpful to the user.
Your business website is an invaluable marketing tool. However, for your site to attract new customers, those customers need to be able to find it. Using these five techniques can help you improve your page ranking and increase your chances that customers will find your content and click through to your site.