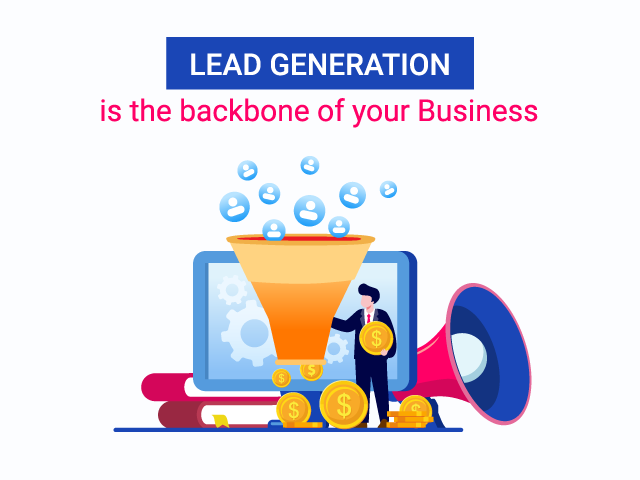 Lead Generation is the Backbone of Your Business
The magic behind lead generation has long been utilized by big and small companies. It is the most talked about topic in the world of marketing. The real question is, what is lead generation? Is it helpful when it comes to building a business? And how can you implement an effective strategy that benefits your business the most?
Whether you are running a multi-million dollar business or a startup company, lead generation is the main ingredient for marketing and lead management teams. It is what gives meaning to the growth of a business. Without lead generation strategies, your business won't thrive.
What Exactly is a Lead?
Typically a lead is a person who has expressed interest in what you have to offer. A lead can be obtained through word of mouth, phone call, website, or advertisement. When it comes to lead generation digital marketing focuses most of its efforts on direct traffic, improved search engine rankings, and web referrals. Now that social media is becoming more popular, marketers are beginning to leverage the advantages that come along with marketing across different platforms.
Online Lead generation-An amazing aspect of online marketing
When it comes to online marketing, online lead generation is an important aspect. It works to develop the interest of a potential customer. It provides the potential customers with information about your services or products. Developing a lead generation system means creating an interest in a person so much so that you convince them to invest in your services or products without directly asking.
It's the start of a process that includes a customer transforming into a regular client and or customer later down the line. Direct sales aren't the motive at the beginning. It's about winning over the lead so that you can sell them later.
The Reason Why You Need it
Lead generation is all about creating a solution to a problem. Many companies tend to shy away from growth because they feel as if they have hit a glass ceiling when it comes to the number of leads they can gain. In all actuality, expanding your leads means creating new solutions and targeting the right group of people.
Many companies aren't aware that lead generation allows them to get more traffic, which could easily lead to future conversions. When a company experiences an increase in conversions, it experiences again in huge profits.
3 Lead Generation Tactics Any Business Can use
Lead generation has come a long way over the years. The options are vast when it comes to obtaining new leads. Being able to reach different people in different ways allows for better growth and sustainability.
1. Social Media Marketing
Marketing on social media is becoming extremely popular. Having access to potential customers around the clock means more money. Through social media, you can build amazing relationships with your customers. It's all about getting close and personal with potential clients, and that is exactly what you can do with social media. The more open you are through social media, the more connected your customers feel.
2. Content Marketing
No matter how you slice the pie, the content will forever be important when it comes to lead generation. Most of the real money comes from content creation. It's the best method to use when it comes to generating high quality leads for your business. It allows companies to demonstrate what they have to offer, as well as inform people about things they may not know. It's the perfect way to give something away for free for something in return.
3. SEO
This lead generation process is about ranking websites based on keywords. The better you can rank for a keyword, the better your website will do. If you can learn how to rank a website, you will get better, more relevant traffic to your business. More traffic equal leads, and you can get these leads to convert; you will be making a profit, time and time again.