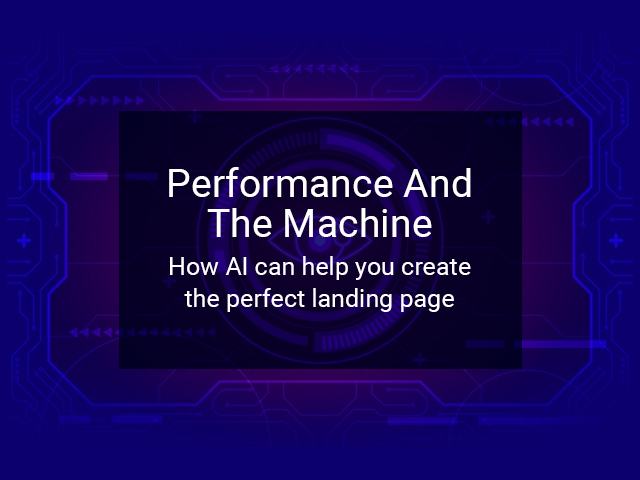 Performance And The Machine – How AI can help you create the perfect landing page
Unless you've been living in a cave for the last few years, you'll know that artificial intelligence (AI) and machine learning are still bigger news than Megzit for a great many people in business.  There is no doubt that AI can supersize your SEO and simplify your support but, what you may not know is that it can also help you to create the perfect, ultra-converting landing page. How? It can do this in a few ways, actually and these include: 
The image of you – and your brand
I'm sure I don't have to tell you that images are important for your landing page – in fact, you've probably spent hours brainstorming the best ones to use.  The good news is that those days may soon be behind you. AI's image recognition technology can help to make data-driven decisions about which images will work best for specific users.  In addition, AI doesn't have to rely on image names to identify and contrast images – which means that it can detect pattern structures and then recommend similar, related pattern structures.  
How will that work in real life?
AI will be able to link images on your landing page to user searches.  For example, a user searching for vegan, root based recipes may be presented with an image of the root vegetable gratin on your landing page.  Without the need for an image name, AI will quickly match images to a search by 'recognising' characteristics in the same way that the human eye will – but much, much faster. 
Eventually, visitors – either groups or individuals – to your landing page will be presented with tailored images which match their interests.
Design recommendations
As important as your imaging is, equally vital is the design of your landing page.  For this reason, many businesses spend a small fortune on designers with impressive resumes.  Although this will, of course, net you a great looking page, that's not quite enough. In order to attract the right kind of user and keep them interested, the design of your page needs to be relevant and tailored to a specific kind of user.  Adobe is in the process of producing Sensei – an AI assistant which can actually help you to choose the right layout, colours, wording and images for your page – even down to the size of the images.  It does this by using machine learning to make suggestions based on criteria such as category, function and end user. Sensei will also automate processes and tasks so that it can then make suggestions on cropping and optimisation. 
The crystal ball
One place in which AI excels in every corner of business is in predictions.  When you can predict the way a customer or user will behave, you're then able to their needs and wants.  AI and machine learning are able to collate and examine previous interactions and, from this, make super-accurate predictions about future behaviour.  For you as a brand, this means being able to deliver exactly what the customer wants, right down to the design of your landing page, every time.  By being able to tailor and personalise your landing page, you have a much better chance of hanging onto those users for longer. 
Semantic searching
It won't come as any surprise to you that, these days, attention spans are short – and getting shorter.  Most customers are no longer prepared to spend hours searching for what they're after – which means that you have a very small window for them to find you.  Semantic, or natural language, searching through machine learning makes for a much more user-friendly search experience.  Machine learning is able to use a deeper understanding of intent and context in searches which produces results with pin-point accuracy.   By improving the accuracy of the search results, you increase the number of customers landing on your landing page. 
Tailor made content
We keep using the word 'personalisation' – and for good reason.  When a user feels that the content, design and imagery speak to them on a personal level, they're much more likely to reach the conclusion that 'this is the brand for me' says london based digital consultant Milosz Krasinski  Imagine that your customer lands on your page to be presented with only content, images, colours and graphics which are of specific interest to them.  In this instance, the user instantly feels that they've found what they've been searching for – which, in turn, is much more likely to lead to conversion.  By using machine-learning driven adaptive user interfaces, you can not only tailor your page to your industry but, directly to your target customer. This method of machine learning can then be extended to the rest of the site.  For your brand, this means a personalised experience for your customers on each and every page of your website. 
As we become more and more aware of just what we can – and will be able to – do with AI and machine learning, the more we will begin to think of it as the core of our businesses, rather than an added extra.  With something as fundamental as a landing page, this technology is set to be a game changer for every aspect of every business.