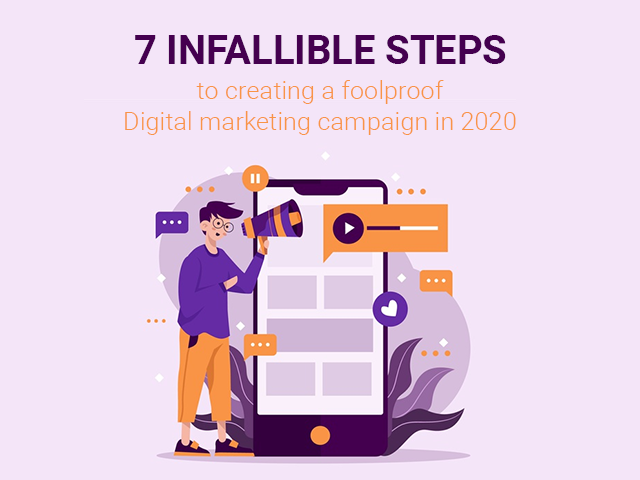 7 INFALLIBLE STEPS TO CREATING A FOOLPROOF DIGITAL MARKETING CAMPAIGN IN 2020
Do you want to increase your brand awareness and ultimately make more sales?

If you answered yes to that question, then this article is for you. So keep on reading.

But first, what is a digital marketing campaign?

A digital marketing campaign refers to the series of online marketing steps taken by a company to drive traffic, boost engagement, conversions, and ultimately increase revenue.

To run a successful digital marketing campaign, you need to plan and monitor your progress along the way so you can make improvements wherever necessary.

A solid plan makes it possible for your business to employ strategies that are aimed at identifying your customers' needs and preferences. This, in turn, will enable you to maximize leads, nurture valuable relationships, and turn ideal prospects into loyal customers.

Here are the 7 steps you need to deliver a foolproof digital marketing campaign


1. ANALYZE YOUR BUSINESS SITUATION

The first step you should take in building your digital marketing campaign is conducting an internal and external (SWOT) analysis of your organization's situation. This shows you the strengths, weaknesses, and opportunities of your company in the digital ecosystem.

By conducting your SWOT analysis, you also get to know your company's position in today's digital age and how to leverage the vast amount of opportunities in your industry. So it's the best practice to conduct a SWOT analysis before investing your resources in a marketing campaign.

SWOT stands for strengths, weaknesses, opportunities, and threats. These four components are divided into internal and external factors.

Internal Factors
Internal Factors are the strengths and weaknesses of your organization. These are things you have direct control over. So highlight your company's strengths and weaknesses in the various columns and try to leverage the strengths while improving on the weaknesses.

External factors
Opportunities and threats are the external factors in your SWOT analysis. These are things that may be beyond your direct control. However, being familiar with the opportunities and threats in your industry allows you to take the necessary steps in your marketing campaign that will yield positive results.

Threats could be any government regulation that can negatively impact your business, while an opportunity could be a potential market that your competition hasn't reached yet.


2. DEFINE YOUR GOALS

Once you've known your current position in the digital marketing space, it's time to establish some goals that give a clear picture of the outcome of your actions. Every plan you make has to be aimed at reaching those goals.

Are you interested in gaining followers, likes, responses to emails, conversions, or you want your site to rank higher on search engine result pages?

The exact goals you choose to pursue solely depends on what you want to achieve for your business in the long run.

There are different kinds of goals you might want to focus on but the few important ones you should know about include;
Increase brand awareness

Gain more social media followers, 

Conversion rate and lead generation.
It's the best practice to set goals that are specific, measurable, attainable, realistic, and timely (SMART).

3. DEFINE YOUR TARGET MARKET

Your target market is the specific type of people you want to reach with your marketing message. These are the people that are most likely to purchase your products or services. Usually, they belong to the same demographics, share similar characteristics and have the same behavior.

Knowing the exact kind of people you're trying to sell your product is very important because it allows you to utilize your resources more effectively. If you have a website with analytics installed on it, you can pull the reports to see the kind of people that are searching for or purchasing your product.

Note that you can't target everyone. Targeting everyone is shooting in the dark, which is counterproductive. So defining your target audience is critical to having a successful digital marketing campaign.

You can research your target market on your own or employ a digital marketing agency to research for you.

4. DEFINE PERSONAS

A buyer persona is a detailed description of your ideal customer based on market research and real data about your existing customers. This includes information such as their age, location, annual income, likes and dislikes, family situation, and other factors that will affect their spending behavior.

You should define your buyer persona in as much detail as possible. A detailed buyer persona enables you to connect with your target audience and tailor your marketing efforts to meet their needs. As a result, you'll attract the most valuable prospects, visitors, leads, and customers to your business.


5. CHOOSE YOUR CHANNELS

Before choosing a marketing channel that's the best fit for your business, you need to familiarize yourself with the marketing channels that are available today. These channels include;
Email

Display Ads

Mobile In-App Advertising

SMS

SEO
Using these channels for your digital marketing campaign can yield positive results. But first, you have to put a few things into consideration. These include being aware of your brand, accurately definitely your target audience, and knowing the limitations of your budget.

For instance, if you own a B2B (business to business company), you might want to consider email marketing as well as creating a LinkedIn presence and direct your marketing message to the professional world. On the other hand, if your company is B2C (business to customer) focused, you might want to consider leveraging Facebook, Instagram, and other social media channels where you can find your target audience.

6. BUDGETING

For any digital marketing campaign to be successful, proper budgeting must be made. Unfortunately, this step is often given less attention or even overlooked.

Your campaign budget is so important because it dictates what marketing strategy you can employ and how in-depth you can go in each one. A very good way to figure out your digital marketing budget is by looking at your set goal. Are you looking to create more brand loyalty, boost brand awareness, or you're merely interested in increasing revenue.

Each of these goals has its unique approach, meaning that anyone you choose to pursue will have a significant effect on your digital marketing campaign and how much you should be budgeting.

If you're having a hard time creating a budget for your digital marketing campaign, feel free to consult a digital marketing company.

7. MEASURE YOUR PERFORMANCE

This is a very important step in measuring how effective your marketing campaign is and understanding how you can improve your overall strategy. You can use Google Analytics to track and measure your performance in real-time.

Measuring your performance enables you to address issues and opportunities in your marketing campaign.

The metrics you monitor will depend entirely on your initial overall goals. Whether it's using Google Analytics to measure how many visitors on your site are being converted into leads or checking the position of your website on search engine result pages for SEO.

SUMMARY

Planning and executing a successful digital marketing campaign is vital to the success of any business in today's digital world.

A proper digital marketing campaign sets your brand up for massive success amidst the tough competition for customers.

Implement these guidelines and your campaign will be relevant, timeline, and successful which in turn will motivate your ideal prospects to become loyal customers.