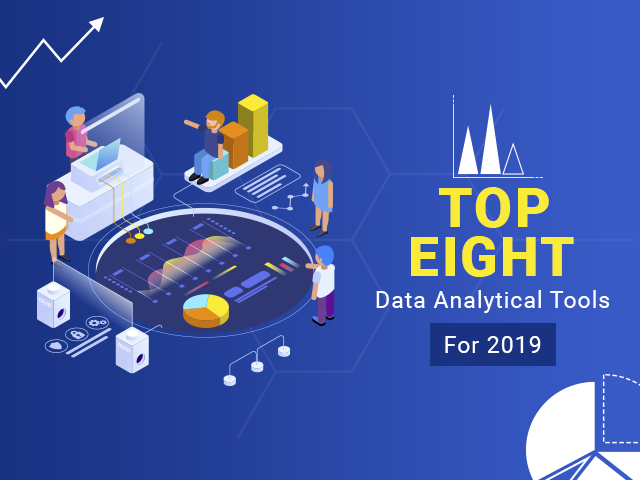 The Top Eight Data Analytics Tools In 2019
Data is allowing marketers and strategy experts understand their customers in ways that one could only dream of twenty years ago. The ability to understand how customers interact with products and brands is helping business leaders hone their models.
For those who are just starting to explore data analytics, the field can seem vast. There are multiple ways of analyzing user data, and it can be difficult to keep up.  Here are eight powerful tools that can help you transform your team's prowess when it comes to data analytics:
Sisense
As a global company present across New York, Phoenix, Tokyo, and Tel Aviv, Sisense specializes in business analytics and insights. Its software allows users to apply rigorous data research methods to gain insights. Its single user interface allows you and your team to view and interpret data easily and also present it in a seamless manner using the same interface.
One of the key features of the tool is the interactive analytical element, which makes it easier for you to track and derive data insights from real-time responses.
Looker
This tool makes use of Looker's modeling language, LookML. The platform connects to a variety of databases, such as Redshift or Amazon, as well as makes use of Google's gigantic BigQuery. Data is automatically generated for specific schemes, which can be refined as per your specific requirements. This means that the platform is incredibly versatile, allowing you to create bespoke KPI dashboards and report generators.
Yellowfin
Based in Australia, Yellowfin specializes in creating analytical tools, dashboards and visualization apps for businesses. At its core, they have utilized emergent AI. There is an algorithm, known as Assisted Insights, which reinterprets data in the form of easy-to-understand visualizations and narratives.  There are a variety of default dashboards which can be modified and enhanced with interactive report generators.
"The visualized reports offer more than 50 different chart types, and data sources can be made available on one single dashboard with a summary report of each",  says Judy Mullins, a marketing blogger at Last minute writing and Writinity.
Domo
Back in 2010, this platform was designed specifically for the use of non-IT professionals. Usability has remained at the heart of the platform and users can easily read data related to sales and inventories. There are many websites and data sources with which the platform can integrate, including Google Analytics, Salesforce, Instagram and LinkedIn. In fact, there are more than 500 source-connects and you can migrate the platform to on-premise data security solution.
Qlik Sense
There is a range of business insights that Qlik Sense offers through its analytical tools. Teams using the platform can collate data from multiple sources into a single view. The engine involved in creating Qlik Sense can interrogate and categorize all possible data relationships. The platform can be used either on-premises or through cloud programming and is complemented by the Qlik Analytics Platform and Qlik View, the latter being a data discovery tool.
IBM Analytics
"This tool makes use of insights based on data to help your business take important decisions," writes Jerry Fournier, a sales manager at Draft beyond and Researchpapersuk. "It streamlines all methods of collecting and organizing data into one easily managed dashboard. You can modify and change the manner in which data is sourced." You can organize and scale your insights by utilizing evidence insights, and analyze data in a smart, effective way.
SAP Business Intelligence Platform
As an analytical tool, the SAP Business Intelligence Platform is geared around monitoring key metrics and insights. It is available as both, an on-premise solution as well as a cloud platform and offers a great array of tools. These include the SAP Analytics Cloud and the SAP BusinessObjects BI suite, developed specifically to serve as a BI solution for reaping actionable data.
Alteryx
Alteryx is designed to provide an easy, code-free solution for business analysts who want to get into the data without having to wade through IT issues. It has an intuitive drag and drop interface in order to create bespoke solutions for your specific business needs.
Jaimy Hammit writes for Gum Essays and Lucky Assignments as a marketing manager. She writes on many different subjects and offers advice on personal and business brands.