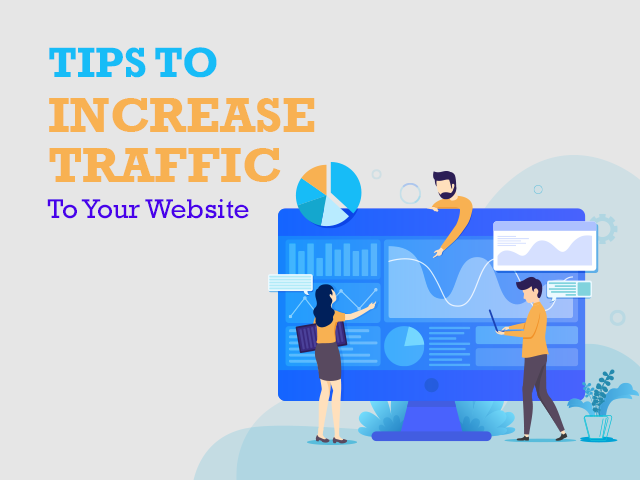 Tips To increase Traffic To Your Website
If there's one thing that a business needs most in the world, it's more customers. Now's the time to ask yourself, "Well, how do I get more customers?" The actual process of getting customers is more complicated and sophisticated than you think. Here are a few tips on expanding your audience and increasing traffic to your company's website.
1. Advertise, Advertise, Advertise
Paying for ad space is a great way to promote your brand and get your site front and center to your audience. Just make sure you adjust your ad strategy to meet your goals, such as increased conversions, improved traffic, etc. Every digital marketing agency has their own pros and cons, so make sure you're going with the right help before you make a final decision.
2. Maintain Your Site's Responsiveness
Your site isn't only going to be viewed on desktops or laptops. In today's growing technological era, people are also viewing the web on their mobile devices, such as smartphones and tablets. This is why it's so important to have a responsive site so visitors won't experience lag, which could cause a considerable drop in conversions. Make sure that your website is easily accessible across a range of devices, from laptops to smartphones. To help more with the design and efficiency of your website, check out a webdev guide.
3. Ensure the Speed of Your Site
The last thing a site visitor wants to experience is a laggy web page that takes forever to display content. If your site is laggy and slow, not only is your conversion rate going to drop, but potential customers are going to head over to your competitor's site instead of staying on yours. So, make sure that your site is as optimized as it can be, including functional third-party plugins, image file pages, as well as page structure. The faster and smoother your site loads and operates, the more site traffic you will experience.
4. Get on Social Media
Sure, it's one thing to produce amazing content, but it's another to distribute it. One of the single best ways to improve traffic to your site is to promote your content through social media platforms. For example, Twitter is great for short links and interactive polls, whereas Facebook is better for longer posts and personal feedback. Just make sure you don't make your posts too image heavy, which can be unattractive to some users.
5. Try Out New Methods
Unfortunately, there's no secret to the best content marketing strategy. Every day, the world of marketing is changing, and it's hard enough to keep up. This is why it's so important to constantly change up your marketing efforts and find new methods to try.
6. Take Advantage of On-Page SEO
It's crucial to your online business that you take advantage of SEO as much as possible. For example, are you creating links that connect your social media posts to your website? Are you including meta tag descriptions? What keywords are you using to increase your search engine ranking? Although optimizing your site for SEO doesn't take too much effort, it can greatly improve your site traffic.
7. Use Email Marketing
Though you should focus your energy on new methods of drawing in business, you should also remember to use the old ones too. This includes email marketing, which is still a powerful tool to have. Even vaguely successful campaigns can create an increase in traffic. Just be careful not to send out too many emails as this could cause people to leave your mailing list and decrease your traffic. Send emails about new products or services, promotional events, and more.
8. Perform Analytics
The only way you will know if your techniques are working is if you perform analytics. This will allow you to see pertinent data and determine what factors are leading to your increase in web traffic. One of the best analytics platforms is Google Analytics. On this platform, you can see everything from visitor demographics to which page is most popular. You can also use analytics to improve your future promotional and content strategies. It'll let you know what you are doing right and what you can improve in the future. Keep a close eye on your analytics data if you want to continue to bring in new traffic.