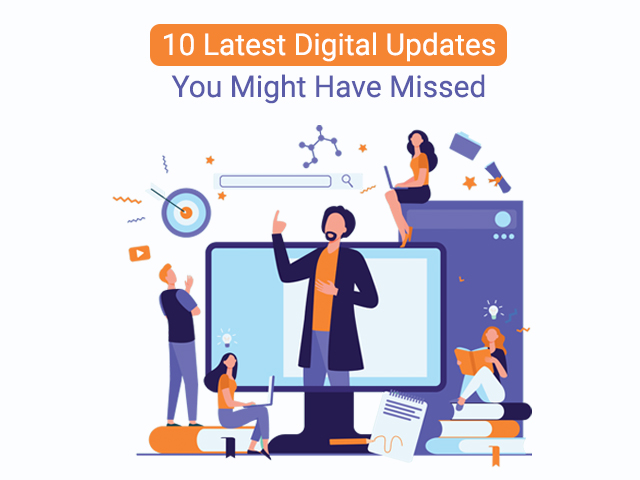 10 Latest Digital Updates You Might Have Missed
Here's a quick look at 10 Latest Digital updates and trends in Digital Marketing.
1. UX : People First in 2020
Providing a seamless User Experience (UX) across any and all platforms is a top priority today. This specifically translates into web pages which are super-fast and super easy to access across all devices (laptops, smartphones, tablets and desktops) and on all operating systems (iOS, Android and Windows). It is best to avoid full screen pop ups and ensure an acutely responsive and super-fast website
The Google Search Console now has a Core Web Vitals feature which quantifies user experience into metrics which provide rankings and suggestions on improving UX for your site. The update launched in May 2020 is now going to use these Core Web Vitals for its rankings and websites which fit the metric are sure to gain more visibility on the web. The future of ultrafast UX implies that the Consumer is still King!
2. Our New Friends : Chatbots
Customer Service has taken a turn with interactive Chatbots offering live chat assistance. These conversational agents are evolving fast and adapting to the quirky, gen Z user needs and wants. Today, almost all tier-1 customer support is managed by these fun agents.
Chatbots work on Natural Language Processing, same as other voice recognition systems used by virtual assistants like Siri and making them is easy and inexpensive with various 'drag and drop' Chabot services available online. The instant service of a Chabot is effective for lead nurturing & generation, increased engagement, traffic segmentation etc. while holding a conversational attitude and giving the sense that user concern is still taken up with the utmost care.
3. Keyword Planner New Beta Feature : Refine Keywords
Finding the right keywords just got easier with the Google Ads Keyword Planner (previously Google AdWords Keyword Planner). The update has simplified keyword search into two simple searches: Discovering New Keywords or Get Search Volume and Forecasts. Also, three new columns have been added to the dashboard which now display: Top of page bid (low), Top of page bid (High) and Account Status. This means you now have a clear, numeric idea which helps you decide the bid, instead of the earlier 'guess & adjust' and the Account Status shows whether you have used the keywords already.
There is an update on the filter feature which can now exclude specific keywords and filter bidding, competition and volume data. There is also a beta section which highlights useful keywords. Basically, this feature can help you save money by eliminating unnecessary words.
The mobile and total volume search trends are now visible first instead of the old drag down selections. Three new unchecked metrics are added: Competition, Organic Impression Share and Organic Average Position. Now, you can also download search volume/ trend data for a single keyword and see the historical data for each keyword too.
4. Social Commerce, Shoppable Posts and the Pinterest Visual Search:
Shoppable posts help users see a product on social media (Instagram, Snapchat etc.) and directly proceed on to purchase without having to separately log on to the seller's site or app. It's a great tactic because sellers don't necessarily have to be an e-commerce site and regular people can use shoppable posts for turning a sale. Many e-commerce developers like Shopify offer ready to install Snapchat plugins for shoppable posts.
Pinterest's lens visual search result allows users to shop with a picture! Simply upload a picture or use the in-app camera to take a snapshot and options to buy the same or similar products appear on your screen. This feature is to encourage e-commerce vendors to upload their catalogues online and reach a larger audience.
5. Using User generated Content : The Micro influencers
Videos, Vlogs, Webinars, Stories, Reels, Live Streams- It is video content this year which has engaged users more than ever.
Branded vlogs and successful features like Stories and Reels on popular social media have made marketing a smart and creative affair. The trend of using micro influencers (with less than a million followers on social but a substantial enough niche audience) has been successful for brand engagement for various e-commerce vendors. Live streaming has helped advertisements with 'un-skippable' ad breaks and topics from tutorials to behind the scenes are driving in a great amount of traffic as well.
6. Dynamic YouTube Lineups with Contextual Targeting :
An essential for brands and marketing, this Google Ad update uses Google's machine learning to analyze YouTube videos (imagery, sound, speech and text) and then create lineups which are scalable across content based on specific topics.
This makes contextual targeting easier for brands via YouTube and users get content suited to their individual interests.
7. Aiming for Zero : SERP Position Zero
With voice search and virtual assistants on the screen, there had to be a catch and that is the SERP position zero. This means that if your site is well optimized and there's a voice search query for the content, your site's snippet will be featured on the Google results page. This is a 'zero click' search result obtained with an optimized VSEO (Voice SEO).
Thus, On-SERP SEO, which can provide top end optimization for all your web pages and get you a sizable SERP real estate today, is a strong investment this year for digital marketers and concurrent with all the latest Google updates.
8. TikTok launches Duet and an Analytics Page :
TikTok has been doling out features and updates all over 2020. With the success of TikTok for Business earlier this year, they have now launched an Analytics page for its Pro accounts with performance indicators measuring views, followers and more. The content section tracks and displays trends over 7 days, including sections for number of likes, shares and comments.
September 2020 saw the coming of TikTok Duet to compete with Instagram Reels and YouTube stories.
9. Referral Marketing :
This is basically garnering loyal customers using software. Get people to notice your brand by using deep analytics for better insights and build loyalty by offering referral programs, gift cards etc. Platforms like Criteo have announced special features like an Audience explorer dashboard to track recurring shopping patterns and give an Audience Performance Report for comparisons across segments.
10. Content is still King! :
The Google Core update of May 2020 makes it abundantly clear that user focused Content is still a top priority. Long Form Content (>/= 3000 words) is essential to engage the user and offer full-length, unabridged information. It is easier to get more backlinks and drive traffic on long form content compared to shorter blog pieces, which increases users' on-page time and improves rankings. Thus, long form or 'pillar content' is a 'pillar' in obtaining and maintaining great visibility online.
References:
SEO Manager
Ethinos Digital Marketing Pvt. Ltd.