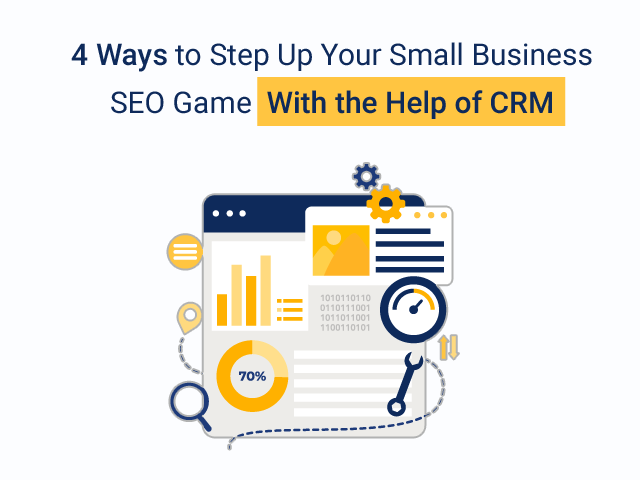 4 Ways to Step Up Your Small Business SEO Game With the Help of CRM
Ultimately, the main goal of any business is to add new customers and maximize sales. Implementing a search engine optimization (SEO) strategy could be a game-changer when it comes to your small business's marketing success. Boosting online visibility will increase traffic to your website, and visibility is the name of the game these days. To improve search engine visibility, you must rank high in volume and quality of traffic via organic search results. This process involves determining what keywords will lead the most traffic to your site. Other than the obvious basic search queries, though, how do you discover what actually works? Customer relationship management (CRM) software could be the answer. In addition to managing your business's entire relationship with customers — possibly beginning long before they buy — CRM can enhance your online marketing approach by generating more effective SEO results. So, what makes CRM software a must-have when you want to step up your SEO game?
It's Excellent for Capturing Keywords
If successful, your website's content will play a pivotal role in your business in more ways than merely sharing company information with your audience. By using the proper SEO strategies, your site will appear at or close to the top of the search results. Successful SEO depends on using the right keywords (i.e., individual words and short phrases about your site's content). CRM software makes it easy for your employees to record communications with customers throughout their purchasing process; this is an excellent way of capturing valuable keywords. Your new contacts should be asked about how they discovered your business. If they performed a web search, ask the exact phrase they typed in the search box. Most likely, if one person used these keywords to find you, others will, too. Now you have invaluable information on how to potentially increase traffic to your website. By incorporating these keywords into your site's content, your SEO endeavors will become more efficient. Look into the best CRM for small business to find the software that's most suitable for handling your company's demands.
It's Beneficial for Discovering Customer Buying Trends 
A CRM system is also useful for identifying customer buying trends. Knowing the best time of year for the sale of certain products or services can help to maximize your SEO marketing strategies. Running a CRM sales report can give you important insight into the optimal time of the year for using certain keywords in your content.  Whatever that product is, you'll want to make sure that it's highest-ranking when the interest is typically at its peak.
It's Helpful for Monitoring Social Media Activity
Social media is an excellent way to attract more traffic to your website and procure more business. Since social media is integrated into CRM software, cultivating this portion of your audience could ultimately improve your SEO approach.  With this software, you can monitor the social media activity of your social media contacts with whom you've communicated. This integration also helps to expand your online presence by allowing you to easily update your business's social media accounts.
It's Useful for Blogger Outreach
Blogging can help the ranking of your site in a few ways. When the content includes a large number of keywords, those individual pages will rank higher. This will potentially direct users to other parts of your site. In addition to your own blogging, you can also use guest blogging as a way of getting your business's name, product or service out there. By having your work featured on another business's site, your online presence will be immediately expanded, along with your audience. Another plus is that it will be viewed as an endorsement for your business. CRM is a beneficial tool for finding others who are interested in recruiting guest bloggers to contribute to their site's content.
As a small business, it's essential to always be on the lookout for new ways of attracting interest to your company. Successful SEO strategies will help your product stand out from your competitors'. Combine these techniques with a good CRM software and you're sure to see increased traffic and additional sales in no time.