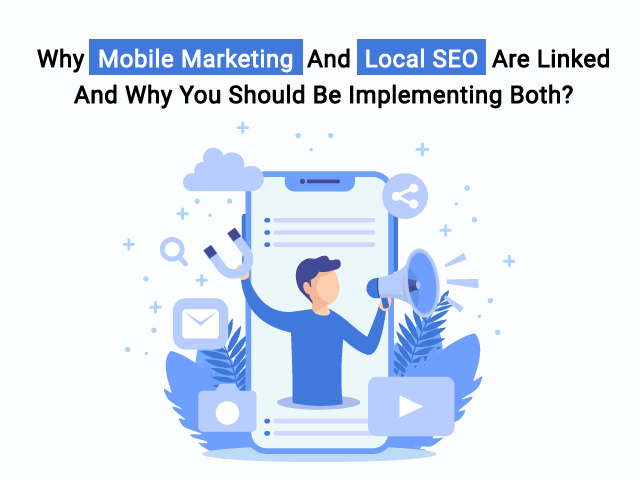 Why Mobile Marketing And Local SEO Are Linked And Why You Should Be Implementing Both
In the SEO world, one of the biggest trends that shows no sign of slowing down is mobile optimisation.
As there are 3.5 billion smartphone users in the world today, and that number is rising rapidly, it's understandable that this is a trend that marketers are eager to embrace.
This growth is driven by convenience and improved smartphone technology, and as the smartphone market shows no signs of slowing down, it's clear that mobile SEO will remain an important trend for the foreseeable future.
On the other hand, one area of SEO that often gets overlooked is local SEO; the process of optimising your website for local searches.
While local SEO might seem irrelevant to companies that operate nationally, or even internationally, it is, in fact, a crucial part of any online strategy, and intrinsically linked to your mobile SEO processes.
Read on, and I'll tell you why you should be focusing on both local and mobile SEO and how you can implement them both successfully.
What Does Local SEO Have To Do With Mobile Optimisation?
These two concepts might seem completely separate, but they are actually linked. That's because mobile smartphone usage is a constantly growing market, with mobile traffic accounting for about half of all global internet searches.
Add to that the fact that mobile local SEO searches are growing, with 46% of all Google searches for local businesses and as 33% of mobile phone searches for local companies is for the business location, it's clear that mobile and local search are intricately linked.
When you think about it, it's actually fairly obvious. If you're out and about looking for a product or service, you're probably not going to wait till you get home- you're going to whip out your phone and search for it.
Even if you're searching for a service, and won't be rushing straight to the business premises, you'll probably want to find out more about it immediately.
With mobile internet usage eclipsing desktop usage, it's clear that smartphones are the future and that users want to be able to find everything they need using them.
Many major brands and companies have 6 figure SEO and mobile optimisation budgets, so they're likely to be at the top of most of these searches.
If your business isn't working to optimise your website for both mobile and local SEO, then it will fall behind both it's major competitors and smaller companies that are focusing on this area.
Why You Should Think Of Mobile And Local SEO Together
As highlighted above, mobile optimisation and local SEO are connected. Therefore, any business that is trying to optimise its site for these two areas needs to think of them in conjunction with one another.
If you explore each technique in isolation, then you might miss vital techniques and tactics that could benefit you in both areas.
For example, if you focus exclusively on optimising your blog content for local SEO and stuff loads of location focused keywords into it, then you might grow your local SEO.
However, if you don't make the content digestible and easy-to-read online by using infographics and short paragraphs, then you won't see the full benefits as mobile readers won't check it out and potentially move on to other pages on your site.
That's why you should try to view both approaches as connected and combine them in your SEO strategy.
How To Boost Your Site's Local SEO
As the above highlights, local SEO needs to be a key part of your SEO strategy, as it will help you to grow your mobile reach and support a wider range of internet users.
Local SEO fits into your site's existing search engine optimisation strategy, so the first thing you need to do is make sure that you are using up to date techniques.
Once you've got your overall SEO strategy perfected, you can focus in on local SEO and use techniques specific to local SEO optimisation.
Some easy ways to optimise your site for local SEO include:
Take advantage of the free business listings offered by search engines, like Google's My Business Listing and Bing's Places For Business.
Keep any listings you have in these directories and others up to date, so that they benefit users and result in more business for your organisation.
Include your business's location in your website text and add it to the end of keywords and phrases to boost your chances of ranking for these searches.
Work with your website developers to ensure that your website is optimised for mobile use. As highlighted earlier, mobile search is closely linked to local SEO, so if your website is mobile-friendly, then you'll increase your chances of getting traffic and generating leads through it.
Check out the related searches and frequently asked questions users are searching when looking for businesses in your area, so that you can include them in your content.
Include local SEO in your content creation plan, so that your blog and any other related content contains mention of your company's location.
Optimise your website for a variety of search engines, so that you can boost your online reach.
Conclusion
Overall, nothing in SEO can be taken in isolation, so if you want to grow your rankings and reach a wider audience, then you have to make sure every part of your strategy works well together.
Learn how to measure your success, so that you can continually improve it. You should measure both your overall SEO success using tools like these and also your mobile and local success so that you can see how your entire strategy fits together.
This article should show you that local SEO is as valid as mobile optimization and any other form of SEO and that you need to be investing time, effort, and money into it if you want to grow your business in this increasingly digital world.
Article author Hannah Stevenson is the Content Marketing Manager at UK Linkology, the UK's highest-ranking link building agency. Her work has been featured on a wide range of SEO and writing blogs, and she loves to share her knowledge with interested readers.