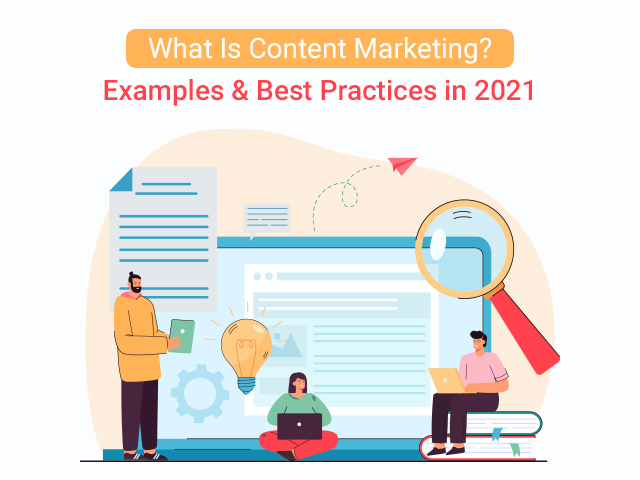 What Is Content Marketing? Examples & Best Practices in 2021
In a world where digital competition among businesses keeps increasing rapidly, content plays an important role in differentiating between great companies and mediocre ones. Besides, one of the lessons we learned from 2019's COVID-19 outbreak is that marketing strategies now aren't going to be the same as before.
During lockdowns, people had to turn their heads towards finding solutions on the internet. With that mindset, people learned to discover new brands online, without ever having any physical visit. Today, if your brand convinces a potential customer on the internet, you win them forever. And how do you do that? With content marketing, alongside other forms of digital marketing.
But what, exactly, is content marketing? Why is it important? What are the best practices for it in the post-pandemic era? That's what this article is all about.
What is content marketing?

It's a type of digital marketing that involves the creation and sharing of online material. That material could be in the form of text, audio, or video. This material is then shared to various places like a business's blog, social media posts, YouTube channels, podcasts, and more.
The most common, and effective, way to approach content marketing is through blogs. You share informative or entertaining pieces of written content on your website, which, in return, brings traffic to you. If you have any knowledge of digital marketing, you know traffic is key. If you are clueless about it, consider seeking help from a digital marketing agency that will help you get the highest level of engagement from visitors.
Content does not have to be marketing material, directly. An effective way is to get visitors to your website, provide them with education or entertainment, then cleverly ask them to perform an action that would be in your favor. For example, you could ask them to purchase your services or products.
Go live with webinars

Educating your audience with various types of content has been popular for decades. However, doing so by means of online video seminars is the latest option. Webinars have been popular even before the COVID-19 outbreak. However, as the pandemic confined everyone to their limited house spaces, webinars received a true bump in their popularity in 2020.
Going forward, the trend of addressing an audience through webinars is here to stay, and you must adapt it if you wish to compete effectively.
Build your content community

Having your own team of independent content creators is great — but making them create or join a bigger community is when you unlock the true potential.
During the pandemic, brands started building and joining content communities on various online platforms like Slack. In such communities, brands and content creators discuss what's working and what's not — while also exchanging creative ideas and strategies with each other.
Use AI and ML in content creation

Experts say artificial intelligence is going to be the next big leap in the world of technology, and that's true in every field of human life, including content creation. Although it's not possible to use AI to create content from scratch (yet), you can use AI-based tools to improve its quality.
Various tools, available on the internet, analyze the quality and performance of your content. Using those tools, you can make sure your content hits where it needs to hit.
Be everywhere

Many smaller firms make the mistake of missing out on actively available marketing opportunities. Simply put, they only pay attention to their blog, while forgetting altogether about the several social media platforms that comprise millions of active users.
Create an account and be active on every platform you can find. Keep looking for newer and better ways to reach your audience.
Utilize residential proxies for market research

Considering the tough competition in rival businesses today, you must be able to research your competitors anonymously from different parts of the globe. How could that be possible, you ask? With a residential proxy.
A residential proxy lets you browse the internet from a geographical location of your choice while concealing your real identity and location.
Final word
With people sitting in their homes and not being able to go outside, content marketing is now more important than ever. If you want to excel in your digital marketing strategy, it's crucial to stay up-to-date with the latest trends and practices of content marketing.
Katrina Paulsson is a freelance content writer. She searches for strengths in uncovering errors in grammar, punctuation, and sentence structure. Her mission is to inspire others through her pieces.