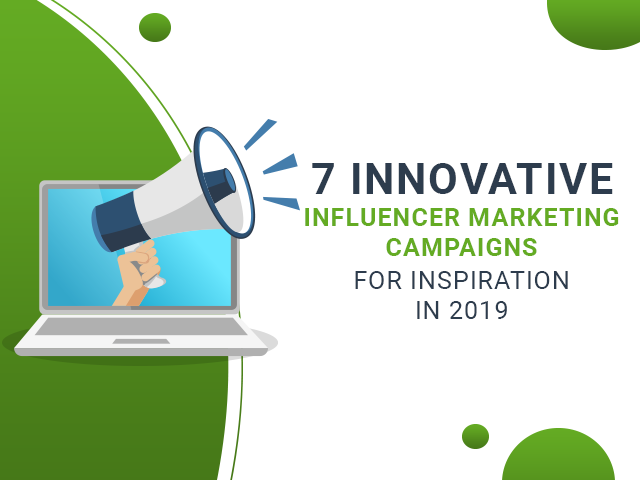 7 Innovative Influencer Marketing Campaigns For Inspiration in 2019
Influencer marketing campaigns are becoming increasingly popular. This marketing approach taps into existing social media community leaders, termed as influencers, to effectively communicate brand content and messaging over platforms such as Twitter, Instagram and LinkedIn.
Influencer marketing is now an acceptable marketing practice known for its tactual simplicity and straightforward approach. However, it needs to be done right to improve your SEO score.
Here are seven innovative influencer marketing campaigns that will inspire you:
1. Boxed Water's ReTree Project
The BoxedWater Company wanted to highlight its environmentally-friendly packaging. Accordingly, it built its influencer campaign around an environmental cause. The campaign involved the National Forest Foundation and several influencers to promote the ReTree Project.
As part of the campaign, the company promised to plant two trees in association with the Foundation for every photo posted by Instagram users with the #ReTree campaign hashtag.
By using influencers to drive awareness for the campaign among their respective audiences, BoxedWater was able to attract many more participants, including celebrities.
2. DJ Khaled's Buzzworthy Celebrity Takeover
Influencer campaign planners sometimes need to identify how to generate interest by leveraging celebrities as influencers. Stride Gum wanted to leverage the famous hip-hop producer, DJ Khaled because they figured that the DJ's Snapchat followers matched the brand's audience set. Rather than the usual product endorsement, the company decided to have DJ Khaled regularly take over Stride Gum's Snapchat page. The takeover included everything – from interviews to fun conversations.
The influencer campaign led DJ Khaled's followers to Stride Gum's Snapchat and also helped the company improve its SEO score.
3. Nikon and SXSW's Strategic Partnership
Generally, influencer marketing campaigns are not aimed at building partnerships. However, when these two companies were coming together, they managed to agree on having a strategic partnership to leverage their social media strengths. As part of this arrangement, only Nikon cameras were used at SXSW events. The companies also decided that all social campaigns should promote both companies on a single account/handle.
In this manner, they increased their reach. Another benefit of such a strategic partnership is the business benefits since every social media update garners attention and engagement for two independent companies and businesses.
If you can position your company as an influencer, you can look for a relevant influence partner and complement each other's efforts when it comes to social media and influencer marketing.
4. Sony and 17 Million Users
When Sony launched a new product, the Xperia Z5s smartphone, it roped in influencers to showcase the product's zoom potential among Instagram users. Rather than just asking influencers to share images that reflected the product feature, Sony decided to add a secret code on all the pictures. Every Instagram user had to redeem a code to take part in a related contest.
In this manner, the company ended up with 17 million engaged Instagram users, each of them convinced by a team of Instagram  influencers who had experienced the product's strong selling points.
5. Glossier Hitting 10 Million Views in a Month
Glossier wanted to build its social profile around people and micro influencers. The founder put in a strategy of building followers who could help handle the marketing for them. Every follower was encouraged to tell their own stories during the campaign and share within their local communities. With this online word of mouth exercise, the brand attained 10 million views within a month.
6. Fiji Water's Fitness-led Campaign
Fiji Water came up with an idea leveraging a blogger as an influential partner to create a content-driven campaign. Together, they produced workout videos and a personal trainer was involved in marketing the product around fitness. As part of the campaign, they also offered a very good discount for delivery services. This increased direct sales apart from promoting their brand.
The idea behind this concept is to come up with a marketing campaign with relevant content that delivers value to your influencer's and brand's audience.
7. Dorot And Audience Engagement
Dorot is a food company that got influencers to create recipes using their herb blends. To make it more interesting, the food company contributed $1 for readers who would take action. All the influencers created a recipe and a tutorial on how to use the products.
Instead of explaining to the potential audience how good their product was, they demonstrated how it worked. This campaign is a great example of how you can introduce valuable content that adds to the product value. This approach should work better than a standard promotion.
All seven influencer campaigns had a different approach when it came to using influencer marketing. Remember that when dealing with other members on the marketing team, let them know the company goals and values to increase the chances of creating a successful campaign.
Harold is a marketing enthusiast and an influencer in different verticals. She keeps a special interest in the impact of visual branding on business growth. She has been writing for a long time now and has an interest in traveling as well.