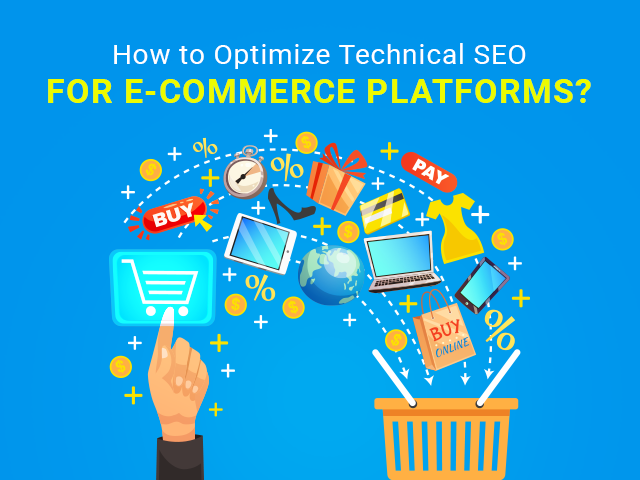 How to Optimize Technical SEO for ecommerce platforms?
When it comes to optimizing an ecommerce portal, it is important for business owners and marketers to align the portal to top search engines such as Google.
In the recent past, Google has evolved as a search engine by changing its algorithms and becoming more "intelligent". So, if you haven't revisited your website's structure for quite some time now, opt for white label SEO services. It is also important to work on your platform's technical SEO since it can impact your visitor count, and therefore, your business. Hence, work towards building a stronger technical SEO. Your technical SEO is directly linked to the design, format and structure of your website. From the code to the complete layout, from the backlinks to responsiveness, it is one aspect that usually goes unnoticed.
Here are a few things that can be done for increased visibility and higher ranking of your website from the technical SEO standpoint:
1. Rank Yourself with a Search Engine
The first step towards optimizing your site is to get a high rank on Google. This can be achieved through proper indexing and hiring the services of a woocommerce development company. These professionals will handle all the technical aspects for you and as a result, increase your website's visibility on the search engine, making it easier for customers to discover your business.
2. Enhance the Responsiveness and Speed of the Website
Is your website user-friendly? Does it take time to load or is the process quick? Clients visiting your site do not wish to see anything fancy or technical. Furthermore, they don't have much time or patience before your website becomes accessible.
So before taking it live, remember to get the website design tested by a professional to confirm its responsiveness and speed. The more user-friendly and easily accessible it is, the more visitors you will get.
3. Have a Keyword Strategy
When it comes down to search engine optimization, remember that keywords play a crucial part when it comes to ranking. Put in a little research and extract keywords that are most popular on Google but also allow you to rank within short to mid-duration; include them in your content.
Also, use persuasive phrases that will get users to click and visit your site, even if they do not wish to make a purchase. An intelligently written text, meta description and title, along with the right use of keywords, can actually help increase your website's visibility to a great extent.
4. Aim for Quality Content
It is important to understand that potential customers who type in their queries on Google are actually looking for relevant answers. Hence, no matter what product you are selling, always define each item with an informative and high quality description. And yes, search engines such as Google also prefer websites that maintain good quality content and rank them on the top for easier user access!
5. Avoid cluttering
Your ecommerce website should avoid clutter to make conversions easy. This means that if a customer is done with shopping, give them a chance to access the car from there instead of taking them back to the inventory list.
Your aim should be to create a design and interface that guides customers to the very next step without any hassle for a great shopping experience.
6. Opt for Cleaner and Clearer URLs
An ecommerce store contains multiple products and organizing hundreds of products from the start may be difficult. But if you have general categories with sub-categories to handle, the URL of each list should support it.
Keep your URLs clean and clear because clustered URLs will only confuse the client as well as disturb your ranking. For example, if you have a shoe category with a sub-category of "Adidas sneakers", then this is what your URL should look like – http://ecommercesite.com/shoes/adidas.
This will allow the search engine to understand what you are offering and take the potential client directly to that very page for a purchase. On the other hand, if your URL is something like this – http://ecommercewebsite.com/index.php?=656488 – it will only create confusion for Google's engine and it might result in you losing out on traffic and customers.
7. Set a Good Budget for "Crawling"
When it comes to an ecommerce website, backlinks and indexing play an important role in optimizing technical SEO. If you include more backlinks, the chances of ranking higher on Google's search engine will increase. For this, set aside a good budget for crawling, which is the measure of the number of pages that Google crawls from your site in a day.
The higher the budget, the better the chances of indexing. This means that your website will automatically gain higher ranking, making it easier for people to reach out to you.
While optimizing technical SEO ecommerce websites is not an easy task, regular monitoring and updating can help you get closer to your goals.
Nick is the head of marketing at WebbyMonks – An agency specialized in professional SEO and Google adwords management services, helping business across the globe to grow their visibility online. When not writing for technology, he spends his time fishing, clicking awesome pictures and digging into the mankind history. Feel free to connect with him on Twitter & LinkedIn.