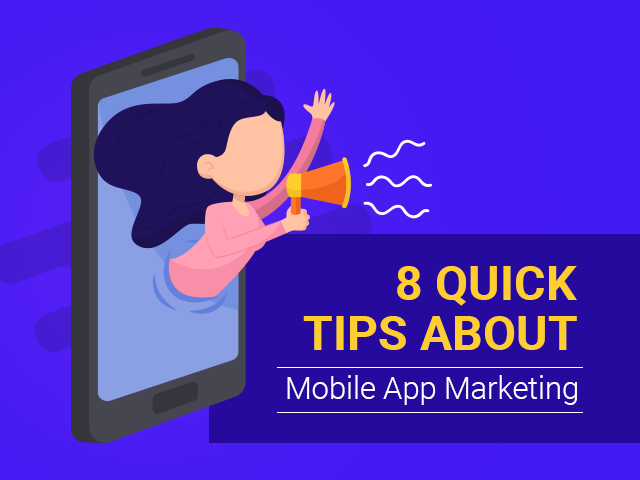 8 Quick Tips About Mobile App Marketing
In this competitive market, creating a mobile app is not enough for your business or getting new customers. Companies have to invest in app marketing as much as app development. Uploading your app in the app stores is just a first step; the actual journey starts after it.
There are more 1,00,000 applications in the market. Is there any way that you can ensure that the app you have created will get the visibility you are expecting from it? How will you grab your target audience's attention? How will you make the app sell itself? The answer to all these questions is mobile app marketing.
1.  Finalize your App's release date
As we all know, getting your app featured in Apple's App Store is difficult and relying on it can delay your app release. So, planning well in advance for the app's release date will give you sufficient time to prepare for the launch, minimizing any unexpected delays.
2.  Understand your target audience
If you lack in your market research, then you can face difficulties as soon as you launch your app. You must take your audience into consideration even before sending the app for development.
No matter how effectively you have done your market research, if your app is not able to address some pain-points or the challenges your target audience is facing, then it will take you a while to reach them.
3.  Determine your Unique Value Proposition
Along with determining who is your target audience, what they expect and how you efficiently you can serve them, it's necessary to determine what will be your app's unique selling proposition, i.e. what makes it unique and promote those elements across various platforms.
When you have a strong unique value proposition, it gets easier to acquire users. When your users have a clear idea of what problem your app is solving for them, the chances of your app's success increase significantly.
4.  Define brand messaging
Sharing your app's story with the target audience will help you define as well as enhance your brand identity. When you have a message or strong reason to create an app and it resonates with the users' requirements, positive ratings and reviews start to roll in. Along with features that the app offers, users are also interested in the reason or purpose behind the app's creation.
5.  Create a pitch deck
In case you are preparing to attract funds from venture capital firms or angel investors, then the first step is to prepare a strong, effective "pitch desk". It will help you showcase your app, your company, and your team to prospective investors. Your pitch deck should be easy-to-understand, highly presentable, and give a concise picture of your business idea. Remember one thing; it will be your first impression in front of the investors even before you meet them in person. Hence, try to make your pitch deck as effective as possible.
6.  Create Influencers' list
Reaching out to influencers, tech bloggers and publications, and taking PR initiatives are among the most overlooked aspects of promoting a new app. Make a list of such companies and professionals whom you think, might be interested in it. Before you reach out to them, ensure that they are relevant to your space, otherwise they won't even entertain you.  Along with that, you can also work on the promotion strategy with them. It will also help you with getting backlinks for your website to gain visibility on search engines such as Google.
7.  Create a website or a landing page
Mobile websites are considered as one of the top sources of app installs. It has become increasingly important to create a pre-launch webpage or a video trailer to inform users about your app launch. Pre-launch marketing is also an important aspect of app marketing.
8.  Collect emails
In order to drive user acquisition, email marketing is considered as one of the most innovative tactics. It plays a key role in app marketing strategy. When you build a website, ask users to share their emails via a contact form or the subscribe section. You can revert to them with a thank you note and also share the date of the app launch. You can also use their emails to inform users about new features and updates, ensuring more downloads and installs.
Now that you are aware of the important aspects of mobile app marketing, it's time to implement them. You can choose what works for you and what not, but one thing to keep in mind is that you must ensure that the app stands out whenever users need something similar.
There are different ways and channels to promote your app. You need to be very creative while working on your marketing strategies. The app stores are already flooded with millions of apps, so making sure that your app not only survives but also reaches its target audience is important.
Ritesh Patil is the co-founder of Mobisoft Infotech that helps startups and enterprises in mobile technology. He loves technology, especially mobile technology. He's an avid blogger and writes on mobile application. He works with a leading mobile app development company with skilled Android and iOS app developers who have developed innovative mobile applications across various fields.