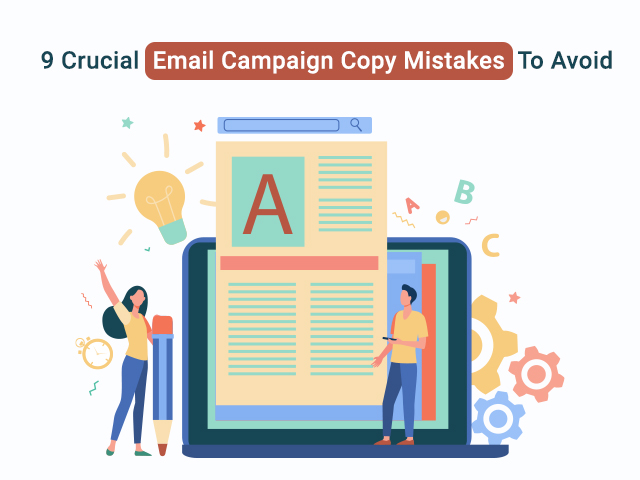 9 Crucial Email Campaign Copy Mistakes To Avoid
The inbox is a competitive place. Most of us waste too much time sorting emails and the last thing we want is more useless emails to deal with. On the other hand, we have certain subscriptions or newsletters whose emails we hungrily open and read the second it hits the inbox. What's the difference between the groups? It's mostly a matter of copy. Here are 9 of the most frequent email copy errors that individuals and brands make that hurt their reliability and land them a place in the spam filter rather than in the inbox. Implementing these points in your own emails will help you make more sales and have more success with your customers.
Not Optimizing Subject Lines
In its most basic sense, any email campaign consists of three hurdles: Getting the email successfully into the prospect's inbox, getting the email opened, and getting the email acted upon. Not having a good subject line can be a significant obstacle in clearing the first two objectives. If subject lines are bad enough that they come across as spammy, they'll hurt an email's deliverability. That's why you want to have a subject line that draws readers in from first sight. Something personalized, something interesting, something not salesy. If you're sending emails at scale, definitely take the time to A/B test effectiveness of different subject lines first. As with all marketing, testing is key. Pay attention to what types of emails do best with what types of subject lines. If you get a great response to an email, make a note of what the subject line was so you can replicate its  success.
Focusing Too Much On Short Term Relationships
Every kind of email we send has some kind of conversion as its objective. When we get too focused on that conversion however, we risk killing the proverbial goose that's producing the golden eggs. You have to take care of the goose, first. Make your clients or customers happy that they opened up your email. Provide them with valuable information, statistics, or good humor. Even if making the email enjoyable requires more preparation and writing, make the sacrifice to nurture long term relationships rather than seeking to quickly make the sale. This especially relates to marketing automation campaigns where leads and potential customers are nurtured with emails over the course of a while.
Using copy that is playful, friendly, and informative rather than pushy will help your unsubscribe rate stay low and it will definitely pay off in the long run.
Not Optimizing The Headline 
Once your subject line has worked and the reader has opened your email, the next most important part of the email is the headline. The reader is trying to label the email. What are they trying to sell me? What's this email going to communicate? Don't make them guess! Write a good headline and a hook at the top of the email that will encourage them to read the email in its entirety and let the reader know what they're getting into. A gif, video, or image can also be a great way to begin an email and break up the boring looking text.
Not Enough Personalization
Advertisers, writers, and marketers in general are learning over and over again that personalization is the key to success when it comes to winning a customer. In order to effectively personalize copy in an email campaign, you need to segment your customers into the different groups they belong to. Naturally, the email copy that most appeals to your 50 year old male segment is going to vary from the copy that most appeals to your 25 year old female segment. Rather than clumping all your customers into one faceless mass, put them into categories that you know how to talk to. This way, you'll also know what promotions, what kind of pricing, and what kind of services will be most valuable to them.
Too Much Personalization
While personalization in emails is a must, too much personalization in emails is a must-not. Yes, using someone's first name in the headline or some other attribution input in the subject line can be a great way to connect with the audience, but when you share details of things you know that they don't know you know, like, for example, their address, what they've clicked on or viewed, or alternate emails they have, it gives the completely wrong impression. People on the internet are already quite cautious, so don't give them reason to worry. Instead, draw on your research about your audience that you conducted creating customer personas, optimize for sending to different time zones, and build specific landing pages for different emails.
Putting Too Much Information In One Email
Stories, promos, gifts, donations, sign ups, merchandise are all great, but not all at once. Remember the previous point about focusing on the long term relationship? If you pull out all the stops on the first email it will become confusing to the reader and mottle the email's focus, and make you come across as desperate. Better, be to the point and give the reader what they're looking for, and save the rest for later. It's better to leave clients hungry than to leave them too full. Don't try to answer all the questions at once, and don't talk about all the selling points at once, but wait for things to play out and act accordingly and you'll see much better conversion rates.
Recycling Old Copy
Sending the same copy out multiple times is a guaranteed way to get readers to unsubscribe. Your audience wants fresh and helpful content every time they make the decision to open up one of your emails, and their disappointment at repeated emails will not at all be worth the time you spent in not writing a new email. Not sure what new content to share? Answer The Public, Hubspot's Blog Topic Generator, and Buzzsumo are all great resources for content ideas.
Not Having A Clear CTA
Every email needs to have some kind of objective. While also nourishing your relationship with the customer, the email also needs to focus on directing to that conversion goal. If you don't ask your audience to do what you want them to do very clearly, you can't reasonably expect them to take that course of action. Whether you're trying to get sign ups, trying to get survey results or direct to a product page, make the CTA very clickable and very obvious. Big, bright, interactive buttons are the best. The copy in the email should seek to convince the reader to take this action.
Talking Too Much About The Product
You probably know your product or service like the back of your hand. Be careful to not talk about it too much, though. Rather than just repeatedly listing off the details and features of what you're selling, your copy needs to primarily focus on painting the picture of why these features will make such a difference for customers. This is called focusing on the benefit rather than the feature. People don't buy products for the product's features, they buy for the product's benefits. Always optimize the copy to detail the problem that you're helping customers solve.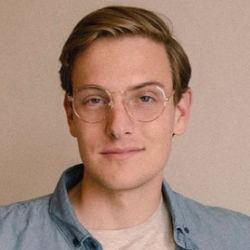 A marketer and a writer at heart, Ryan specializes in paid search media, content marketing, and SEO. His latest work has been in the nonprofit industry and with startups near Salt Lake City, Utah, where he resides. When he's not doing marketing, he enjoys working on his novel and going on hikes with his wife.