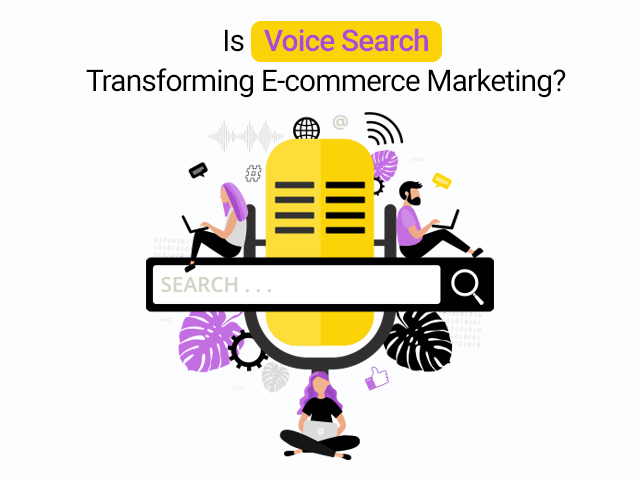 Is Voice Search Transforming E-commerce Marketing?
Shopping trends have gone through a rollercoaster with the introduction of e-commerce stores. Digital shopping is the first choice of people nowadays, and e-commerce businesses strive to get the maximum attention of their customers by providing an unmatchable experience on their platform.
One such feature that has made shopping on e-commerce stores a cakewalk is the Voice search feature. It has redefined the shopping experience of the customers on the e-commerce stores.
As per a study by Google, 27% of the global population utilizes voice search for a query on mobile.
Recent research also states that on daily basis, 72% of people use voice-activated speakers to find products of their choice on an e-commerce store, to call a friend, or send a text to book a cab, play songs, or other activity.
The below given post will clear your insights more on voice search usage in daily life.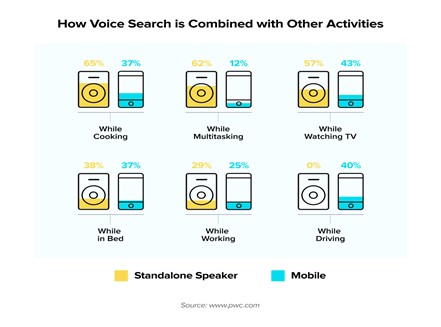 There are several other eye-opening studies like these showcase the increasing trend of voice search among the people for every activity.
But, how is it transforming the e-commerce marketing ways?
Go through the major factors responsible for the same listed below that makes this feature the future of e-commerce.
A more convenient form of search
Instead of searching answers for your query through typing, voice search is an excellent alternative to search and get results quickly.
While typing, a person searches for 28 to 33 words per minute on average, but voice search holds the ability to process an average of about 90 words per minute.
In the case where a person is not well versed in technology can also utilize this feature to get results for their queries.
It makes voice search a less time-consuming option that quickly fetches the desired results. It is the most chosen method of search given the convenience and fast results it offers.
With voice search implemented on e-commerce platforms, a study shows that a surge of 18% is expected.
So, many e-commerce stores are opting to utilize this opportunity to enhance their customer base.
Benefit from Local Searches
Local businesses are at the stake for maximum benefit with the voice search feature.
But, how?
With local SEO, phrases such as near me or near (any location) are optimized. It gives an on-the-spot conversion of your customers into a sale. Thus, this feature demands a business website be optimized for local queries.
A personalized experience to the user
When the user query has become more human, e-commerce store utilization of voice search adapt the tone, style, and words to use along with the long-tail keywords.
As a person searches for their query in a natural language through voice search, it becomes easy to use the keywords in the content.
For the e-commerce store active in various countries with people of different dialects and languages, this feature has enabled the e-commerce businesses to target audiences of various geographic locations.
For instance: One won't ask for cheap Zara clothing in the store, but they will voice search for the same online on their smart devices.
A study shows that a 20% increase in the sale has been experienced by offering personalized search results to the user query.
Smart shopping is on!
Voice search is not just about instant searches but about the utilization of machine learning and artificial intelligence effectively.
AI collects data effectively and directs the brand about the taste of their customers.
Through this, the habits and behaviour of the customer are noticed and the AI offers better recommendations on the e-commerce store.
For instance: While shopping for your apparel online, the voice search assistant will remind you of the products you last viewed or the ones you left in your cart.
The brand can be heard now!
Apart from brand visibility, the brand can now also be heard with help of voice search.
The audible element will also help in building the perception of the products of e-commerce store and the marketing strategies thus needs to be refined for the same.
With advertisements and other effective marketing on audio platforms, you can attract the attention of many customers that can be a potential lead for your business.
Reviews in seconds
Collecting reviews has never been this simple in the history of e-commerce brands. With voice search on assistance, sharing feedback has become a cakewalk.
Reviews turn out to be more meaningful and genuine that can also act as a recommendation for the new customers browsing on the e-commerce store.
Voice search eliminates the stress of typing long feedbacks as it asks very specific questions. The customers don't have to log in for the same too.
Voice search is the game-changer for e-commerce businesses
Check out the sudden hike in the usage of voice search from the post given below.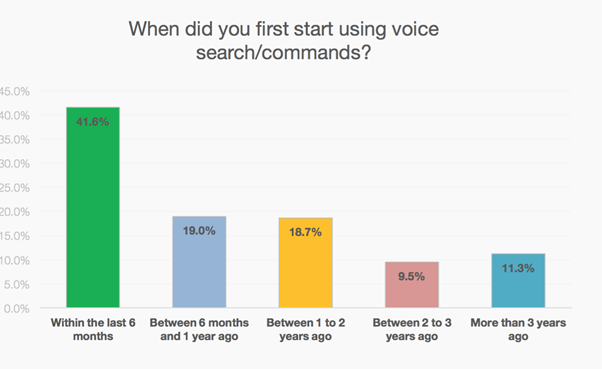 In the coming decade, the number of people using voice search is going to increase exponentially. Overlooking this factor can make you miss out on a large number of customers.
It is necessary to adopt this trend in your marketing platform to catch up with the speed with which the market is evolving and rank better. So, switch to the industry-changing scenarios where voice search is just the beginning, and AI will take over internet browsing and shopping online entirely.
Rajesh Bhimani is the Founder at Skynet Technologies, Website Design and Development Agency. He has 20 years of experience in Technology and Marketing industry. When he isn't working, you can find him cooking for his family or reading some fiction. You can connect with him on Twitter.