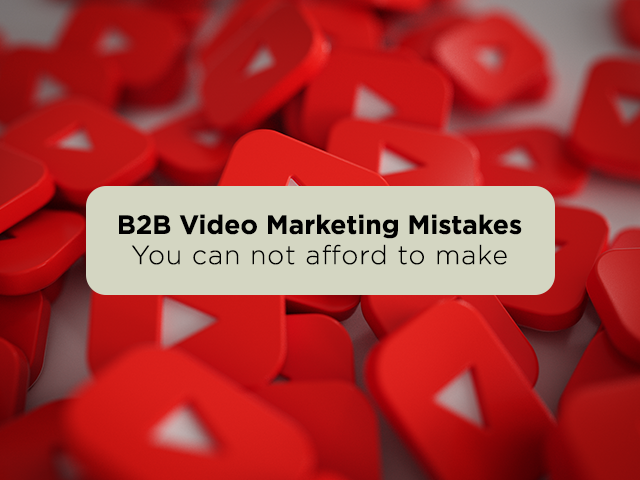 B2B Video Marketing Mistakes You Cannot Afford To Make
The power of video marketing for B2B businesses cannot be ignored in the current day and age. Videos work because they connect with the viewer. They convey information, which would otherwise be difficult to digest, in an easy manner.
However, this is only going to be the case if you build an effective video marketing campaign.
Read on to discover some of the most common video marketing errors so that you can avoid making them…
Amateur videos
There is only one place to begin, and this is with poor quality videos. There is no excuse for an amateur feel when it comes to corporate video production.
You have spent a lot of time and effort building a strong website and presence, why let it down with an amateur video?
If you want to give off a professional and high-quality vibe, your videos need to possess these qualities.
If you do not have experience in video production yourself, make sure you assign the task to a company with a good reputation. Watch some of their existing videos so you can get a good feel for the level of quality and creativity they can produce.
Not using video analytics
If you do not use video analytics, you have only done half of the job.
You have put all of your time and effort into creating an amazing video, as well as marketing it across the web, however, if you do not use analytics, how are you supposed to know if your efforts were worth it?
Analytics are a necessity so you can see how your video is performing and where improvements can be made going forward so that you can achieve more.
Assuming video marketing is only for the top of the funnel
While there is no denying that video marketing is an exceptional medium for engagement with audiences. It offers more than this, and should not only remain at the top of the funnel.
It can be used to convert customers at the bottom of the funnel through the use of product demos.
It can also help to move audiences through the middle of the funnel through the likes of video webinars.
Cramming too many messages into one video or having no message at all
A lot of business owners go wrong with the focus of their video.
The first and most common mistake in this regard is to try and cram as much information as possible into the video. This is only going to overwhelm the video. Every video should have one clear message and nothing more.
Moreover, make sure your video actually has a message! Do not simply create a video for the sake of creating one.
Using videos incorrectly with social media
Videos have great SEO potential and they are highly shareable, which makes them perfect for social media. However, all social media networks are different, so you need to make sure you approach videos in the correct manner based on the platform.
   Twitter – Let's start with Twitter videos, which are limited to 30 seconds and are ideal for brands that want to engage their customers more. One of the main benefits of Twitter is that it offers live video with Periscope. On the other side, content on Twitter has a short self-life, and it can be a challenge to target specific demographics. Therefore, Twitter is not the best platform for your videos if you want deeper insights into your audience.
   Snapchat – With Snapchat, you can post videos that consist of six consecutive 10-second snaps that play at once. One of the great things about Snapchat is that it has a young audience, and so it is ideal for businesses targeting customers aged between 16 and 25-years-old. On the downside, content only lasts for 24 hours, and it does not include hashtags or anything else that can help people to find your brand. Snapchat is, therefore, ideal for brands that are targeting younger audiences and what to give them a behind-the-scenes peek, yet, like Twitter, it is not good for brands that want deeper insights into their audience.
   Instagram – Another option is to get your digital marketing agency to put together a video for Instagram, which can last up to 60 seconds. Instagram also attracts a young audience, and it is owned by Facebook, which means you can utilise a lot of the same paid ad data and segmentation options that are available on Facebook. On the bad side, Instagram does not have a lot of room for links and 'next steps,' and it is hard to direct viewers away from the app and to your website. Therefore, it is not suitable for brands creating long-form content, but it is perfect for brands that want to target millennials and show the human side of their company.
   Facebook – Last but not least, we have Facebook, which is an excellent place for consumer engagement, and it is ideal for posting awareness videos. The cons of Facebook are that there is no easy way to embed CTAs and if something is posted on Facebook it is virtually invisible to the outside world. It is, therefore, not suited to those looking for more engagement and to build a fan base, but it is ideal for brands looking to boost their reach or make the most of live videos.
Final words…
Hopefully, you now have a better understanding of some of the most common video marketing errors that are made today. If you are currently making any of the mistakes mentioned above, put steps in place to rectify them and you are bound to notice improved results.