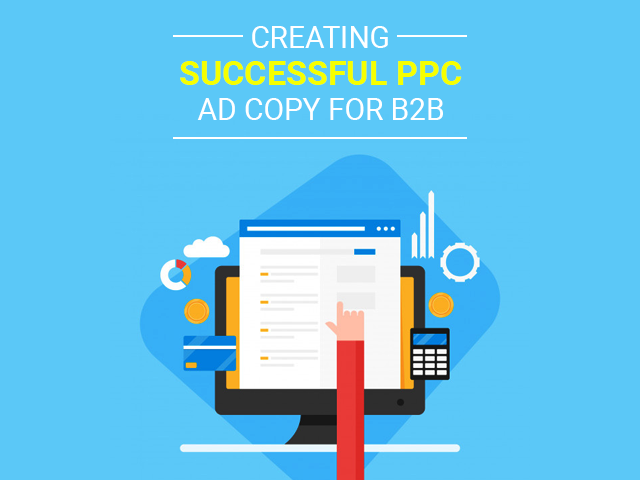 Creating Successful PPC Ad Copy for B2B
PPC (pay-per-click) campaigns are amongst the most effective marketing strategies for B2B companies who are looking to increase their sales. The great advantage of PPC is that your potential customers are already looking for you, which means they already have a desire to purchase. As opposed to other marketing strategies, which focus on convincing the audience that they need you, PPC campaigns target customers who already show interest in your products by researching certain keywords on the internet.
One of the great advantages of PPC is that it is extremely cost-effective and can generate a surprising ROI after the campaign is over. But to develop a successful PPC campaign, you need to follow a set of steps meant to help you achieve your desired results: generating leads and increasing sales.
Product and Customer Research
B2B companies are aware of the fact that their business has far fewer customers than B2C companies. The simple reason behind this is because they don't direct their products towards the masses, the everyday customer, but towards other businesses. This market segmentation requires even more precise customer research, to have a clear idea of who your targeted audience is and what you can to do appeal to them more.
In order to run an effective PPC campaign, you need to, first of all, understand the product that you are designing the campaign for. Whether you are a marketer employed to handle the campaign or you run a business and decided to handle the campaign yourself, this step is just as important. Understanding the product helps you understand the targeted audience as well. For example, let's say you are designing a campaign for a company that offers metal and plastic recycling services for businesses. You will want to direct the ads towards companies that have to deal with metal and plastic waste on a daily basis, such as auto services, as well as metal and plastic manufacturers. While you might get some customers from other businesses as well, they are not your targeted audience.
Keyword Research
After a clear understanding of what the product or service is and who the targeted audience is, you need to focus on keywords. Keyword research is extremely important in every marketing campaign, to give you an idea of what words or phrases potential customers are using when researching for such products.
One of the biggest mistakes you can make is using general keywords in the hopes of attracting more customers. While general keywords will generate clicks, they will not necessarily generate sales. High-value keywords are more specific and will ensure much bigger conversion rates.
There are multiple ways you can approach keywords research. You can choose to apply some or all of these methods:
Keyword research tools, such as Ubersuggest and Answer the Public
Researching competitors' targeted keywords
Using Google Ads' Keyword Planner
Brainstorm keywords in-house
After identifying the most relevant keywords for the advertised product, use them to create long-tail keywords. While long-tail keywords do tend to have a lower search volume, they will generate better leads, as they are more focused on what the customers actually need. Long-tail keywords consist of 3+ words and have a higher intent-to-buy behind them. For example, customers who are looking for "rent recycling metal containers" are far more likely to be interested in the service, than those who are looking for "metal recycling".
Set Up Your Campaign
After identifying the targeted keywords, it's time to start setting up your campaign. To maximize your chances of success, as well as to be able to properly monitor and optimize the campaign, you need to have a clear and organized structure.
There are 4 campaign formats that you can choose from, based on what your objectives are:
Search Network Only: these campaigns focus on search traffic
Call Only: focuses on generating phone calls
Display Network: increasing brand awareness through ads spread across Google ad network
Remarketing: engaging with users who have already visited your web page
While all of these campaigns can help a business in one way or another, you need to focus on those who better appeal to the business in question. For example, if the service you are advertising requires a more in-depth discussion with the potential client, you may want to focus on "Call Only" campaigns, to get customers to contact you directly.
When setting up the campaign, pay attention to location and language, to make sure the campaign is targeting your desired audience. Location is extremely important, especially for local businesses, who are targeting customers in a certain region.
Create the Ads
Now that you have everything in place, it's time to create the ads and ensure they are compelling enough to generate the traffic you need.
The first thing you need to focus on is the headline. This is the first thing that will catch the searcher's attention, so make sure you write a headline that helps the business stand out from the competition. To do so, focus on user intent. Typically, users search for certain keywords for three main reasons: to buy something, to find a solution to a question or issues or to learn more information about a certain product.
While the main goal is to get customers to buy the product or service, don't overlook those who are looking for information or guides either. Instead, redirect them towards certain pages on the business' website, who can help them get the information needed. Create and let them use guides, manuals, and informative PDFs but make sure these too motivate them to buy your products.
Your ad copy needs to be straigft-forward, concise and creating a sense of urgency. You only have a limited number of characters so make sure you use it wisely. Include keywords and offers with an expiration date. This will push potential customers in the right direction and have them act upon your ad quickly and without much thinking.
Focus on The Landing Page
Creating a perfect ad is still not enough for your efforts to actually work. Why? Because without a great landing page, your potential customers won't be interested in carrying out the purchase. This is why you have to create a landing page that is attention-grabbing, and features content that is valuable to the people who clicked the ad. Include keywords and focus on getting people to go on with their purchase.
Also, pay special attention to the accuracy of your content. There can be no spelling or grammar mistakes, or else you'll lose all your credibility. If you need help with proofreading and editing your text before publishing, check out the online writing tools and services such as TrustMyPaper and Hemingway App. You can also turn to Studicus for some help from a professional writer.
When it comes to design, the main focus of the landing page needs to be the call-to-action. It needs to be the first thing your customers see and the one thing that draws their attention the most. Also, you can try and simplify the landing page's design as much as possible, to avoid having your customers distracted and carried away from the purchase.
As you can see, developing a B2B PPC as copy requires some planning and strategizing but it's far from impossible. If you know your goals and are sure you understand your target audience, you'll manage to create an ad copy that makes great results.
About the Author: Kristin Savage is a young and enthusiastic freelance writer who enjoys sharing her ideas and stories with the rest of the world. She works as a freelance writer at BestEssayEducation and GrabMyEssay, but she writes blogs for various niches as well. She's passionate about her work and believes that a single sentence can change someone's life.
About the Author: Kristin Savage nourishes, sparks and empowers using the magic of a word. Along with pursuing her degree in Creative Writing, Kristin was gaining experience in the publishing industry, with expertise in marketing strategy for publishers and authors. Now she works as a freelance writer at BestEssayEducation and GrabMyEssay, Kristin also does some editing work at TrustMyPaper and Studicus.
Kristin Savage has graduated from Columbia University where she was majoring in Germanic Languages. Besides English as her mother tongue she also speaks German and Dutch fluently. Currently Kristin is studying Spanish and planning to obtain her PhD in Applied Linguistics since she is interested in how to use her to some extent practical knowledge of language processes in everyday life.