DESIGN FROM AN SEO PERSPECTIVE
Fairly new to the web designing and miles to go before I can dole out advise or tips on web designing, I thought I'd share what I've learned over the last year, with Search Engine Optimization coming to the fore.
–  Keeping it classic and simple
It is so often that as web designers, we want to put every trick in the book on a website, especially when we learn something new, often sidelining the final user! While every design needs to break away from the pack and stand out, it should most importantly convey the right message and brand experience to a user. Similarly, while every organization wants to have a website out there, it is more important for that website to be found by its target audience.
The more user friendly the website, the higher the chances of a spider crawling them and a user sticking around!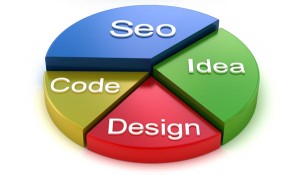 –  A Picture worth a thousand words
Graphics are important to a website … they not only create eye-catching pages and break away from the monotony of content, they often give users an instant idea of what the page conveys.  But, web designers need to be pragmatic about graphics we use by optimizing them appropriately.  Furthermore, giving effective 'alt' attributes to the graphic, feeds search engine spiders with important key words!
–  Give your design meaning
While designing and building websites, use HTML tags appropriately. Search spiders are like users, they don't have patience to read gobbled, long and unnecessary markup. So keep the mark up clean and readable without overusing divs and tables.  It's also important to note, that keyword rich content should be higher up in the mark-up, to feed spiders efficiently.
Ensuring that your SEO team has selected its keywords at the out start,   enables you to add meaningful & key word rich titles, alt attributes, meta-tags and meta-descriptions to your page while building them.
–  Cut out the 'flash', concentrate on 'usability'
While flash pops your website with interactivity and keeps the user involved, its slow load time, lack of SEO friendliness and platform stability (still not supported by Apple products and other tablets),  is causing it to be become a passing trend.
Online libraries like Jquery, offer almost all the action that a flash website offers, they load quicker and are easily supported on any browser that supports JavaScript and Ajax. Besides, they render SEO friendly, since the functionality scripts are separated from the actual markup.
So, in conclusion I've come to realize that when Search Engine Optimization takes center stage in the design and production process of a building website, it automatically makes the pieces of jig-saw come together.  While content is king and design keeps users who've found your website interested, SEO helps find & lure prospects to the website you've created.  Can you really ignore this 3rd cog in the wheel?