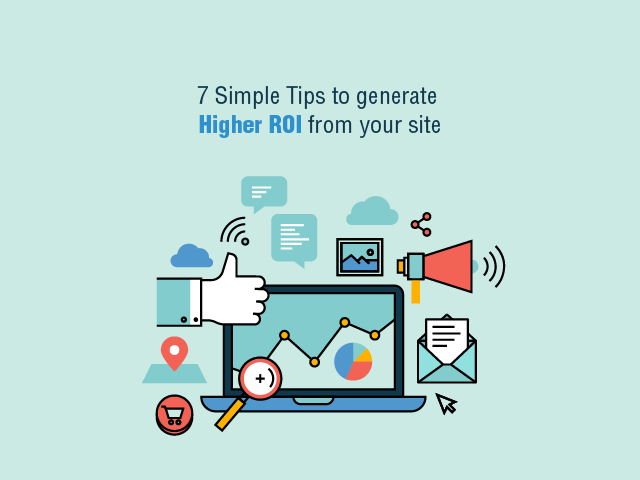 7 Simple Tips To Generate Higher ROI From Your Site
Marketing has evolved into a fast-paced, robust platform. Digital marketing has also evolved into one of the most important parts of a marketing strategy. If you focus on key areas such as important analytics and segmentation data, your campaigns can have a much stronger impact.
A website is the face of your business online. If you use it in the right way, you can increase return on investment from this internet real estate. Don't follow outdated tech practices.Use the tips mentioned below to generate higher ROI from your website:
Mobile optimization:
Searches are being conducted on mobile devices more than desktops and laptops. Is your website ready for mobile traffic? You must optimize your site for mobile to increase ROI. The best tool to start from is Google Adwords.
Set up a Google Ads account for mobile as the first step. Mobile devices have a huge impact on your ads, so you should think about optimizing them accordingly. When it comes to creating an Adwords campaign, brands prefer to optimize for PCs, but mobile already rules internet traffic and search volume.
Through your optimized Adwords settings, mobile users can easily find your ads and click on them. Smartphones also have the tendency to bring more closeness to the brand, and your PPC campaign needs to have a personalized effect on the user.
Decide whether you need a new campaign which is optimized for mobile or need improvement in the existing PPC campaign.
Website copy:
A website copy is a content that is written on the various pages of your site. Good and attractive copy brings in more sales, while bad copy can drive customers away in a second.
You need to find the perfect balance because the number of words has no effect on the quality of the copy. Even if it is the least number of words, they should be impactful enough to convince people to take action on your site. By using the user persona, you can create copy that resonates with your audience.
Your copy should be user-centric and describe your brand in the best way. You can avail the services of a Copywriter or manage the task in-house by brainstorming and implementing user feedback.
Payment plans:
If you run an e-commerce site or a site which sells something, a single payment plan is killing your ROI. Users arrive on your site from many locations, and they feel comfortable with different payment methods. What if a person really wanted to buy from your site, but couldn't find a payment plan they're comfortable with?
Lack of payment options means you are losing customers.Change this by introducing multiple plans. PayPal, BitCoin, and Stripe are some of the most popular plans out there apart from the usual credit and debit options.
Video content:
Nothing explains a matter as efficiently as video. It can portray a message in the shortest period. Your customers are 85 percent more likely to buy from you if you have video content on the site. You can improve the ROI of your site by incorporating more video content and keeping a mix of text, images, and video.
However, the video content used on the site should be shot professionally, without any glitches that may disrupt the portrayal of key messages. Your site visitors will enjoy this content, and more users will find you credible thanks to live videos.
Use modern tools:
Today's technological advancement requires more automation and less manual involvement in repetitive tasks. The ROI race doesn't end at conversion; it ends when you have noticed an increase in profits and returns. The best tools can lay the foundation for a solid marketing strategy. Here are some tools that can help you run the site and boost the ROI:
Testimonials:
You won't believe the effect a testimonial can have on the ROI of your business! It costs nothing literally but does wonder for your business. It is human nature to prefer word of mouth to a suggestion or a fact.
People like buying from places that have been dealing professionally with other clients for a long time. How do you tell them you are a professional? Through your site, of course. The most effective testimonials will refrain from simple praise and instead concentrate more on your niche, service and what you do best. These are the words people read and think that your business is worth a try. Great testimonials inspire people and boost your chances of landing more deals.
Codeacademy is a coding website that has created an amazing testimonial section called Codeacademy stories. It has quotes from people who have chosen this resource and loved the experience on the platform. The best thing about their format is that it is approachable, and the customers featured on the pages are very relatable. Bring in that human element when working on your site, so that more customers can relate to those experiences.
Remarketing:
Remarketing is a wonderful little trick of today's high-paced tech world. It is the art of sending targeted ads to people who are interested in your product or service and have visited your page but didn't take action.
Your Adwords campaign should be directly associated with the remarketing science. Greg Coleman, a marketing strategist, puts it this way: "the average click rate for display ads is 0.07%, while that of retargeted ads is about 0.7%."Moreover, customers are 70 percent more likely to convert on your site through retargeting. Smartinsights came up with seven types of retargeting, which are as follows:
Target by search
Target products
Target individuals
Target individuals based on device
Target individuals who visited partner sites
Target through social media
Targeting email respondents
Last word:
Don't let assumptions rule the performance of your website. Take advantage of advanced tools and analyze how stats can increase your profits. You will gain a higher ROI by following the tips mentioned above, just follow a systematic approach to digital marketing.
Alycia Gordan is a freelance writer who loves to read and write articles on healthcare technology, fitness, and lifestyle. She is a tech junkie and divides her time between travel and writing.