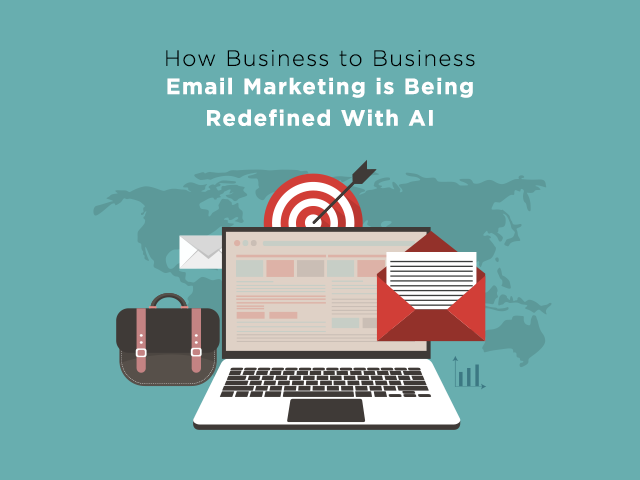 How Business to Business Email Marketing is Being Redefined With AI
Email marketing remains the number one method for B2B marketers wishing to distribute their message. 93% of B2B marketers use email for distributing content and 91% regard email as key for content marketing success.
The recent development of AI tools for marketing purposes is set to make email marketing even more effective for creating, optimizing, and sending emails to B2B audiences. While traditional best practices, like using an email verifier tool and segmenting lists, will remain, AI is set to redefine the process in other ways.
Below we take a look at some of the tools already available for B2B marketers that will boost the success of their campaigns even further.
AI for Email Marketing
AI, or Artificial Intelligence, is the science of building computerized systems that can enhance human ability. In recent years, AI has been used to drive purchasing recommendations, personalize email campaigns, deliver insights, and more. Its ability to analyze vast amounts of data, learn from it, and take appropriate actions based upon the findings is far beyond what humans are capable of.
Over time, AI capabilities for making recommendations and predictions are enhanced as more information is absorbed. Given the information generated and collected with each email campaign, AI can be utilized to improve open rates, click-through rates, and even create engaging content for recipients. Some forward thinking businesses are already leveraging AI tools to do this.
AI Tools For B2B Marketing
Many AI tools are already available to aid B2B marketers with email campaigns in a number of different ways. Marketers can use the technology to analyze email open rates, suggest optimal send times, or create email content. Beyond that, AI can be used to recommend email subject lines that are most likely to result in a message being opened and read.
Phrasee is one such AI tool, although there are others available. Phrasee learns from response metrics to generate and optimize email subject lines with inbuilt algorithms that ensure they are in line with the brand voice. By doing this, the AI software gives B2B marketers more time to focus on other elements of their campaign like crafting content and performing other high-value creative tasks.
Siftrock is another machine learning tool which is designed to take much of the heavy lifting out of B2B email marketing. It does so by automatically managing and mining email replies for companies.
The software integrates with automated marketing systems like HubSpot and Marketo to sort through automatic replies, bounced emails, and invalid email addresses. Siftrock then actions them appropriately, taking over this time consuming and tedious task for human marketers.
Optimal send times for email recipients can differ even within the same list segment. As timing is everything when it comes to sales, Seventh Sense is a god-send for B2B email marketers. This piece of AI software analyzes all the email open and click rate data generated through previous email campaigns to find the optimal send time for each and every recipient on your list.
It also detects a recipients' 'email fatigue,' allowing you to segment lists by engagement level. This way, you can continue conversations with loyal customers while keeping your sender and brand reputation intact.
Email is just one of the areas in which AI is having huge impact for marketers. The enhanced ability it gives to marketers of all kinds is destined to change how products and services are marketed and sold in the coming years. To remain ahead of the competition, it is worth investigating which AI tools you should implement to assist with your email marketing.