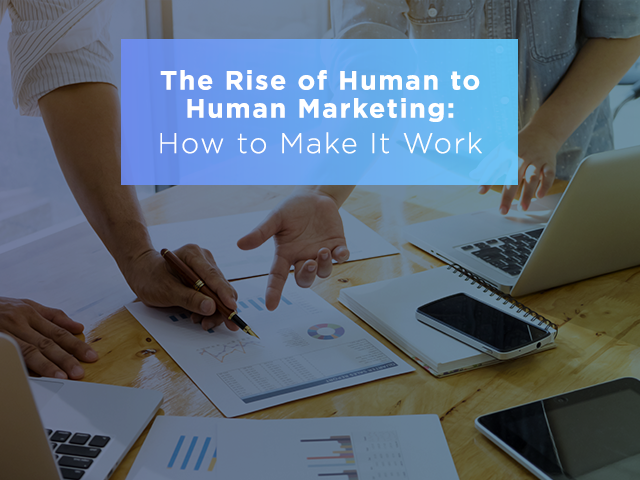 The Rise of Human to Human Marketing: How to Make It Work
Technology has changed marketing in ways we cannot even imagine. One of the most crucial changes is that our attention has moved away from the old-fashioned advertising domains of print and TV towards our computers and smartphones. In the race to catch up with the technology which is a rabbit in the run, we have forgotten why sometimes it is good to be a turtle. Not all old things are bad, and sales and marketing still require the human element which can never be replaced by devices and apps, regardless of how innovative and revolutionary they are. Embracing and acknowledging the humanity of both consumers and sellers in a business world aspiring to dehumanize every step of the advertising and sales process is a step the bold businesses will take to make their mark in the market. Here's what you need to know about it.
What's wrong with the good old "business-to-business" approach?
The problem with B2B marketing is that we forget one fundamental truth and that is that companies are not stand-alone entities, but they are led by people. Of course, we don't actually believe that businesses have minds of their own, but sometimes our marketing strategies don't align with that fact. The result is a dull robotic content that doesn't appeal to actual people.
This can be unsatisfying for people who know how important online marketing is to their company. While they understand the need for it and the reasons to do it (because the majority of people nowadays make their purchase decisions based on web research), they still haven't mastered how to do it. Where they fail the most is in humanizing their content.
Why is "human-to-human" marketing a thing of the future?
When digital marketing became reality it was reduced to translating your business card to your website. Later, with the arrival of content, social media, and analytics. This sparked the need for a more humanized approach. Today, the nature of commercial relationships is put to the test, which calls for building trust and respect between customers and service providers. The future lies in tailoring digital experiences to individuals both pre-sale and post-sale.
There is no doubt that H2H marketing will become the primary way of advertising products and service in the near future, so businesses that want to stay on the top of their game will need to learn how to apply it properly.
Show that you are not a robot
If there is one thing social media has taught us, that is that we need to communicate with customers in a natural way. In fact, people often say that social media is the new word of mouth and everyone, including small businesses, need to learn to master the art of social media management, but in a way that will make communication flow smoothly and appear human.
This also means that you can allow yourself to make a mistake and that you shouldn't strive for perfection.
Show your sense of humor
Humor is welcome, particularly in social media posts, but you can also use it in the product descriptions. If you are not sure where to start, feel free to learn from the best. Some of the brands that swim well in the waters of humorous digital marketing campaigns and social media posts are Taco Bell, Innocent Drinks, Old Spice, JetBlue Airways, DiGiorno Pizza, and A24. They are mostly posting information on their products, but in a fun way, but some of them are even being funny for the sake of being funny, which can attract a lot of audiences which can later be turned in customers. In short: never underestimate the power of putting a smile on someone's face.
Put yourself in the customer's shoes
When considering the content you are about to publish try to think like a customer. What would you like to read or see? What makes you tick? What makes you smile? What makes you react? Sometimes it is difficult to establish such an interaction within yourself, so try roleplaying with your coworkers where one or several of them will be customers.
Content is the king, but context is the throne
Quality content is worthless if it is not addressing to your specific audience. To achieve that level of relationship, you need to know your customer well. You cannot go from introduction to straight out sale pitch. It would be like proposing someone after one date. The best course of action is to slowly get to know your customers (market research, Q&As, etc.) and share your story bit by bit.
Infuse the humanized approach into the company's culture
The foundation of H2H marketing lies in authenticity. This means that every level of your company needs to believe the customers come first and that they deserve respect and real communication. Your employees are not machines designed to reply to emails and pick up phones with pre-learned speeches. They need to listen, understand, and answer.
H2H marketing is the combination of knowing your customers, being empathetic to their needs, providing them with the help they expect from you, repeatedly delivering valuable information, treating them like human beings, making them laugh, engaging them in a cause, and simply being there for them. It is the contrast we need in the time when businesses are provided with the possibility of selling globally with no boundaries preventing them. Human to human interactions are what creates trust and long-term relationships. The implementation of these changes won't come without its challenges, but you need to make them if you want to stay afloat in the competitive market.
Although web design is Catherine's formal education, marketing, business management and business growth in this digital age are topics Catherine is quite interested in lately. She has been researching and learning for some time now, and she is always happy to share her knowledge and inspire others by writing some quality content.