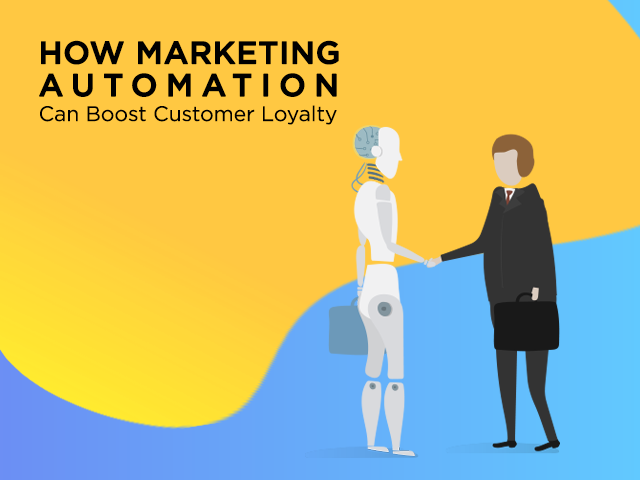 How Marketing Automation Can Boost Customer Loyalty
Email marketing represents one of the cornerstones of marketing automation. It allows marketing teams and their respective companies to communicate with the audience on a personal level. The reason for this is because the majority of people read their emails in private, at the end of a long day or before they go to work. This represents an opportune moment for marketing automation targeting.
Studies have shown that 77% of marketers saw an increase in conversion rates once they implemented marketing automation. However, retaining customer loyalty even with such a handy tool is often difficult. Marketing teams struggle to stand out from the crowd of numerous brands and companies with seemingly very similar offerings. Let's take a look at how marketing automation can help you retain existing customers and grow your customer base going forward.
Emphasis on creativity
Creativity is something that modern marketing campaigns often lack. The industry has become focused on short campaigns and quick RoI that it often overlooks the most important thing – substance in content. Content creators that implement marketing automation in their campaigns effectively cut their planning and scheduling times in half.
Services such as Mail Chimp offer not only automation but tracking and data analysis options to boot. These can easily be used to create more intriguing, effective content for future marketing automation. In doing so, they will deliver much more tangible content to their customers who will in turn remain loyal to their company and brand.
Increase in retention
A typical customer base will only be as loyal as the company enables them to be. To that end, people like it when their favorite brands show them some affection and love through marketing. Automated marketing through email allows for personalized content with specific customers' names and other information.
According to recent data, automated marketing content can increase the email campaign's open rate up to 180%. It all comes down to letting the customers know when the next piece of content will drop into their inbox. This type of content is impossible to pull off in physical or paid promotion outside of automated marketing. Showing your customers that you are there for them can provide you with a substantial increase in retention and overall customer loyalty.
Customer base segmentation
Companies with a plethora of products and services under their belt often have trouble with marketing campaigns. It's difficult to create a customer profile if your brand sells anything from soft drinks to apparel and accessories. In these cases, marketing automation can be highly beneficial. You can quickly segment your customer base based on different criteria pertaining to your products.
For example, you can segment the parents from single males in their 20s and deliver different versions of content to each. This tactic is also viable for international companies with very different customer bases in each country. Checking out a translation agencies list and looking for professional translators might be a good idea for the email content itself. You can be highly flexible with segmentation and precise targeting should you choose to use marketing automation in your next campaign.
Easier incentives implementation
The easiest and most reliable way to retain a customer base is to offer certain benefits to them. In the end, your brand is only one among dozens of similar companies which offer the same products and services on the market. What separates your brand from others is the quality, the mission and the care you put into your work. Make sure that you communicate that desire to your customers by giving them small freebies in every email you send out.
These gifts can be anything from discount coupons to points towards a nice reward on your website. By the time your customers have reached their reward, they will have understood your company at large enough to stay loyal. In short, make sure that you offer something in return for your customers' time and patience. After all, they are the lifeline of your business' revenue.
Feedback & communication
Chances are that you are doing something differently to what the public might expect from you. Marketing automation and email marketing in general can alleviate many of those shortcomings. You can ask your customer base directly for their feedback, opinions or even a live discussion. Allow your customers to speak their minds about your company, products and the quality of service they receive.
It doesn't take a lot to hear people out and actually gain valuable insight into how your company is perceived from the other side. Customer loyalty is often retained through a simple conversation and a friendly smile – even through email correspondence. Represent your company in the best possible light but make sure to always be open to suggestions and occasional critique. Should you ever implement something that came from a customer, the entire base will think higher of you for it.
Brand advocacy
Lastly, marketing automation makes it far easier for customers to advocate for your brand through their associates. People are used to social media platforms and very quick sharing of information. They are also tired of seeing companies with shady practices and spam content pop up seemingly out of nowhere. Surveys show that 22% of companies aren't confident that they can keep up the pace with current trends. This is a small percentile given the nature of content creation that goes into automated email marketing.
A company with curated content and automated marketing through email has a lot to gain in today's age. If people are satisfied with what you have to offer, they will likely share their findings with their friends, colleagues and acquaintances. Brand advocacy through automated marketing makes it simple and very straightforward to "share" interesting content by meeting the reader halfway.
Ongoing loyalty (Conclusion)
While marketing automation does provide a platform for customer loyalty, it also has its downsides. A single wrong piece of content can often lead to a fall in customer retention. This means that you should always be vigilant of what your customers want and need at any given moment. Knowing this will allow you to create high quality content and deliver it to their doorstep in a timely, automated fashion.
Kristin Savage has graduated from Columbia University where she was majoring in Germanic Languages. Besides English as her mother tongue she also speaks German and Dutch fluently. Currently Kristin is studying Spanish and planning to obtain her PhD in Applied Linguistics since she is interested in how to use her to some extent practical knowledge of language processes in everyday life.