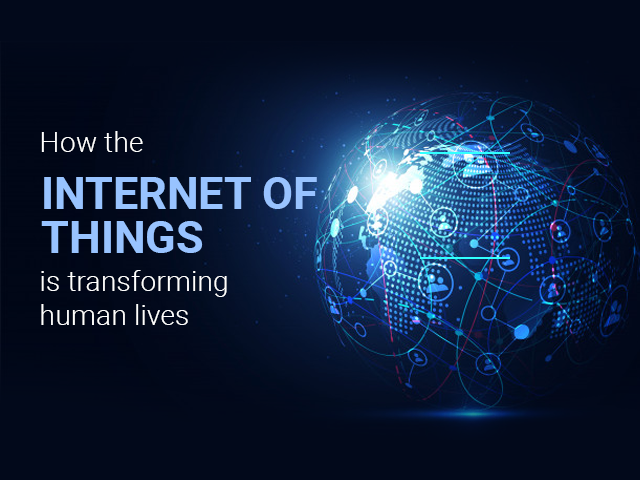 How the Internet of Things is transforming human lives
Technology is growing at a significant pace. It is influencing our lifestyle from the morning when we wake up to the night when we go to sleep. One of the latest trends has been IoT, which has been affecting our lives in a big way. Air conditioners can be controlled by smartphones, smartwatches can track our daily activity, smart cars can save time on your morning commute and many more. It's all possible with the help of IoT, It interacts with our home to office applications. IoT devices with cloud capabilities are in the rise. In this blog, we are going to discuss the impact of IoT technology in our day-to-day lives.
What is IoT?
Internet of Things is the network of physical objects that are connected to the internet enabling them to send, receive and exchange data. It works with small computer chips or sensors embedded with an object and connects to the internet. It is a technology that connects almost everything that surrounds us to the internet. From clothing, cars, instruments, medical devices to every object that people come across in their day to day life. Going into more details, let's take an example of smart homes. With IoT, it is possible to control your house lighting, temperature, garage door, security locks, smoke alarms etc without human interaction. This technology aims to reduce human interaction in a machine cycle. The machines or objects can be pre instructed on what to do and when to do. These machines or objects can adapt to your needs and modify how they function.
Impact of IoT in our daily lives.
Enabling home automation.
IoT helps to make a home smarter. An intelligent or smart home is one that can manage the energy consumption, water consumption and sync multiple devices together. It makes it easier for home residents to spend less time managing the house. Google's Nest Learning Thermostat is the most popular choice as a heating control system. By detecting the changes in the weather this smart thermostat manages the heating temperature by itself. It can be controlled through smartphones and smartwatches over the internet. So you can control the heating system even when you are away from home. lighting sensors can be used to manage your lighting system. The most innovative lighting system in Philips Hue. Philips Hue bulbs are connected to your smartphones where you can control the intensity of light remotely. These smart bulbs can be programmed to get dim or high at your desired timing. Also, you can use these lights as an alarm by setting it blinking mode on any intruder detection. In the same way, Neebo Monitors is another example of how IoT technology is improving lives. Neebo Monitors can help you to track your baby's body position, breathing level and temperature. All these information are collected and intimated to your smartphone. With the help of Neebo Monitor, you can provide the best safety measures to your baby from any health loss. From heating, ventilation and air conditioning to home security systems. There are many ways IoT is making home smarter and saving time and energy. Which makes lives more convenient.
Parking solutions and public transport system.
A great example of an IoT enabled parking solution is in the Mall of America. Every parking space is indicated with red and green lights, red light indicates that the parking space is occupied where green shows that it's empty. This works with the help of IoT sensors placed on the ceilings of every parking space. In this way, parking systems become easier to manage and save human efforts.
In the same way, the public transport system equipped with IoT technology has become more efficient. Commuters can get real-time information about the next upcoming bus for their destination. It can even suggest the best route or other means of transport. It helps commuters to save time.
Agriculture.
The IoT is transforming the agriculture industry and enabling farmers to stay strong to face their challenges. Innovated applications can address their issues and therefore can improve the quality, quantity, sustainability and cost-efficiency of crop production. IoT devices can gather information like soil moisture, chemical application, livestock health, fences, farming vehicles and weather. Farmers can track these real-time changes with their mobile device and manage their farm operations. The best example of IoT based farming tool is AGCO agCommand. This technology helps farmers to save time, efforts and losses can be saved with beforehand information.
Manufacturing.
The manufacturing industry is embracing the potential of the Internet of Things. A large number of manufacturing firms are using IoT sensors to monitor production in real-time. The temperature sensor monitors the temperature of machinery to avoid damage and loss. Proximity sensors emit electromagnetic radiation to detect the presence of nearby objects. Pressure sensors measure the pressure and flow of gasses, liquids. Humidity sensors are used to control heating, ventilation and air conditioning and many more. These sensors gather and transmit data to the cloud which is centrally available for the production team. The management can make maintenance decisions based on the real-time information from sensors. IoT is revolutionising the manufacturing industry by bringing in automation in the processes.
Healthcare.
IoT has a great impact on healthcare. It removes barriers to faster decision making. It provides real-time information to caregivers about the patient's health so that they can communicate and collaborate to decide on the best course of care and the right caregiver to provide it. Best IoT based healthcare platform is MySignal. My-Signal allows you to measure more than 15 different biometric parameters such as pulse, breath rate, oxygen in the blood, electrocardiogram signal, blood pressure, glucose levels and more. All the data gathered by MySignal is encrypted and sent to the user's private account. The data can be visualised on a tablet or smartphone in Android or iPhone apps, also on the My Signal's website. With the help of MySignal platform, caregivers can monitor the patient even when the patient is not in the hospital.
Another example is the IR temperature sensor mask. The IR temperature sensor mask is designed to measure and compare the body temperature of a person wearing the mask and displays it on the OLED display attached to the mask. The detectors on the other side can detect the body temperature of the person in contact. The display provides red and green signals. When the temperature detected is normal, it gives a green signal. When the temperature detected is above 38°C or 100°F it gives a red signal and will be accompanied by an alert, indicating he/she is having potential risk with Coronavirus. In the same way, many other IoT devices are helping the world to fight against the deadly Coronavirus or COVID19
Today, from smartphone-connected speakers to wifi-connected light bulbs and from traffic-sensing street lights to self-driving cars. All these are possible with the help of the Internet of Things. The world is awakening to the potential of IoT and is embracing it at a tremendous speed. Currently, the market of IoT has been valued at 212 billion USD and by 2025 it is projected to be 1.5 trillion USD. That means every industry is going to use this technology and its potential. The possibilities for the IoT in the future is limitless.
Piyush Jain is the founder and CEO of Simpalm, a custom software development company in Chicago. Piyush founded Simpalm in 2009 and has grown it to be a leading mobile and web development company in the DMV area. With a Ph.D. from Johns Hopkins and a strong background in technology and entrepreneurship, he understands how to solve problems using technology. Under his leadership, Simpalm has delivered 300+ mobile apps and web solutions to clients in startups, enterprises and the federal sector.