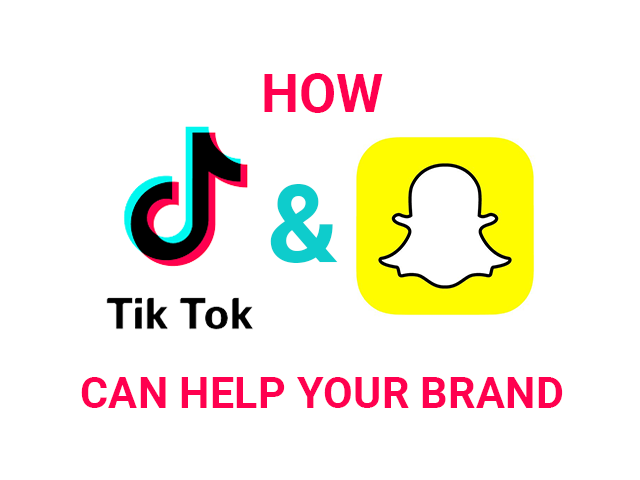 How TikTok and Snapchat can Help your Brand
From a filmmaking perspective, there's no doubt that the TikTok vs Snapchat debate is going to rage on for a number of years as to which one is better; and which one is more serviceable to your business. BUT! They are both current and valid platforms that can enhance the exposure of your brand to wider audiences and gain valuable reach for future proofing your identity.
As a social media platform, they're both fun, exciting and will have potentially huge reach for your brand/ business but it's important to firstly consider the 'tone' you want to express with your business or brand and decide whether it's the right platform for you.
The difference between Snapchat and TikTok
Both are vertical platforms with a 9:16 ratio for video content which means they're perfect to consume daily content on a mobile phone and seeing as we're all doing that these days, it makes sense to use these platforms for this express purpose.
TikTok is a video platform which allows you to 'share' moments and create videos which you can put music to.
Snapchat is about sharing 'stories', which can also essentially be deleted within a day but also archived if your audience wants to check out your previous content.
So with 'Snapchat' I found more companies/ brands and businesses having series of content such as 'Lad Bible', 'IGN', and 'Looper' – all having stories which you can digest on a daily basis and talking about something topical or currently relevant e.g. coronavirus, the top 10 games in April or how the Marvel actors 'train' to gain their superhero physique
With TikTok I found more content which related to particular celebrities (both traditional and social media) dancing to songs and performing video ' dance workouts' to particular songs e.g. Gordan Ramsey with his daughter doing a 'macarena' like dance (@tillyramsay) (… I think stating the 'macarena' just aged me…! ). There's an emphasis on the individual artist or 'TikToker' showing off their skillset.
Of course it's worth bearing in mind that Snapchat has been around since 2011 and TikTok was released in China in 2017 and went global in 2018, so Snapchat has had a clear head start. TikTok could still be considered as finding its feet while Snapchat has found its place quite securely in the new wave of video social media.
Topline statistics on Snapchat and TikTok.
Snapchat
Launched: 2011
Core features: Video and image capture, Story creation, text and video chat, camera filters, lightweight editing tools, AR 'Lenses', Discover tab, (Snapchat-native content covering user interests and subscriptions), Snap Maps
U.S. demographic: Primarily Millenials, with 78% of internet users aged 18-24 on the platform. Roughly 61% of Snapchat users are female and 38% are male*
Who users follow: Friends, celebrities, publishers
Daily active users: 218 million globally*
Total downloads: 75 million globally* in 2019
Revenue: $561 million in 2019*
Some brands using Snapchat: Taco Bell, Paramount Pictures, Warner Bros., Burberry, Target, MTV
TikTok
Launched: 2017 in China, 2018 internationally
Core features: Video capture, powerful editing tools, filter effects, creation prompts (reactions, hashtag challenges), sound library, 'For You' page (TikTok's algorithm-based discovery feed)
U.S. demographic: Primarily Gen Z. 41% of users are between ages 18-24* and 27% between 13-17. Approximately 60% of TikTok users are female; 40% are male.
Who users follow: Content creators, celebrities, brands
Daily active users: 41 million gobally*
Total downloads: 738 million globally* in 2019
Revenue: $176.9 million in 2019
Some brands using TikTok: Chipotle, E.l.f. Cosmetics, Guess, ESPN
Having been launched in 2011, it's clear that Snapchat is a market leader, currently with over half a billion dollars in revenue. But TikTok's exponential growth cannot be ignored, and for it to gain close to 180 million dollars revenue having only been around for just under 2 years means a lot.
In terms of leveraging both platforms for your business/ brand, I would suggest a strategy which allows you to put out regular content on a consistent basis; potentially 'topical' and relevant to what's going on, on a cultural, day-to-day level and within the parameters of trends that are affecting your business and your market, or your brand.
Another key learning is knowing that the market share is dominated by an audience of females more so than males; so it would be good to know what are 'trending' ideas around what makes 'females' so strong on these platforms i.e. is the majority of content makeover content, life hacks, related to beauty or fashion, for example? Where's the niche where you think your content strategy could actually 'further the interest', within the dominant audience within the female market and also 'HOW' can you attract more male audiences to the platform – this could be a key implementation strategy for future content going forward for your brand/ business.
I think overall, the most important idea with both Snapchat and TikTok – is to have FUN, while making sure you also have some direction to your strategy…
As with most social media platforms, the idea of 'authenticity' is key to attracting, gaining and sustaining future audience figures.
So if you're trying 'too hard' and not having 'fun'; you're probably not going to reap the rewards that either platform can give you and that idea of 'fun' has to be consistently aligned with your business, so make sure you get your angle of attack correct.