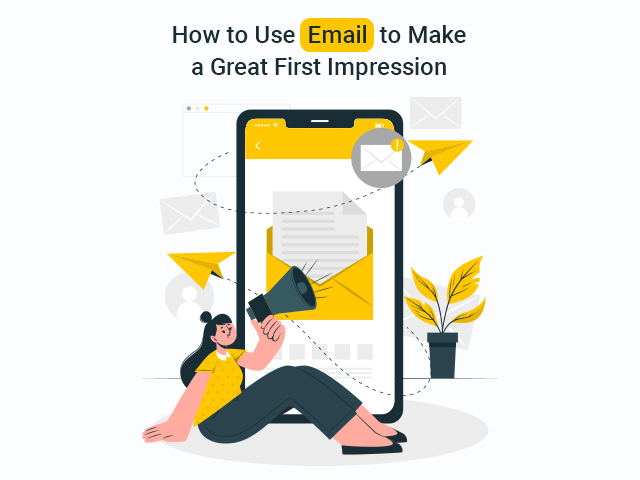 How to Use Email to Make a Great First Impression
You're about to go to a meeting with some important people you're hoping to woo…so what do you do?
I'm sure you plan whatever it is you'll be discussing ahead of the meeting, for one.
Two, you show up early because nothing irritates important business people more than having to wait.
And three, you wear something, well, nice and professional.
These actions, although they seem like no-brainers, create a first impression that helps you come across as sharp, presentable, and competent.
So, why wouldn't you use emails to do the same?
Welcome Emails
You might be surprised to learn that a whopping 41% of brands don't send welcome emails at all, but 74% of new subscribers expect them. This means 41% of brands are missing a huge opportunity to properly introduce themselves and their potential customers are feeling left out in the cold because of it.
Some brands might view these emails as redundant—"if the customer has already been to my website or interacted with a sales agent, why do I have to send them another email on top of that?"
But welcome emails shouldn't be viewed that way. Welcome emails are opportunities.
First of all, they have very high open rates—50% on average, which gives you way more engagement than most other types of emails. You're being given the opportunity to make an amazing first impression to a decent chunk of people interested in your service—so take advantage!
But this doesn't mean to pull out all the stops just yet. Remember, this is just an introduction. The purpose of this email is simply for you to welcome your new subscribers to your brand, and there are a variety of ways to do this.
You can include an actual Welcome message, followed by you letting them know what they can expect next (such as a representative reaching out to them). Or maybe you give free trials, so you'd want to invite your subscribers to use all the features included in that trial. Or perhaps you have a specific product or feature you want to market, so you can have a call-to-action guiding your newest prospects to whatever that specific product or service is on your website.
Notice, however, that with each of these welcome email scenarios, we're keeping things simple. We're pairing a welcome message with another message that either lets your subscriber know what we, the company, will be doing next or what they, the potential customer, should do next. We're not bombarding them with a barrage of offers, CTAs, or thick paragraphs about how the product works or how incredible it is.
This is the first email. You'll have plenty of time for all that other stuff, so there's no need to rush. The rest of the onboarding campaign will let you show off a bit more.
Onboarding Campaigns
When it comes to an onboarding campaign, the content and length will depend on your business and your goals. For example, if you give your subscribers a 30-day free trial for your service, your campaign will probably last around a month. And even then, if you don't get a commitment, you'll still be sending follow-up emails. On the other hand, if you don't have any definite time constraints to convert or anything specific to sell, then your onboarding campaign might be shorter and advertise different aspects of your business.
You could have an email after the Welcome that goes a little deeper into a few closely-related products. Then you might follow that up with a social proof email, detailing how much experience your company has in your industry and what makes your service stand out from the rest (having actual statistics would be a good addition to this email because people trust hard numbers). Your onboarding campaign can also include a testimonial email, where you give a short anecdote about a problem a specific customer was facing and how your business helped them solve it.
To decide on which emails you want to put out, you need to assess the desires of your subscribers at the point they are in the customer journey, as well as your goals for your business. Doing this will allow you to see what kind of content is going to be most effective at achieving the results you want.
Analysis
After completing your onboarding journey, you'll want to perform a thorough analysis.
Take a look at your open rates, your click-through rates, your bounce rates, and your unsubscribe rates once you have a sizable amount of data and see what you can glean. Evaluate what piqued your subscribers' interest as well as what they didn't love so much.
You should also look into what the email standards are for your industry to gauge how well you're doing in relation. For example, in the software and web app industry, the average open rate is 21.29%, while in the e-commerce industry, it's 15.68%.
A/B Testing
This strategy involves you making small changes to your emails, then sending out one version to one group of your subscribers and a second version to another group. You can test variants of copy, pictures, font size—even changing the color of a CTA button could have a significant effect on how your audience engages.
For example, you could test email subject lines to see which one results in a higher open rate. One subject line could be "Become an insider" while another subject line could be "Ready to become an insider?". The difference between the two is relatively minor and for the best results, you'll want to keep it that way.
Making big changes or testing too many variables at once could result in you not knowing exactly what your subscribers are actually responding to, defeating the whole purpose. Instead, if you want to test different aspects of your email campaign, test them one at a time and keep the changes subtle. If you utilize A/B testing correctly, it will give you valuable insight into what you can do better to connect with your subscribers and make your campaigns more efficient.
Putting together a solid onboarding campaign isn't easy, but it's an essential part of delivering an amazing customer experience. And I promise you, when done right, you and your team will breathe easier, and of course, leave a wonderful, lasting impression.
A freelance writer who specializes in writing emails for martech brands