How Twitter makes real time customer support a necessity rather than a choice
Owing to social media's real time nature, consumers' response time expectations have become highly demanding. While some of these expectations might be construed as unrealistic, there is a looming pressure on brands, businesses, and their social media agency to deliver on these expectations. Juggling between content generation, publishing and dissemination, social media marketing can take up more time than you are willing to dedicate.
Real time customer service on Twitter:
Research from social media analytics firm Simply Measured shows that 30% of the companies in the Interbrand 100 (which ranks businesses based on financial status); now have dedicated customer service handles on Twitter as a way to divert negative attention and activity away from their primary brand account. Among top brands that have adopted a customer service handle, Ford and Nike top the list, replying to more than 70% of inbound Tweets.
Who's doing it right?
Microsoft: Simply Measured found that the official customer support feed, Microsoft Support, responded to @mentions in an average of just 42 minutes.
Xbox: The Xbox Support feed has tweeted an astonishing 1.3m times and according to its bio, it holds the world record for being the most responsive brand on Twitter.

Silence isn't always golden:
No one's saying that failure to respond in real-time will leave your customer disgruntled. However, if you do manage to pull it off, it might be an opportunity to impress. Make the customer truly feel like a king. While achieving this may not be the key to unlocking high ROI or annual profits, it does serve as a competitive advantage against the industry.
While best practices would include maintaining a decent response rate & response time, the least you can do is to ensure that the customer does, if not immediately, but eventually, get a response.
Disaster management:
Customers use social platforms to express their experiences about the brand. But sometimes these experiences are negative, rendering social media a platform for real time public relations and disaster management.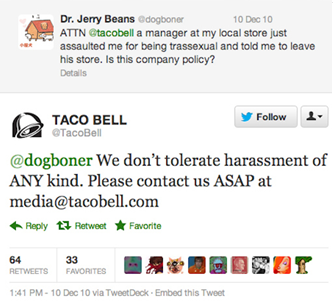 The public nature of social media means that an unanswered question not only has a negative impact on the individual who posted it but also on the entire community that reads it.
The longer these comments remain unanswered the higher the impact. Considering the large customer base that is present on social media, no one in their right minds will be willing to take this chance.
Who's doing it right?
Taco Bell: Taco Bell used real time response to salvage a potentially damaging public image crisis on Twitter.
Leverage @mentions to boost brand image in Real time:
Customers interact with brands sharing views about new products and offerings from a brand. These can be leveraged in real time. Quick witty responses can not only restore consumers' sentiment but also boost the overall image of the brand.
Who's doing it right?
Taco Bell: Again Taco Bell has pulled off a witty response, using humour to leverage a customer's point of view.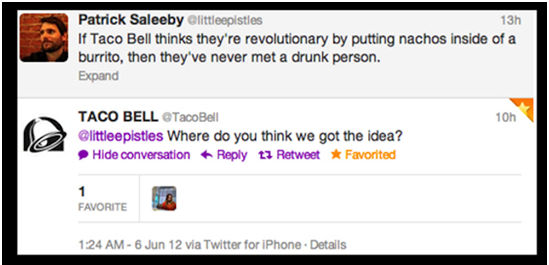 Active Presence:
Besides the reactive support, customers are expecting brands to actively churn out new updates about the brand. Customers seek information about what the brand is up to. Product news, industry trends, offers, innovations and just about anything that will make them feel connected, updated and informed about the brand. This has made social media has integral to a sound digital marketing strategy.
Even when there is no dope to share, brands can use just about any subject matter to connect with consumers.
Who's doing it right?
Target: In this instance, the brand has used a popular opinion about taxation on "Tax Day" to connect with followers. Even though unrelated to its core business, such opinion creates a stronger human & personal connect. As indicated by the retweets and favourites on this tweet, this was a visibly well accepted opinion.

Have you been using Twitter for customer support? What has your experience been like? Do you think it's better to do it yourself, or get a digital marketing company to manage responses for you?
Share your thoughts in the comments!