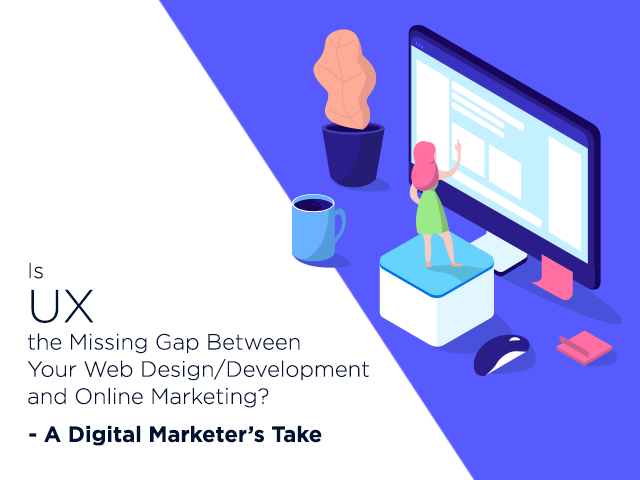 Is UX the Missing Gap Between Your Web Design/Development and Online Marketing? – A Digital Marketer's Take
Online consumers are more sophisticated than ever.
Seemingly not too long ago, hiring a website development company to design a site with some offers on it meant that you were well on your way to building a successful online business.
Nowadays, because of saturation and high expectations by most audiences, business websites need to provide a seamless and convenient experience for their visitors or risk losing them to the competition.
To maximize the chances of achieving your objectives, you can't take a singular approach to establishing an online presence.
Every single decision that you make regarding your efforts of marketing online must be aligned with your big-picture goals if you want to maintain a consistent image and message.
And the only way to ensure that is by making User Experience (or UX, for short) the centerpiece of all your efforts.
But what exactly is UX and why is it important?
User experience is a wide-reaching umbrella term that encompasses the overall experience that a person has when browsing a website (or using an application), measured by how easy it is to navigate, how intuitive and pleasing is the layout and a few other vital measurements.
But in reality, UX extends even beyond that.
You see, your first communication with a prospective lead doesn't start when he reaches your website. It begins even earlier than that.
The first impression that he gets of what your business is all about is with your online marketing efforts – once your target customer first sees your ad, a piece of content, or even a social media post, that's when he starts to form opinions about your brand.
If you make the wrong impression or set up the wrong expectations, it won't matter how well your website is optimized – the dishonesty and inconsistency of such interaction will significantly diminish your chances of that prospect turning into a customer.
That's why, when thinking about the UX of your website, you should take a broader approach and include all of your online marketing efforts. This way, you can start conditioning the expectations of your prospects from the very first second and make sure that you match those expectations every step of the way.
But even though this might sound good in theory, that doesn't tell you much regarding how exactly should you utilize UX to connect your interactive web design solutions with your online marketing efforts.
So what exactly should you focus on when improving UX?
Well, there are a few key considerations that you should think about if you want to maximize your chances of success, but they all boil down to one thing:
Getting to know your prospect.
The only way you're going to be able to make any meaningful improvements to your website and online marketing strategies is by gaining a deeper understanding of who's the ideal customer that you want to provide a seamless experience to.
Now, you probably already have some data, or at least a general idea, of who your customers are and what they're interested in.
But if you want to achieve long-lasting results, you'll need to be a little (or a lot) more specific – guesswork just isn't going to cut it if you want to design a user experience that matches up with your audience's needs perfectly.
Luckily, there are actionable ways to figure out which direction to take in any given situation.
The first way is rather straightforward – each visitor to your site is not only a potential new customer but also an excellent opportunity to learn about what he likes and doesn't like throughout the process.
You can collect numerous metrics about how your website is performing – which pages receive the most attention, what are the visitors most interested in, and where they usually get stuck and, ultimately, leave your site.
Once you start spotting the trends of how your visitors are responding to your design and marketing solutions, you can start making adjustments and perfecting the layout.
Another way to get in the mind of your target customer is to simply ask him what he liked and didn't like.
This is by no means a groundbreaking tip, but you'd be surprised at how few businesses struggling with UX actually take this step and thus stay in the dark about why their site's visitors don't stick around.
By conducting surveys, you can not only quickly discover the most pressing issues that need to be fixed, but can also learn about things that your audience like the most, using these same insights to further optimize your site for the most seamless and user-friendly experience possible.
And while implementing these steps may seem complicated, they really don't have to be – there are plenty of experienced digital marketing consultants who can help you set up the tracking and survey systems that will allow you to make consistent improvements.
Jonathan Henning is a co-founder of Trafik, a New Zealand based web development agency. His strategy-first approach has helped clients gain more visibility online and generates quality leads through the customized website and online marketing solutions. He loves to write and meet people from the web design and development space discussing trends that help SMEs grow their online presence.